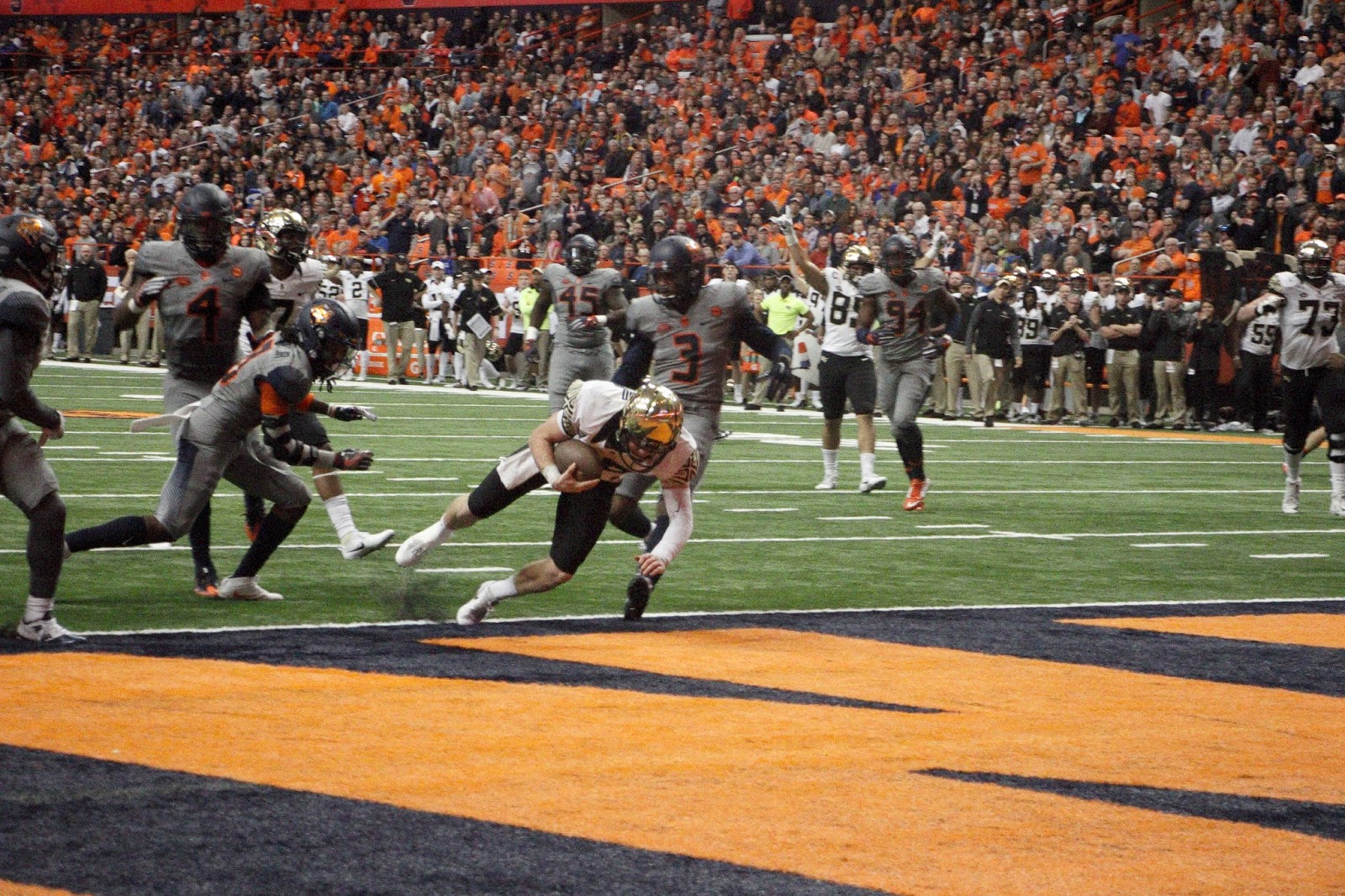 Demon Deacons Blow Out Orange in Second Half
Syracuse, N.Y. – Coming into Saturday, Syracuse had the best third down defense in the nation, allowing opponents to convert just 22 percent of their third downs.
Saturday was a completely different story.
Wake Forest amassed 734 yards of total offense and converted 50 percent of its third downs as the Demon Deacons hammered the Orange in front of 38,539 fans in the Carrier Dome, 64-43. Syracuse surrendered 40 second half points, including 24 unanswered to end the game.
"We know that we have to do a lot better," Syracuse head coach Dino Babers said at the postgame press conference. "Our effort needs to be a lot better than the way we played out there today."
A New Quarterback for Syracuse
Zack Mahoney made his first start of the season at quarterback in place of Eric Dungey, who injured his foot in last week's loss at Florida State.  Dungey finished the game against the Seminoles and was listed as questionable on the injury report.  He threw a few warm-up passes prior to the game and was fully dressed in the first half, but the decision to go with Mahoney was made at the last minute.
"I found out that I was starting 14 minutes before kickoff," Mahoney told reporters after the game. "Preparation-wise nothing really changed for me."
The graduate student quarterback finished the day with 384 passing yards and three touchdowns.  However, he threw two interceptions in crucial moments.  With nine minutes left in the game and Syracuse driving in Wake Forest territory, down 47-43, Mahoney was picked by Demon Deacons linebacker Jaboree Williams, who returned it 52 yards to the Syracuse 20. Wake scored five plays later to make it 54-43.
His second interception, again with Syracuse in opponent territory and down 57-43, with four minutes to go virtually ended the Orange's hopes for a comeback.
"I thought Zack battled with his skill sets out there to the best of his abilities," Babers said.
Whether Dungey will return next game is still up in the air.
"We want to make sure that he can defend himself," Babers said. "We all want him to play, but he is somebody else's son."
Wolford Puts on a Show
Syracuse had a great deal of trouble trying to contain Wake Forest quarterback John Wolford.  The senior put on a balanced attack that left defenders guessing what the would do on run-pass options.  He finished the game with a video game-like stat line: 25-38, 363 yards passing, and 3 TDs, all of which were thrown to senior tight end Cam Serigne, who had a career day with seven receptions for 119 yards. Wolford also carried the ball 19 times, collecting 136 yards and scoring three more times.
"He was very decisive in doing things that he was doing," Syracuse senior linebacker Zaire Franklin said. "Whether it was pulling the ball out and getting yards for himself or making good throws down the field, I just think he stepped his game up."
His final touchdown run, a 29-yarder on fourth down, put the Demon Deacons up for good.  It is the first time the Jacksonville, Fla. native has thrown for over 300 yards while rushing for more than 100 in a game.
His performance reminded Babers of another quarterback's stellar play against his defense.
"When's the last time a quarterback has played like that against us?  Probably the guy we're about to play next," Babers said.
The guy they play next?  Reigning Heisman Trophy winner Lamar Jackson.
First Half Momentum Unsustainable for Orange

Both offenses got off to hot starts in the first half.  Wake Forest scored touchdowns on each of its first three possessions in the first quarter, with drives spanning 73, 80, and 75 yards.  Syracuse scored two touchdowns after each of the Demon Deacons' first two to make it 14-14 before Wake Forest scored a third time in a row to make it 21-14.
Not to be outdone, Syracuse put 24 straight points on the board, including three touchdowns, to make the score 38-21.  Wake Forest added a field goal as the first half ended to make it a 38-24 Syracuse advantage at the break.
The two teams combined for 762 total yards in the first half.
Syracuse did not score another touchdown the rest of the way.  Mahoney completed just 11 of his 25 second half passes, and the offense sputtered down the stretch.
"Wake played a great second half," Mahoney said. "They did a lot and they had a great scheme to not let us get as many big plays as we did in the first half."
Backs Against the Wall

With the victory, Wake Forest moved to 6-4 on the year, securing bowl eligibility in consecutive seasons.
Meanwhile, Syracuse dropped to 4-6 overall and 2-4 in ACC play.  Since the 27-24 upset of the second-ranked Clemson Tigers, the Orange has lost three straight games. With just two contests left in the season, the Orange must now win out to reach a bowl game for the first time since the 2013 Pinstripe Bowl.
"It's do or die time," Franklin said. "Moving forward to next week, we have a sense of urgency at an all-time high. We have to find a way to get a win."
Murphy Writes Name in Record Books

Syracuse senior kicker Cole Murphy made two field goals against Wake Forest, the second placing his name atop the SU list of career field goals made with 58.  He's already notched a career high in field goals made this season with 19.
Murphy has had issues with accuracy the past two weeks.  Against FSU, he missed two field goals, the second of which would have sent the game to overtime.  He also missed a pair of kicks against Wake Forest in Saturday's contest.
A First Time For Everything

With just 1:08 remaining in the first quarter, Wolford hit Serigne for a 19-yard touchdown pass, making the score 41-40 in favor of Syracuse.  Most wrote it off as a newly tied game, but that's why they attempt the extra point.
Kayton Samuels got a hand up and blocked Mike Weaver's PAT attempt.  It was picked up by Syracuse cornerback Scoop Bradshaw, who proceeded to run it all the way back for a two-point conversion.  While there is no official yard distance attached to Bradshaw's return, he picked the ball up at the 10-yard line and ran it back 90 yards.
Per Syracuse Athletics, the return is the first defensive PAT return for the Orange. It is an unorthodox way for Bradshaw to appear in the football program's history books, but an honor he'll take.
Military Appreciation Day
On Veterans Day weekend, the football program took time to pay tribute to those who have served and are serving the country.  During pregame ceremonies, those who committed to serve in a branch of the military took their respective oaths of enlistment.  Additionally, the Orange named Maj. General Walter E. Piatt and CSM Samuel J. Roark, who are stationed at Fort Drum, honorary captains.
After the first quarter, Mike Chemotti, a Syracuse University alum and former walk-on football player who served during World War II, was honored as the "Hometown Hero."  He was joined by junior wide receiver Ben Brickman, a walk-on himself who served four years in the Marines and completed two tours in Afghanistan.
The Orange wore all gray uniforms in honor of Military Appreciation Day.  The team also wore helmets with a special decal on the sides of the 44 tomahawk logo in camouflage.
Up Next
The Orange travels
to Papa John's Stadium next Saturday for a 3:30 game with the Louisville Cardinals.  The game will be televised on either ESPN2 or ESPNU.
Syracuse wraps up the regular season on November 25 when Boston College comes to the Carrier Dome.