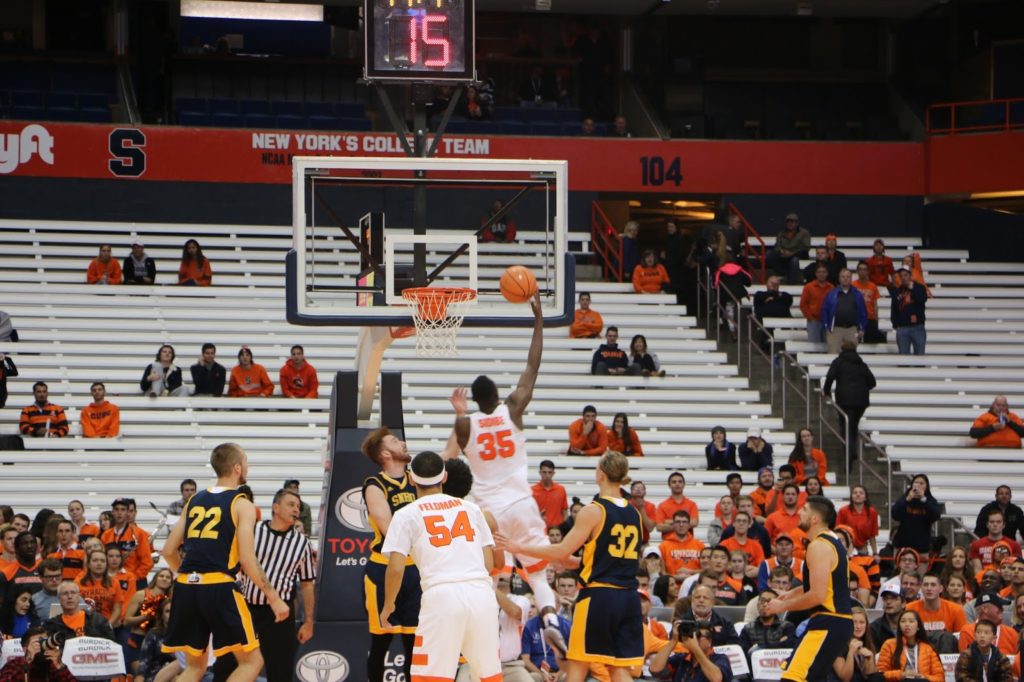 Orange Ease Past Southern New Hampshire
Story by Peter Benson
Photos by Ivan Traczuk
SYRACUSE, N.Y. — The Syracuse men's basketball team kicked off the 2017-18 season at the Carrier Dome on Wednesday night, with an easy 84-54 victory against Southern New Hampshire.
The visiting Penmen came out strong, but after the Orange shook off some early-season rust, they never looked back. Head Coach Jim Boeheim was pleased with the effort in the first outing of the year. "Overall, it was a good first step," Boeheim said.
Inside Out
Everything worked inside out. Center Paschal Chukwu and forward Bourama Sidibe rotated as rim protector at the five spot, and their presence forced Southern New Hampshire to take outside shots.
With the Penmen out on the perimeter, Syracuse's depth at the guard spot proved too much. The majority of minutes went to starters Frank Howard and Tyus Battle, the two guards stopping the players opposite them, Chris Walters and Charlie Russo.
Any time Southern New Hampshire did venture inside, they found the rim protection lurking. Syracuse recorded an astonishing 16 blocks with Chukwu and Sidibe grabbing six each.
"It's something we work on in practice," Chukwu said.
"We hadn't blocked that many shots in a long time," Boeheim added. "These two guys are pretty good shot blockers."
Local Boy
Southern New Hampshire's Charlie Russo had a disappointing performance. The Syracuse local shot just 1-10 before hitting three straight in the final three minutes.
Russo interned in the Syracuse basketball office and was an integral reason the two teams organized an exhibition game against each other.
Offensive Movement
Early in the first half, most of the offense went through Battle. As Syracuse was shaking off the offseason rust, the sophomore helped ignite the offense with an early surge of 11 points in the first 10 minutes.
It didn't take long for the Orange to begin to move the ball on offense, getting other players involved. Oshae Brissett finished with 17 points and 11 boards while Frank Howard, Howard Washington and Bourama Sidibe all finished with double digit points.
Exhibition Game
Syracuse returned only one starter this season — Battle — and will be forced to navigate the ACC with a roster that hasn't played a lot of minutes together.  Exhibition games are important to the players trying to get a feel for each other ahead of the regular season.
"With these guys, it makes a big difference," Boeheim said.
In a game where there was very little in the way of flashiness — a Tyus Battle dunk early in the first half and the blocks — coach was still happy to get the win.
"I think there were a lot of positives," Boeheim said. "This was a good first effort."
Up Next
The Orange have another exhibition against Southern Connecticut State on Monday, Nov. 6 before their regular season tips off against Cornell on Friday, Nov.10 at the Carrier Dome.