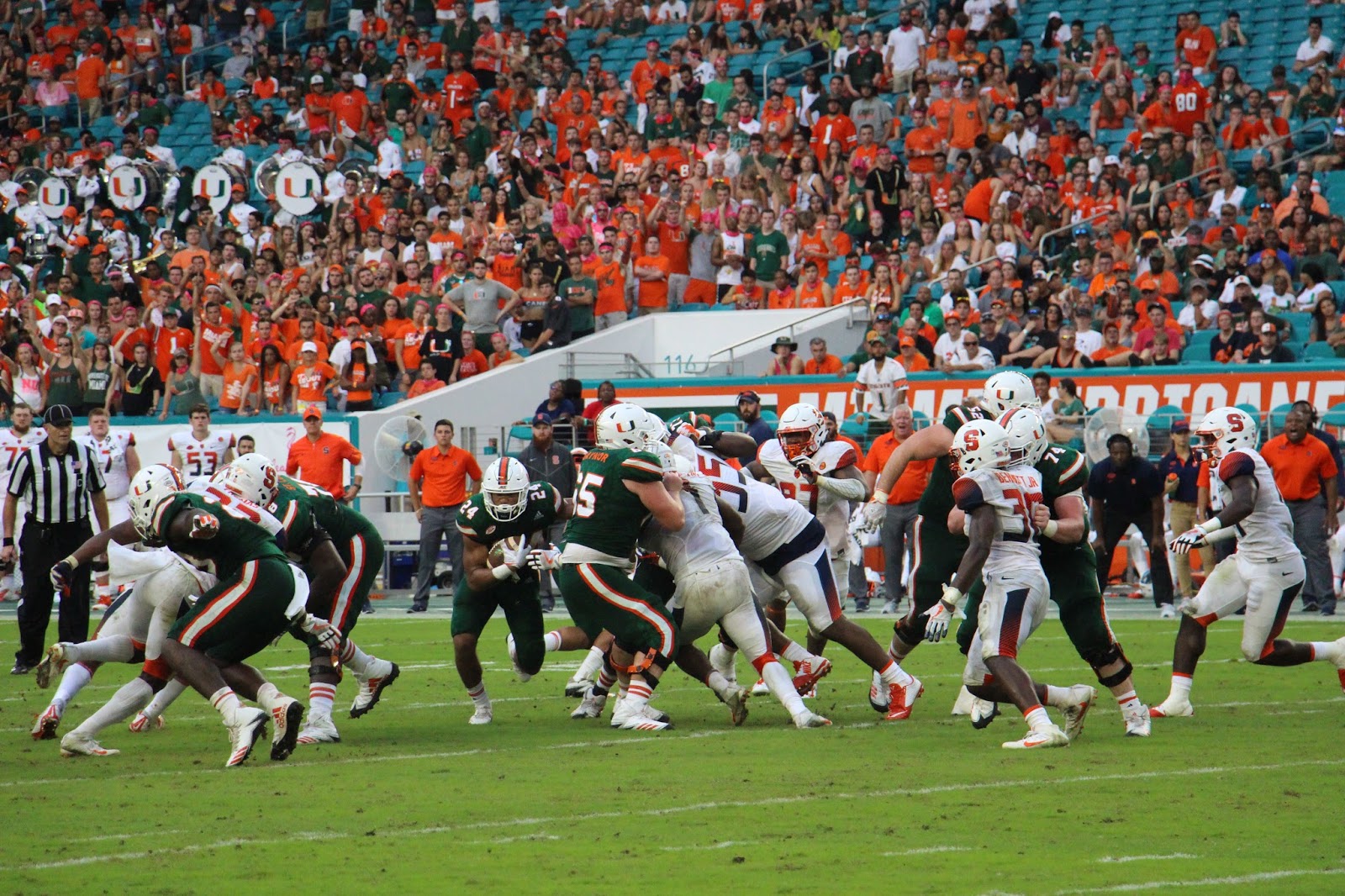 Hurricanes Hold Off Orange in Miami
Story by Monica Ortiz
Photos by Peyton Zeigler
Miami Gardens, Fla. —  Despite a late game surge, Syracuse fell to No. 8  Miami Hurricanes on a sloppy field at Hard Rock Stadium on Saturday.
After beating the defending national champion Clemson Tigers eight days earlier Syracuse (4-4, 2-2 ACC) faced another top-ten opponent; this time on the road and came up just short, losing 27-19.
The SU defense and place kicker Cole Murphy kept Syracuse in the game as Orange quarterback Eric Dungey threw four interceptions and was consistently pummeled by the Miami defense.
"The defense played a great game; offensively we have to help them out," Dungey said. "But Miami is a great team. Bruises will heal but I just want to win."
The Difference 


The Orange offense struggled to keep the ball in the first half. In addition to Dungey's four interceptions Miami forced two punts.  Dungey kept it from potentially becoming worse as, after the first  interception he ripped the ball away from the Miami defender Demetrius Johnson, allowing Syracuse to keep the ball with a new set of downs. But that ended in a punt and Miami drove from its own 25-yard line to the Syracuse one before the Orange defense stuffed the Hurricanes, forcing them to take a chip shot field goal and a 3-0 lead.
That's how it stood as the first quarter ended but Miami (6-0, 4-0 ACC) was driving and finished it off with a 10-yard pass from Malik Rosier, Jr. to tight end Chris Herndon and a 10-0 lead.
Dungey was picked off again and while the defense held Miami to a 39-yard field goal with 10:41 left in the second quarter Miami was up 13-0.
Syracuse drove but when Steve Ishmael was injured as he tried unsuccessfully to hold onto a pass in the end zone, the Orange turned to Murphy, who delivered a 22-yard field goal giving Syracuse a glimpse of hope, trailing 13-3 at the half.
Third quarter
Syracuse stopped Miami's opening possession and drove to the Hurricanes' 22-yard line, but passes to Irv Phillips and Steve Ishamel went incomplete and on fourth and five Murphy hit a 40-yard field goal, making it 13-6.
After an exchange of punts, the 'Canes struck again after Braxton Berrios returned Sterling Hofrichter punt to the UM 47. Two-plays later, Rosier hit Jeff Thomas for a 48-yard touchdown and after the extra point Miami led 20-6.
Syracuse responded with its only touchdown with a six-play, 65-yard drive featuring runs by Dungey of 28 and 14 yards, and capped by a 15-yard burst by Moe Neal into the end zone. Murphy's kick was good and it was 20-13 in favor of Miami. Twice in the game Dungey tried to hurdle would-be tacklers, crashing into them full-bore.
Fourth quarter: a one-point game
The Syracuse defense stopped Miami and the Orange drove for another Murphy field goal, this one from 45 yards. Miami led 20-16.
The Miami drive stalled after two first downs and Syracuse got the ball back and drove again.
This time the 'Canes stopped the Orange at the UM 35 and Murphy came back on to the muddy, sloppy field again, this time to try one from 53 yards out.
And hit.
And then
 Miami immediately answered with a touchdown on a nine-play, 85-yard drive, but it was still a one-possession game at 27-19.
On the next drive for the Orange, Dungey connected to Devin Butler for 22 yards, giving Syracuse a first down. But on the last SU series, a fourth-down pass to Irv Phillips along the right sideline was ruled incomplete and was short of the first down marker anyway. That put Miami in victory formation to run out the clock.
"We found another way to make it really exciting," said Miami head coach Mark Richt, whose team stayed unbeaten after a third consecutive close game. "Part of the reason was Syracuse is a really good football team. We've seen what they can do, especially last week with Clemson, but everybody that's played them this year has been just talking about them and how much harder they're playing now and with a purpose now.
"Not that they didn't last year, but they're a better team from what people say, from a year ago. It's a tribute to what Coach [Dino] Babers is doing over there."
"Obviously, [they are] a fabulous football team," Babers said of the Hurricanes. "We had our difficulties shaking some people off in man‐to‐man coverage. Four turnovers in the first half, giving them great field position and putting our defense in a bad situation. Came back and played a better second half of football, but when you're playing a team like this you got to score touchdowns, not kick field goals if you're going to beat a team that's ranked in the top 10."
Orange Defense


Despite four turnovers by the Orange's offense the defense held the Hurricanes to 27 points, only allowing Miami to score a touchdown off one of those turnovers.
"I think the defense played well," said senior linebacker Paris Bennett, who had ten tackles for Syracuse. "We have a lot to improve on, but four turnovers and holding them to only 27, that's big,"
What impressed Bennett was Cole Murphy.
"That's my guy. I've never doubted Cole. I always felt he was a great kicker. They were big and they were outside. I was counting on him. We were all counting on him to capitalize."
Making the field goals count

Murphy connected on four out of four field goals tries, 22 yards being the shortest. The next three were more than 40 yards, with the longest at 53 in the fourth  quarter, putting Syracuse within a point of Miami. Overall Murphy made 12 out of the 19 points for Syracuse.
What's next
Syracuse has a bye week coming up, but the Orange will face Florida State (2-4, 2-3 ACC) in Tallahassee on Nov. 4. Syracuse is now third in the ACC Atlantic behind Clemson and N.C. State with a league record of 2-2.