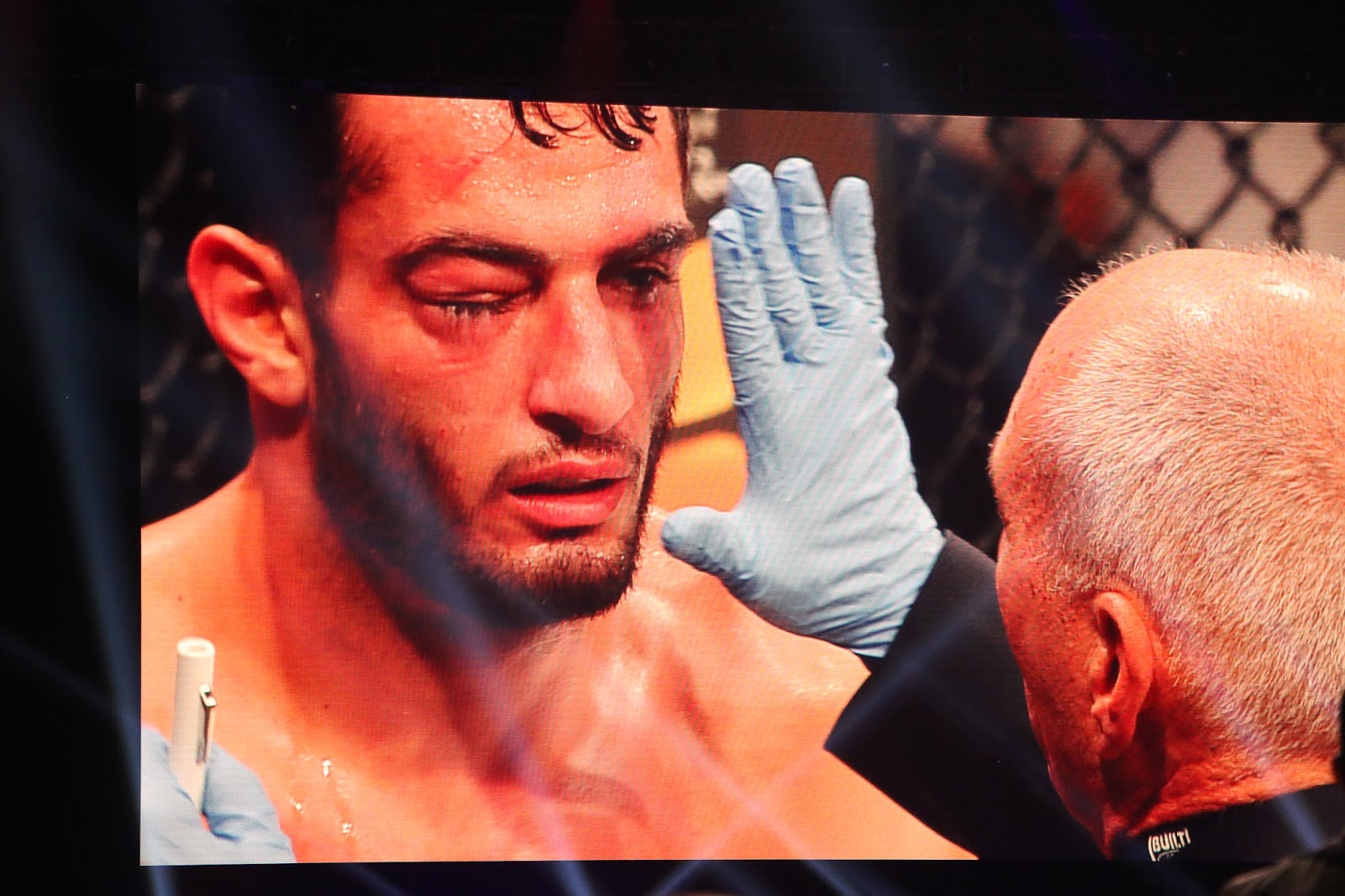 Bellator 185: A Night of Surprises
Story and photos by Jose Cuevas
Uncasville, Conn. — Bellator 185 was brimming with anticipation for the long-awaited debut of Gegard Mousasi Friday night at Mohegan Sun. Mousasi was a former UFC Middleweight title contender and had fought some of the best in the world. The crowd was excited to see boxing sensation Heather Hardy continue her foray into the world of MMA. The night was full of surprises, which tells you that anything is possible in the MMA Cage.
Results
Here is the fight card with the result of each bout.
Preliminary Bouts:
Dean Hancock defeated John Beneduce via TKO (Punches) in Round 1, time: 3:38
Pete Rogers Jr. defeated Timothy Wheeler via Submission (Guillotine Choke) in round 1, time 0:37
Joaquin Buckley defeated Venicius De Jesus via Split Decision
Costello Van Steenis defeated Steve Skrzat via TKO (Severe Elbows) Round 1, time: 2:52
Jordan Young defeated Alec Hooben via Submission (Triangle Choke) Round 1, time: 2:44
Don Shainis defeated Matt Denning via TKO (Severe punches) Round 1, time: 4:50
Vovka Clay defeated Frank Sforsza via Submission (Guillotine Choke) Round 2, time: 1:17
Kevin Carrier defeated Jose Antonio Perez via Unanimous Decision
Main Card Bouts:

Lisa Blaine defeated Ana Julaton via Split Decision
Ryan Quinn defeated Marcus Surin via Unanimous Decision
Kristina Williams defeated Heather Hardy via TKO (Doctor Stoppage after Severe Injuries) Round 2, time 2:00
Neiman Gracie defeated Zak Bucia via Submission (Neck Crank) Round 2, time 2:27
Gegard Mousasi defeated Alexander Shlemenko via Unanimous Decision
Notable Fights
Lisa Blaine versus Ana Julaton
Lisa Blaine versus Ana Julaton was a test of grit for both women. Julaton dominated the first half of the fight with her control of range and striking. She was also comfortable exchanging holds on the mat.
Blaine managed to wrestle Julaton to the mat in the later part of the fight and land some strikes. The rounds were hotly contested but she swayed the judges in her favor heading into the third and final round.
The third round was hotly contested. Blaine went into second gear to try to out-will her opponent.The fight ended in the center of the ring with both trying to get the upper hand and squeeze a decision or land a knockout. Blaine ultimately swayed the judges for a close but hard-fought split decision victory.

Kristina Williams versus Heather Hardy
Heather Hardy entered the cage for her second ever MMA Bout and many expected her to continue her winning ways. Hardy was the favorite in this fight as she has been positioned to be a star in Bellator. However, Kristina Williams in her pro debut had other plans.
From round one Williams asserted her dominance by exchanging with Hardy. Hardy had no answers to Williams' arsenal of strikes and kicks.
As the second round commenced Williams rushed Hardy and continued to beat and batter her. The fight ended in the secnd round with a vicious headkick that forced the cageside doctor to examine Hardy's wounds.

Gegard Mousasi versus Alexander Shlemenko
The main event was Gegard Mousasi's highly anticipated Bellator debut against Alexander Shlemenko. The story driving this bout was how would Mousasi be able to stand toe to toe with the very tough, rugged, and hard-hitting Shlemenko. It was not an easy debut fight, despite Mousasi being a highly regarded fighter.
The fight began with Mousasi out-wrestling Shlemenko and continuously trying to lock in a rear naked choke.
However, Shlemenko showed his power and sneaked in a strike that formed a mouse on Mousasi's right eye. The eye immediately began to swell grotesquely.
As the fight progressed Shlemenko began focusing on Mousasi's eye. Mousasi was on his back foot trying to protect himself from Shlemenko's scary strength. Mousasi had success on the mat, but Shlemenko successfully defended his rear naked choke attempts.
Heading into the third Shlemenko took control as Mousasi was backpedaling away from him. Shlemenko even had success on the mat as Mousasi seemed exhausted and hurt. Many in the audience believed Shlemenko won the fight as he was thoroughly in control in the third and final round.
But the winner was Mousasi by unanimous decision. The crowd was irate as many believed Shlemenko had won. Both men had to be taken to the hospital after the fight for further evaluation.