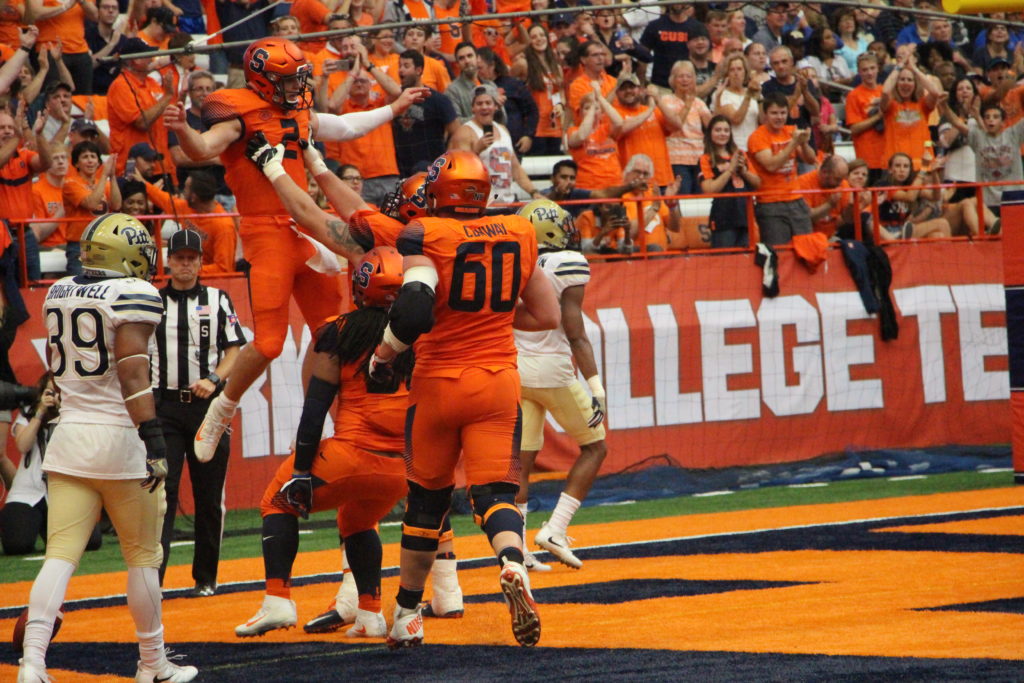 Orange Holds Off Panthers for First ACC Win
Story by Corey Crisan
Photos by India Timpton
SYRACUSE, N.Y. – The Syracuse Orange held off late comeback efforts by the Pitt Panthers and won a close one, 27-24 in front of a Homecoming crowd at the Carrier Dome Saturday afternoon.  Syracuse(3-3, 1-1 ACC) moved to the .500 mark on the season with its first league win. Pitt fell to 2-4 (0-2  ACC).
"It was good to finally get that monkey off our back," Syracuse head coach Dino Babers said after the game. "It was our third close game all the way in the second half. To see the team rally together, and not only have all three units play well in the last five minutes.
Quarterback Eric Dungey passed for two touchdowns and ran for a third and tight end Ravian Pierce had a breakout game for the Orange. The junior college transfer in his first season with Syracuse finished with nine catches for 99 yards, both career-highs.
"It was exciting. The kids are excited, and we're happy that we're able to do our part and make sure everybody had a happy Homecoming," Babers said.
Fast start for the Orange
Last season, the Panthers and Orange battled to the finish in a wild contest at Heinz Field to end the regular season. Pitt won 76-61 in a game that featured 621 combined rushing yards, 19 touchdowns, and 1,312 total yards. In the fifth week of the 2017 season, the ACC rivals wrote a different script.
What looked to be a promising start for the Orange resulted in just three points. On the first drive, quarterback Dungey found his top target – Steve Ishmael – for a 34-yard gain that put Syracuse into Pitt territory. But Ishmael was called for offensive pass interference on an apparent touchdown catch and the Orange settled for a field goal on its first drive to lead 3-0 with 11:30 to play in the first.
Syracuse then forced a three-and-out as Pitt gained only six yards.
The quarter featured six three-and-outs and six combined punts and ended with Syracuse ahead by that 3-0 score.
Turning the tables
Pitt scored on the first play of the second quarter a 35-yard touchdown by Jordan Whitehead (who is listed as a defensive back on the team's roster) and an extra point capped off a five-play, 54-yard drive that took 2:33 off the clock.
Syracuse responded by gaining a first down on the next drive, but the Orange had to punt again.
Pitt then added three more points on a 49-yard field goal by Alex Kessman with 7:26 to play until the half and led 10-3.
Syracuse showed life at the end of the first half. A 21-yard touchdown from Dungey to Devin C. Butler tied this one up at 10-10 with 0:34 to play in the half. This play capped off a nine-play, 93-yard drive that took 2:17 to play.
Syracuse and Pitt were tied, 10-10, at halftime.
Game of halves
On their first drive to start the second half, the Panthers padded their lead to 13-10 with a 42-yard field goal by Alex Kessman.  The Orange finally broke through the stout Pitt defense as Dungey scored on a 10-yard keeper. Syracuse lead 17-13 after a 13-play, 75-yard drive.
Cole Murphy then tacked on a 38-yard field goal with 2:12 to play in the third. Syracuse led by a touchdown, 20-13. That field goal capped off a 10-play, 52-yard drive.
Pitt QB Max Browne went out with an injury after being sacked with under 7:00 to go in the third quarter and Ben DiNucci took over.
Syracuse held the 20-13 lead after three quarters.
A Strong Finish
Kessman continued to boost the Panthers as he nailed a 56-yard field goal to cut the Orange lead to 20-16 just five seconds into the fourth quarter.
With 11:07 to play in regulation, Dungey connected with Ishmael for a 35-yard score to extend the Orange lead to 27-16. Ishmael entered Saturday's game as the nation's leader in catches (51) and he was second in yards (632). He finished the day with five receptions for 97 yards and a touchdown.
The Panthers found a way to make it interesting in the middle of the fourth quarter. Running back Qadree Ollison ran one in from 19 yards to cut the Orange lead to 27-22. Pitt converted a two-point attempt on a Whitehead rush to make it a 27-24 Orange lead with 7:15 still to play.
Syracuse's next drive stalled on the Pitt five-yard line when the Orange went for it on fourth and one and Dungey's shovel pass to Pierce fell incomplete.
The Panthers had a chance to win it with less than a minute to play but gained only ten yards on their final drive, and Syracuse escaped with the 27-24 victory.
Notes
The game took 3:33 to play, and 33,290 were counted inside the Carrier Dome to witness the Orange victory.
For Syracuse, Dungey went 33-49 in the air with 365 yards. He also rushed a dozen times for a net gain of 48 yards.
Dontae Strickland was Syracuse's leading rusher on Saturday. He carried the ball 25 times for 81 yards.
The Pitt-SU rivalry goes back to 1916 and the teams have played each other every year since 1955, starting as independents, then as Big East members and now in the ACC. Pitt is the only Coastal Division team that SU, an Atlantic Division team, plays every season.
"They're our rival," Babers said. "If we're going to play them every single year, we need to play them like a rival."
What's Next
The Syracuse Orange will turn around in a short week to welcome a national powerhouse into the Carrier Dome. The second-ranked Clemson Tigers (6-0, 4-0 ACC) will come to Syracuse for a nationally-televised contest that kicks off at 7:00 p.m. EDT Friday. The game can be viewed on ESPN.
Pitt returns home to take on the No. 20 North Carolina State Wolfpack (5-1, 3-0 ACC) at noon on Saturday.