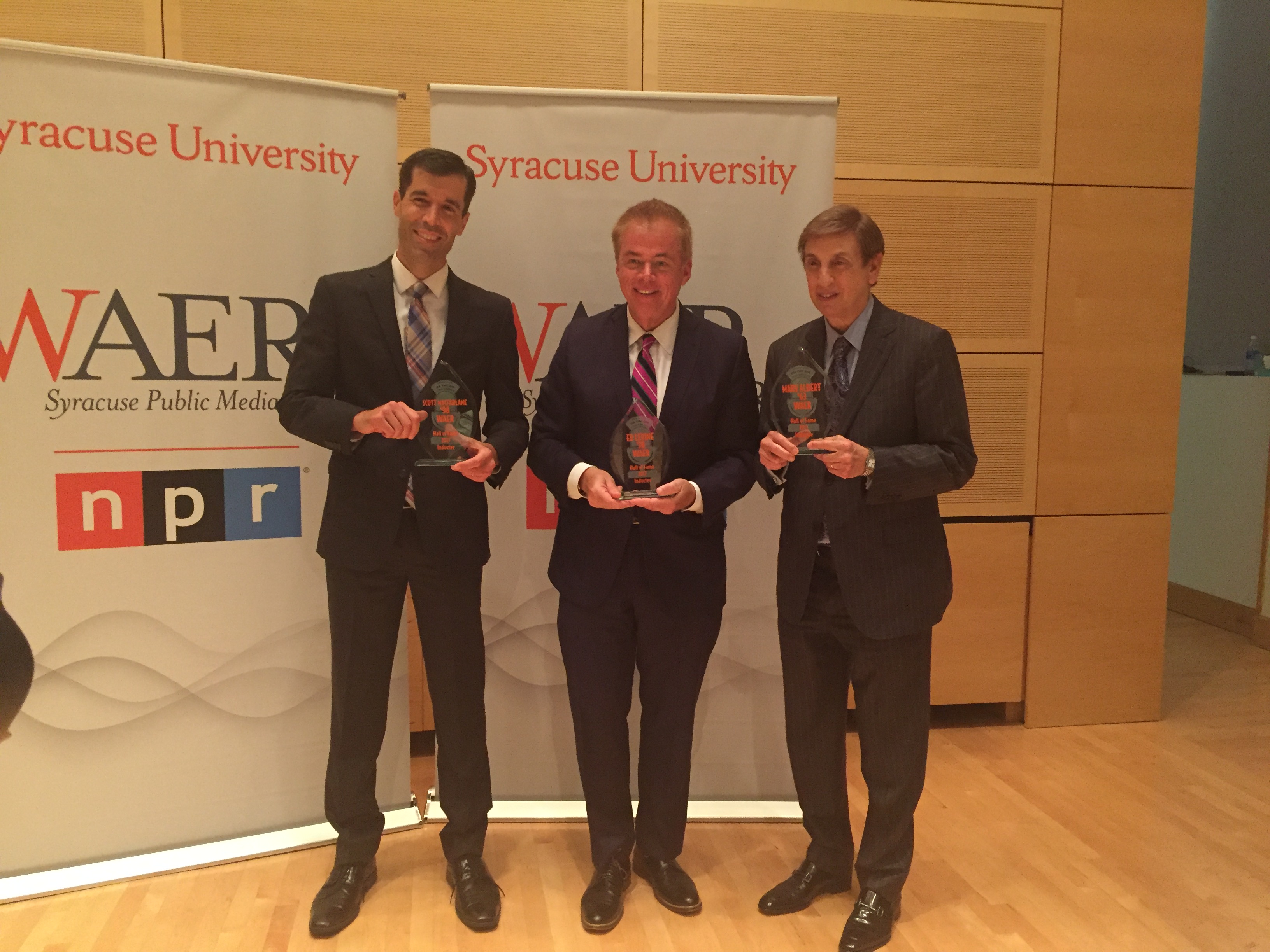 WAER Hall of Fame for Marv Albert
Story by Zach Staton
Staff photos

SYRACUSE N.Y. – Before he became "The Voice of the New York Knicks," fans were already accustomed to Marv Albert's voice ringing throughout the stands in Madison Square Garden.
"I used to go to the top of Madison Square Garden and do play-by-play for all of the Knicks games," Albert told the crowd gathered in the Joyce Hergenhan Auditorium at Syracuse University's Newhouse School.
"That really got on the nerves of the fans around me," he said, drawing enthusiastic laughter.

Hall of Fame Broadcaster
Albert was inducted into the WAER Hall of Fame Wednesday evening, joining alums such as Ted Koppel, Bob Costas, Sean McDonough, Dick Stockton, Beth Mowins, Mike Tirico and Ian Eagle.
WAER also announced that its news and sports studios have been named in his honor.
WAER, the University- licensed radio station, is currently professionally staffed but uses student volunteers in broadcasting news and sports.  When Albert attended Syracuse, from 1960-1963, the station was entirely run by students.  He said he knew he wanted to be a sportscaster and it was one of Albert's idols who convinced him the opportunity he had at WAER would be unlike anything else.
"I had gotten to know Marty Glickman quite well when I worked for him in high school," Albert said.  "He kind of convinced me that coming here would be the right move because it had all the good sports teams and it had WAER."
Glickman, the Olympic runner and Syracuse football star turned sports broadcaster is legendary as the person who started the line of successful sports media professionals who came through SU although WAER did not exist when he was a student, graduating in 1939. He became the play-by-play man for the NBA New York Knicks and the New York football Giants, broadcasting a wide variety of sports and mentoring dozens of successful broadcasters who came after him.
WAER Sports – the incubator
At WAER, Albert called play-by-play for various sports, including basketball.  He also called Syracuse Chiefs baseball games in 1962, the same position former S.F. Giants and N.Y. Yankees announcer Hank Greenwald, Monday Night Football announcer Sean McDonough, ESPN and Chicago White Sox announcer Jason Benetti, "Voice of the Orange" Matt Park and other SU alums held early in their careers.  Each was a student broadcaster at WAER.
"It is fantastic to see that kind of success," Albert said. "The more people are produced here, the more people are attracted to come here."
Albert moved on to become the play-by-play broadcaster for the New York Knicks from 1967-2004, the lead announcer for the NBA on NBC from 1990-2002, and is currently calling NBA games on TNT. He's also made his mark as Voice of the New York Rangers in the NHL and covering boxing, including in the Olympics for NBC.
Sparring with the Czar
Former NBA head coach and current Turner Sports colleague Mike Fratello delivered the Hall of Fame introductory speech, showing that they are not just good broadcast partners, but also close friends off the air.  In addition to saluting Albert, the man whom Albert dubbed "Czar of the Telestrator" poked fun at his various appearances on television shows such as Everybody Loves Raymond, The Simpsons, and Sesame Street, which the audience saw in a highlight clip.
"Marv was always trying to get into acting," Fratello said. "He was so prepared for the games during that phase, he leaned over to me one game and asked, 'Who is that wearing the number 23?' So I said, 'That's Michael Jordan.'"
Albert made sure to return fire, playing a video of Fratello getting angry at officials while he was coaching.
Fellow greats
Joining Albert in the 2017 WAER Hall of Fame class were Ed Levine, owner of Galaxy Communications, and Scott MacFarlane, an investigative reporter for NBC 4 in Washington D.C.
In his speech, MacFarlane highlighted a trip he made with his father to watch the Denver Nuggets play the New Jersey Nets.  The teams' play-by-play announcers were Al and Steve Albert, Marv's younger brothers.
"I thought, 'Wow, those guys must have a really good older brother,'" MacFarlane said.