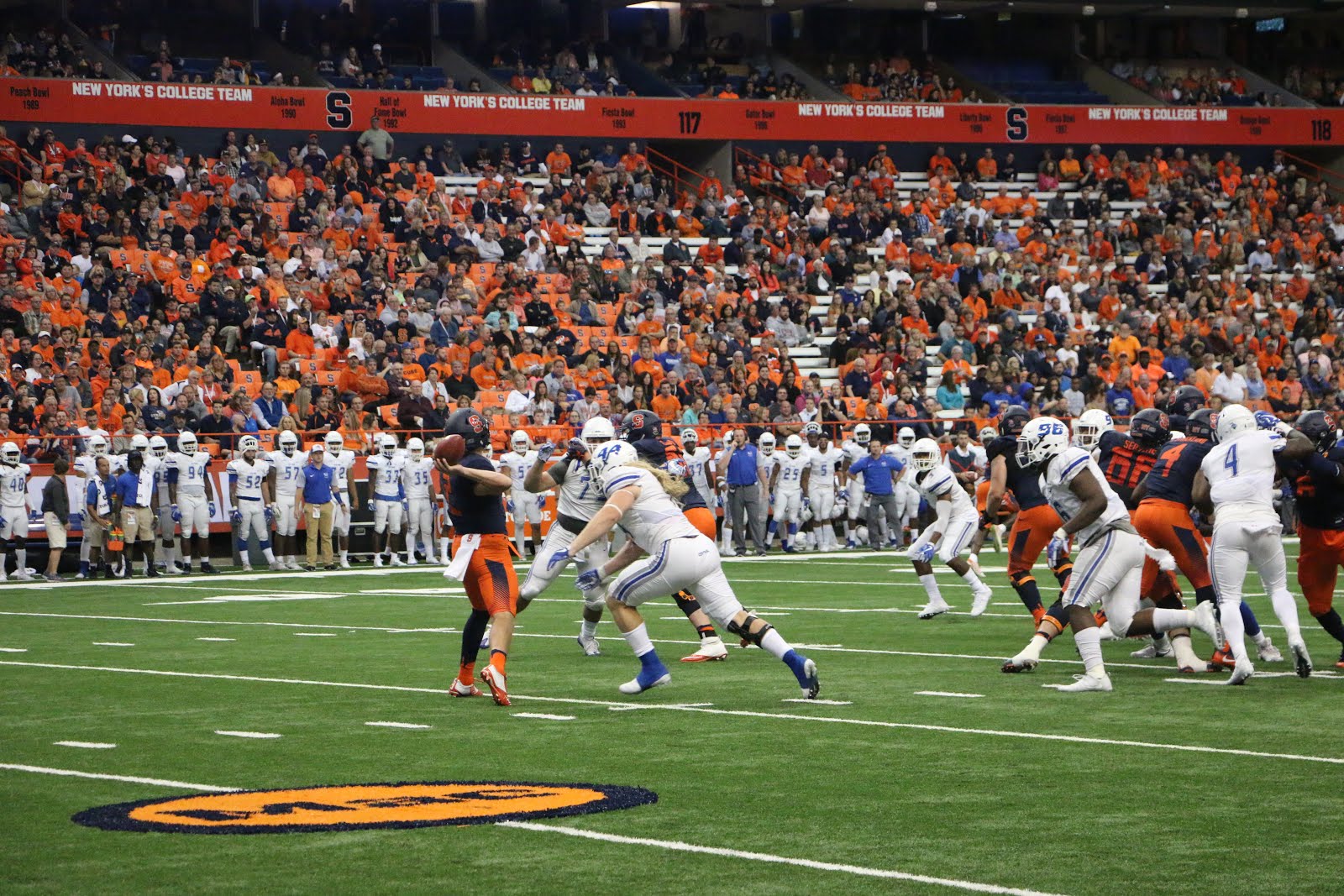 Orange Dispatches CCSU in Opener
Story by Alana Seldon
Photos by Katie Benoit
SYRACUSE, N.Y. –The Syracuse Orange football team started its holiday weekend off with a blowout win in the 2017 season opener against Central Connecticut State at the Carrier Dome on Friday night in front of a reported crowd of 30,273.
The Orange rolled up 586 yards on 93 offensive plays but just 155 on the ground in a 50-7 win.
"I thought we definitely took what the defense was giving us," Syracuse head coach Dino Babers said. "They made a point that they didn't want us to run the ball. We threw the ball well."

Dungey being Dungey
Junior quarterback Eric Dungey set the pace for the Orange's energy with 13 straight completions to start the game, spinning and somersaulting and occasionally leaving Orange fans' hearts in their mouths. After missing parts of his first two seasons with injuries Dungey staying healthy all year is a major concern.
In his second season as Syracuse head coach, Dino Babers says that flair on the field is just a part of Dungey.
"That's how he is," Babers said. "He's very difficult to change when it comes to that, but it makes his game. A lot of quarterbacks do that stuff and it affects their accuracy and their numbers and their percentages drop. He does that stuff and he throws at high percentages."
Dungey reached his seventh career 300-plus-yard passing game, completing 28 of 36 for 328 yards and accounted for  three touchdowns. He rushed for 51 yards on five carries.
With an aggressive performance on both sides of the ball against the Blue Devils, Dungey says he was most pleased with the defensive line.
"I'm proud of their movement and their good condition," Dungey said. "I was happy watching the defense out there, I probably get the most pleased watching them."
Cordy injured
An injury to safety Antwan Cordy on Friday night caused the redshirt junior to leave the game and return to the sidelines on crutches with a boot on his leg. Cordy missed most of last season after breaking his forearm.
Jordan Martin, who took Cordy's spot on the field, called his teammate  a "thermostat" for the defense.
"He sets the tone for us," Martin said. "His play speaks for itself. I mean, he's a high-energy guy. He brings a lot of fun to the defense, he brings a lot of good plays, a lot of big plays. That's why we call him the thermostat, he raises the temperature for all of us."
Head coach Dino Babers said he was unsure of the status of Cordy's injury, but he's hopeful.
"We don't have a final say on Antwan yet," Babers said. "We're going to have to wait and see what the doctors say. Obviously, we expect him back, we're trying to hope for the best."
First Quarter: Big SU Lead
Dungey and running back Dontae Strickland set the pace for the Orange with back-to-back touchdowns in less than six minutes after kickoff, while the Blue Devils had a slow start.
The quarterback ran it in 11 yards on a bootleg around left end and kicker Cole Murphy added the extra point. as Syracuse grabbed an early 7-0 lead on the opening drive.
After the Blue Devils went three-and-out, Strickland scored on the second drive, skipping into the end-zone from six yards out.
Senior wide-receiver Ervin Philips followed, scoring the third touchdown for the Orange on a 14-yard pass from Dungey.
Syracuse led the Blue Devils 21-0 at the end of the first.
Second Quarter: Orange Puts on the Pressure
The second quarter saw some of the same action from Syracuse and a lack thereof from Central Connecticut.
A good field goal a from the 29 by senior Cole Murphy after an SU drive stalled advanced the Orange lead to 24-0. Then, sophomore Moe Neal added another touchdown after a 52-yard sideline catch and run on a pass from Dungey.
"The effort was really good,"  Babers said. "Defense is hitting people and making it difficult on their quarterback."
Syracuse was in control at the half, outscoring the Blue Devils 31-0.
Third Quarter: CCSU Wakes Up
After a slow offensive first half, CCSU responded. Jake Dolegala completed a deep pass to receiver Jose Garcia for 24 yards. Garcia beat Scoop Bradshaw down the sideline, scoring Central Connecticut's first touchdown of the night.
The Blue Devils had finally put some numbers on the board, trailing Syracuse 31-7.
Their celebration did not last long. Syracuse added another touchdown when Dungey connected a crossing pass to tight end Ravian Pierce in the end zone, for Pierce's first career touchdown.
With 3:42 left, Dungey collected his second rushing touchdown of the night. Orange led 47-7. His night was over and redshirt freshman Rex Culpepper got some reps.
Fourth Quarter: It's an Orange Game
The Orange entered the final quarter with the same momentum and back-to-back plays seal the deal over the Blue Devils.
Sophomore Sterling Hofrichter's field goal attempt was good and Syracuse advanced to 47-7.
The Blue Devils get aggressive for a moment and sacked Culpepper who fumbled  and CCSU recovered the ball.
But on the next play, Syracuse forced a fumble on a sack and got the ball right back.
With 53 seconds left in the game, Cole Murphy tacked on a 39-yard field goal.                           
Looking Ahead

Syracuse hasn't lost a season opener since its matchup against Penn State in 2013.
"Overall, I thought it was a good, solid game," Babers said. "Football teams grow the most during their first and second games. We're looking for a lot of growth coming into our next game versus Middle Tennessee."
The Orange will host Middle Tennessee on Saturday, Sept. 9 at 3:30.
Central Connecticut State will host Fordham. That's a noon game on Sept. 9