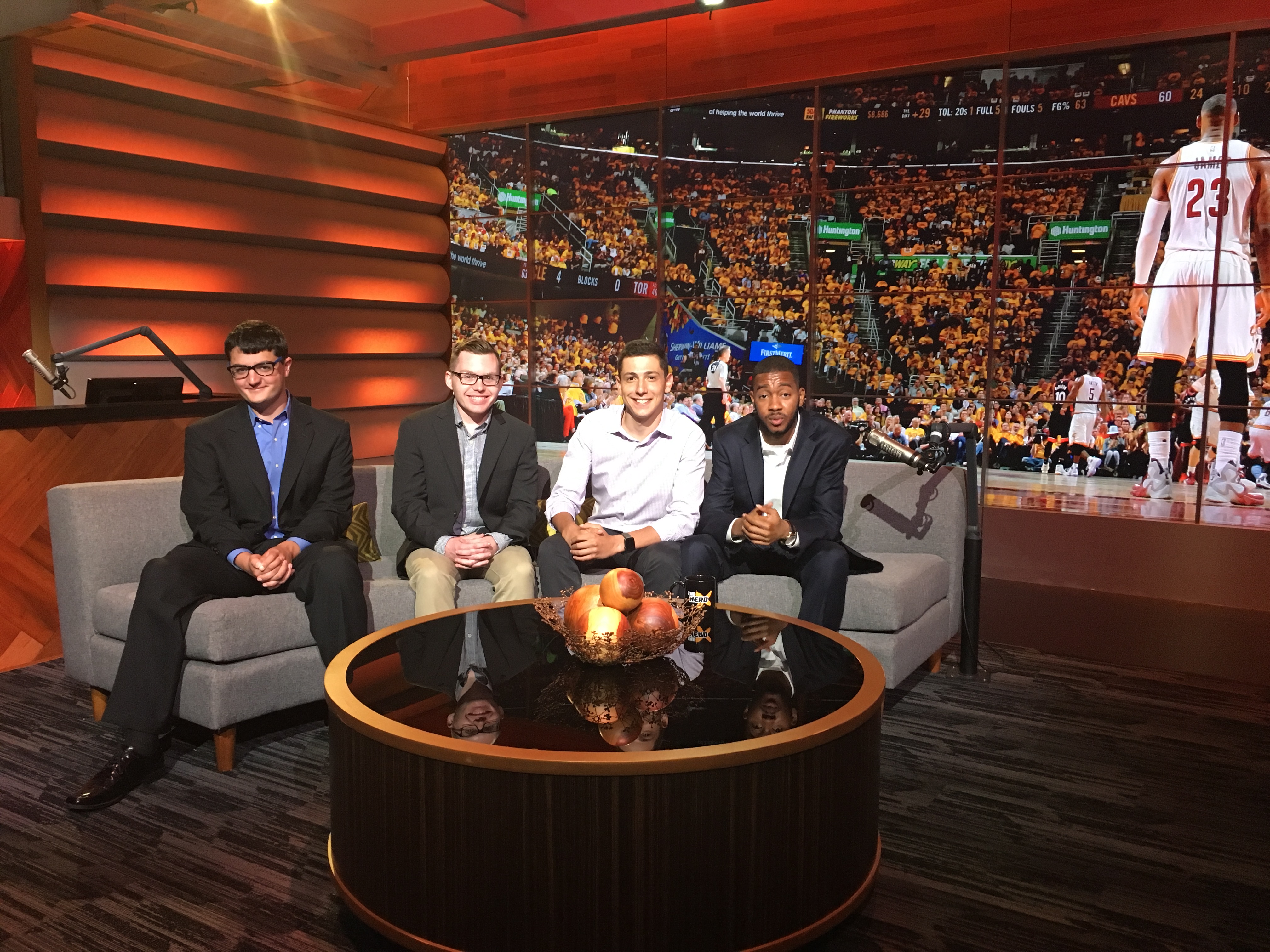 SU and Fox Sports U
Editors Note: As we begin the new fall semester and our second year of The Sports Media Project in collaboration with Fox Sports University, it's time to look back at our first-year experience which wound up with the winning student team, Ari Gilberg, Benjamin Gramley, James Hadnot and Randy Posner being flown to Los Angeles in June to present their proposals to Fox Sports Executives. Here is how it went as described by Ari Gilberg, who is now working as Online Sports Editor for the New York Daily News. 
Special thanks to Fox Sports U's Molly Stires and Kimberly Borza.
By Ari Gilberg '17
Photos and video courtesy of Fox Sports U
Experience is something that cannot be gained by reading a PowerPoint slide, or by sitting in a lecture hall. Experience is something that can only be gained through firsthand observation and the hands-on completion of a task.
And that is exactly what working with FOX Sports University provided.
What made my FOX Sports University class so unique was the fact I wasn't just working to earn an "A," I was working because I genuinely enjoyed the material – and I received an in-depth look into the inner workings of the sports media field all while doing so.
When FOX Sports University first presented its challenge, I was intrigued to say the least. The representatives of FOX Sports University tasked us with researching the 18-24 age demographic and present a proposal to help make FS1 the top-of-mind destination for sports fans, both on-air and digitally.
The assignment was broad, and at first, appeared daunting. How are we, as college students with no real-world experience, supposed to solve FS1's greatest challenge? We spent weeks brainstorming ideas, researching information and conducting focus group studies before we finally developed a proposal we believed could have been produced by any other team of industry experts.
And that is what FOX Sports University helped us become – a professional team. We gained valuable real world experience, despite not actually being out in the real world. FOX Sports University brought the real world challenges, tasks and assignments to us, which allowed us to gain professional experience from within a classroom in snowy Syracuse.
If our story ended there, that would have been enough. We had already completed our task, gained valuable insight into the sports media world, made new contacts and expanded our network, and won the Syracuse challenge by being selected over the other groups in our class.
However, months after our initial proposal, FOX Sports University invited me and my team to visit the FOX Studio Lot in Los Angeles, and present our findings and ideas once more, this time to the top executives at FS1. Our trip also consisted of touring the FOX Studio Lot, sitting in on pre-production meetings, watching The Herd and Speak For Yourself live from the shows' respective control rooms and even taking pictures on The Herd's iconic couch during a commercial break.
The most interesting aspect of our behind-the-scenes tour was being able to see the preparation Speak For Yourself producers put in prior to the day's show (at 7:00 a.m. to be exact) in terms of developing potential topics and preparing the show's order and structure, and then seeing it all come together just hours later that day.
The entire day was exciting, eye-opening and extremely rewarding
Although touring the Lot and becoming best friends with Colin Cowherd (HA! …not really) was fun, the most rewarding part of the trip was presenting our proposal to a group of high level FS1 and FOX Sports executives. This was the culmination of months of brainstorming, research, planning, rehearsals, etc. And simply put, it was satisfying to know the ideas that we spent so much time and energy to develop were being seriously considered by some of the most reputable personnel in sports media. We weren't viewed as naïve college students, but rather sports media colleagues.
FOX Sports University started out as just a college class, but for me it quickly evolved into so much more…