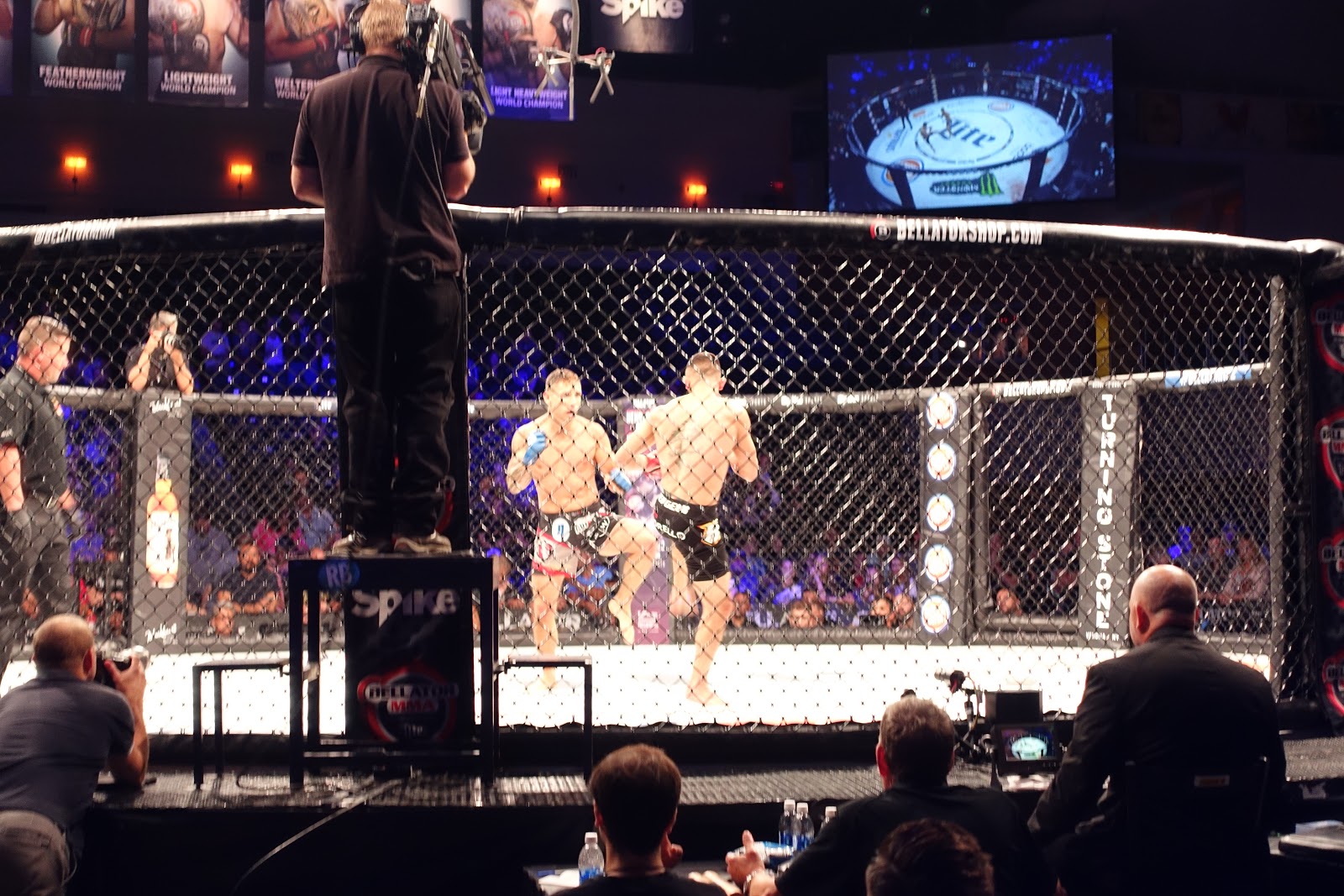 End of the Night: Two Local Fighters and Their Fans
Story and photos by Jose Cuevas

Verona, N.Y. – Bellator 182 was an incredible event with action packed bouts. However, due to time constraints some fights were left off the Preliminary Bouts and moved after the televised portion of the card. These fights were not televised and only the people in the arena could watch them.
The final fight of the entire card was between two Central New Yorkers: Joshua Ricci from Whitesboro and Brandon Warne from Ovid.  Ricci trains at the Baldwinsville Impact Team Andrello MMA gym. Both fighters brought large entourages to the fight and the entire arena resonated with raucous cheering.
The fight
The fight was hotly contested as Warne exchanged solid strikes with Ricci. However late in the first round Ricci took Warne down and attempted a rear naked choke. Despite not being able to hold on to the maneuver he maintained ground control utilizing excellent wrestling skills.
Heading into the second round a chant of "Ruthless! Ruthless! Ruthless!" rose from Ricci's side of the crowd. Ruthless is the name of Ricci's fight team and it was all in full support of him. Ricci maintained control but Warne would not give up refusing to allow Ricci to subdue him.
Early in the third round Ricci was aggressive trying to finish off Warne, but Warne remained defiant and his rooting section chanted his name.  As Warne was building momentum after stuffing Ricci's takedown attempt, Ricci caught him in a rear naked choke again.
As much as Warne tried to fend off the tenacious Ricci he could not.  The fight concluded and we went to the judge's scorecards. All three gave the fight to Ricci giving him a unanimous decision to remain undefeated at 4-and-0.
Worth the wait
Some people had cleared out of the arena before the final bout and that made for a more intimate setting where the remaining crowd was split between Ricci and Warne. The local boys put on a show that rivaled the fights on the main card.
The intensity of the fans that stayed for this bout elevated the ambiance and encouraged the fighters to give it their all. Just goes to show you that the biggest fights may be the ones you never hear about.
Well, until now.