The Intersection of Sport and Spectacle, Professional Wrestling
Story, photos and video by Jose Cuevas
SYRACUSE, N.Y. – I remember when I was a young boy my dad would take me to a local venue in Compton, Calif. to watch Lucha Libre. The term may sound familiar, it embodies the high flying style of professional wrestling made famous in Mexico by luchadors. These warriors would don elaborate masks and even capes as they battled in the ring. I remember my favorite luchador was "Piloto Suicida" and was lucky enough to have this photo taken alongside my sister.  I marveled at the athleticism and acrobatics they would perform on the ring.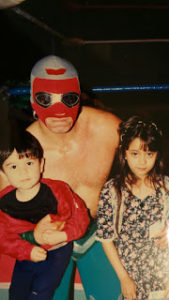 Beyond the amazing feats, I was also enthralled by the battles between the "rudos" and "tecnicos", essentially the good guys versus the bad guys. Every Saturday my dad would take us to watch the eternal battles between los rudos and los tecnicos.
I wondered how they kept battling every weekend despite performing death-defying leaps, taking slam after slam, and receiving hard chops across their chests that would resonate like gunshots. They even rewarded my curiosity by telling me how tough they were and that if I worked hard when I grew up I could be just as tough.
As I grew older I immersed myself further in professional wrestling, watching World Wrestling Entertainment (WWE) and the now defunct World Championship Wrestling (WCW). I watched Hulk Hogan, "Nature Boy" Ric Flair, The Icon "Sting,""Stone Cold" Steve Austin, The Rock, "Big Poppa Pump" Scott Steiner, Rey Mysterio, and Eddie Guerrero.
Fast forward to the present day and I found myself at NBT Bank Stadium on a Saturday night in August covering my first professional wrestling event. Big Time Wrestling produced an impressive card featuring some of the all time greats including The Icon "Sting," "Big Poppa Pump" Scott Steiner, Billy Gunn, and Sabu.
The Athleticism
A constant from the first match to last was the feats of athleticism. Pictured below is a luchador performing a springboard cross body press which is a dangerous and complicated maneuver. It consists of jumping onto the top rope, using it as a springboard, and throwing one's body onto the opponent.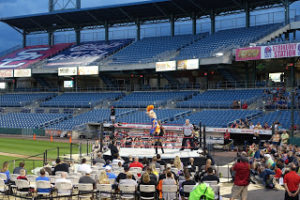 It's not just high flying moves that should be appreciated. Below is a wrestler performing a suplex, a very complicated amateur wrestling maneuver which consists of throwing your opponent over your head while bridging with your neck to hold him in a pinning position. It's a dangerous maneuver that even seasoned wrestlers have trouble performing.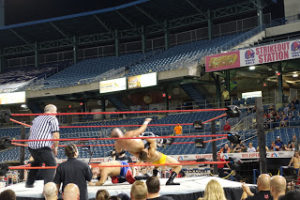 The Spectacle 
Professional wrestling also encapsulates a mythos that transcends time itself, the struggle between good and bad. At the core of a professional wrestling match is the battle between a "face", a good guy, and a "heel", a bad guy. Pictured above is the heel pulling one of the oldest tricks in the book. He reaches out his hand in a show of sportsmanship, appealing to the kind nature of his opponent. As his opponent finally accepts the handshake the heel kicks him in the gut, taking advantage of his opponent's kindness.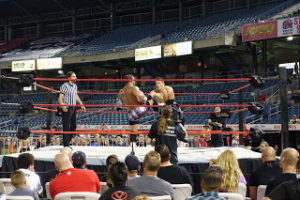 The heel will also at times showboat. He will do anything and everything to antagonize his opponent and the fans. Athletes who are cocky usually draw the ire of fans.Pro wrestling heels take that resentment and utilize it to tell enthralling stories in the ring. The end goal is to win. It doesn't matter the methodology of how victory is achieved. The ends justify the means.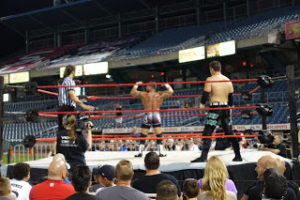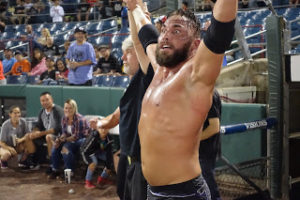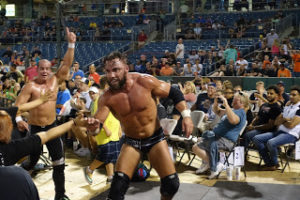 Faces yearn to be the hero of the day. They encapsulate the honest and humble athlete. They are the fan favorites. Pictured above is a tag-team of faces that just defeated their opponents. They celebrate with the audience and are cheered for their winning efforts.
The Hard-Hitting Action
The event was filled with intense action. None was more intense than Extreme Championship Wrestling (ECW) legend Sabu performing a flying leg drop through a table. The match was contested under "hardcore rules" which essentially means there are no rules. These matches test the toughness of each individual as the action transcends basic professional wrestling maneuvers and replaces them with unconventional weapons and hard hitting action.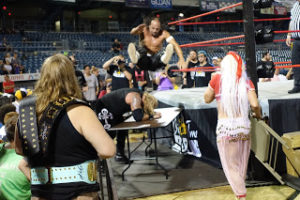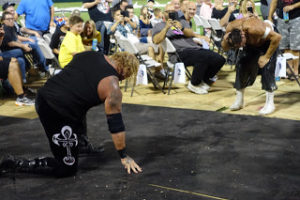 A Clash of Ring Legends
Two legends from the "glory days" of professional wrestling wrestled at the event. Their rivalry hearkened back the days of the infamous "Monday night wars" where WCW and WWE would go head to head every Monday night. During this time Billy Gunn and De-generation-X (DX) would showcase their talents on WWE Monday Night Raw while Scott Steiner and the New World Order (NWO) would showcase their talents on WCW Monday Nitro. The two would consistently antagonize one another and throw insults across the airwaves.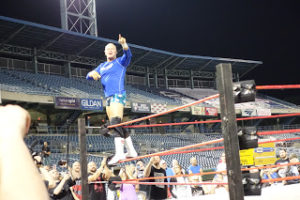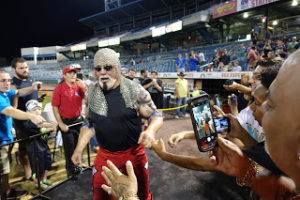 Billy Gunn and Scott Steiner renewed their rivalry by putting on a wrestling showcase in the main event. The match was technical and intentional. Everything these men did in the ring meant something, it showed why they are legends. Steiner delivered hard-hitting strikes while antagonizing the crowd. Gunn recovered and delivered his patented finishing maneuver, the "fameasser" for the victory.
The Intersection of Sport and Spectacle 
The event was full of maneuvers that most trained athletes would be afraid to perform. These wrestlers performed them while ensuring that they did not injure themselves or their opponents. They used their bodies to tell stories in a way that only they can. Whether it be by slamming each other, delivering a flying cross body, executing a suplex with a bridge, flying off the top rope onto a table, or delivering their finishing maneuver.
Professional Wrestling walks a fine line between sport and spectacle because it is the only art form of its kind that can do it. It synthesizes the eternal battle of good versus bad, hard-hitting action, athleticism, and storytelling.
The event at NBT Bank Stadium reminded me of when I was that little boy who wondered how these warriors could do such amazing maneuvers while creating a one of a kind spectacle. To ask whether professional wrestling is either sport or spectacle is the wrong question, it is a symbiotic pairing of the two, it is both in one refined package.