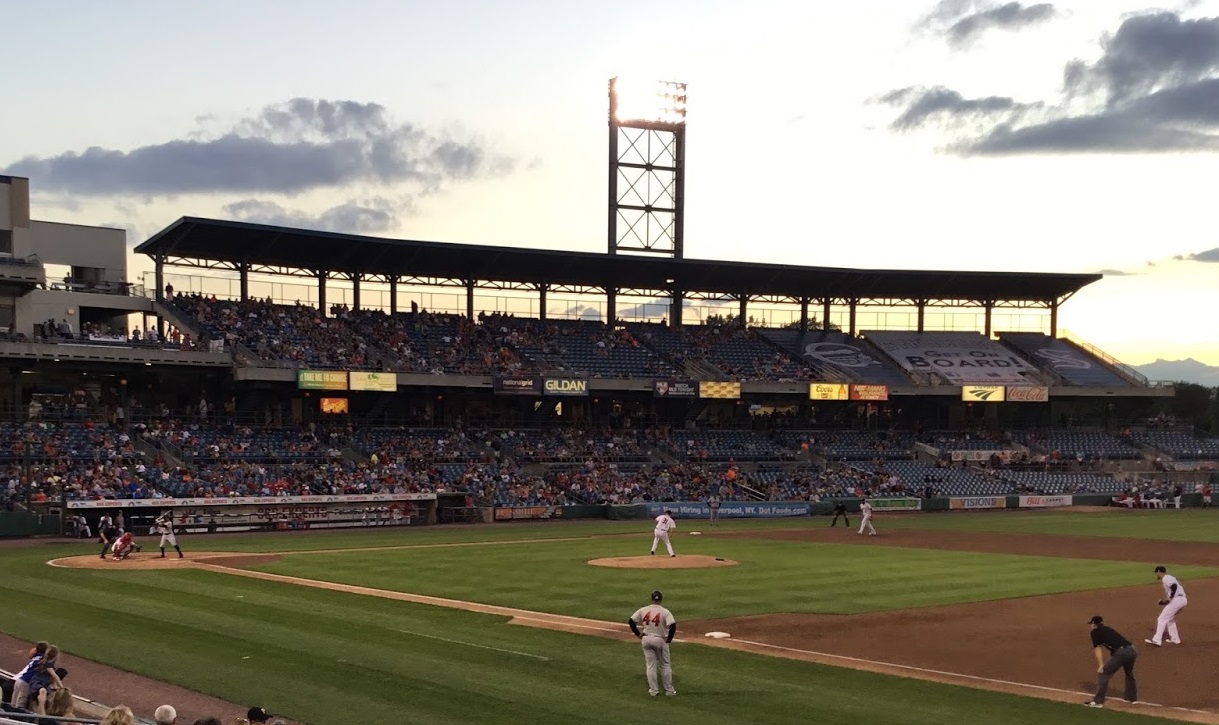 Chiefs Romp, Presidents Race
Story, photo and video by Matt St. Jean

SYRACUSE, N.Y. — Led by Irving Falu and Matt Skole, the Chiefs put on a display of offensive might at NBT Bank Stadium Friday night, beating the South division-leading Indianapolis Indians 11-5. The win for the Chiefs snapped a four-game skid against the Indians and was a remarkable turnaround from the night before.
As a bonus the famous Washington Nationals mascots, the Presidents were in town and ran their signature President's Race after the third inning.
Dialed-In
Thursday night against the Durham Bulls, the Chiefs had found themselves in a four-to-nothing hole before any of them stepped into the batter's box. On Friday, it was the Chiefs who got off to a fast start.
Center fielder Zach Collier set the tone, hitting a seeing-eye single to center to lead off the bottom of the first. After Falu grounded out, Neftali Soto smashed a line-drive into the gap, scoring the game's first run. Soto slid into third for his first triple of the season. Snyder then drew a walk to put runners on the corners with no outs for Skole.
Skole returned to action on Thursday after a stint on the disabled list and struck out in all four at-bats. Friday night, with two strikes, he made solid contact, driving the ball to deep center field. The ball bounced on the warning track and went over the wall for a ground-rule double. The double was one of three extra-base hits for the first baseman.
"It was nice to get a hit, drive in a run, to realize I'm here for a reason, after a rough night." Skole said. "[Thursday] I was super excited to be back, but tonight I decided to slow the game down a little bit, let the game come to me and trust my ability."
With two runs already across, the Chiefs weren't done yet. They took advantage of an error by Indians first baseman Joey Terdoslavich, which allowed Snyder to score from third. Michael Almanzar added salt to the wound when he doubled down the third base line scoring both Skole and Spencer Kieboom  to put the Chiefs up five to zip at the end of the first.
Simms Solid, Room to Improve
The starting pitching match-up pitted Syracuse's John Simms (1-3, 7.67 ERA), who had just recently been called up from AA, against Tyler Eppler (6-8, 5.29 ERA), who made his 19th start for the Indians. Eppler spotted Simms a five-run cushion in the first, but Simms ran into a bit of trouble himself, soon after.
In the top of the second, Simms surrendered two runs on a RBI single from Jacob Stallings and a sacrifice fly by Gift Ngoepe. In the fifth, he gave up a two-run bomb to Danny Ortiz. Simms was blessed with good run support, but Chiefs manager Billy Gardner says the young gun has some work to do.
"He had trouble with his secondary pitches, getting them over [for strikes], they were sitting on his fastball," Gardner said. "If you want to get to the next level, you need to have three pitches."
Simms earned his first win for the Chiefs pitching six innings allowing four runs on five hits with three walks and two strikeouts.

Indians' Nightmare on the Mound
For the Indians, Eppler may as well have been throwing a beach ball. In addition to the first inning, Eppler allowed back-to-back RBI doubles to Snyder and Skole in the second and then a two-run bomb to Falu in the fourth. He finished with four innings pitched, 10 hits, nine runs (eight earned), one walk and one strikeout.
"A lot of good approaches tonight, hitting on a line, short to ball, hunting fastball," Gardner said.
Life didn't get any easier for the bullpen. In his second inning of work, Brett McKinney left a belt-high fastball over the inside part of the plate to Falu, who deposited the offering over the right field wall.
"I knew he was going to pitch me in," Falu said. "That's my pitch, man, and when it comes I don't miss it."
In the seventh, Johnny Barbato served up a spicy meatball to Matt Skole who launched it over the wall for his eighth home run on the season and the 11th run for the Chiefs.
"I wasn't really trying to hit a homer at all," Skole said. "Just trying to get a good pitch to hit, a good swing, make sure my time was right and it just happened to fall right into my barrel."

The Series Continues
Syracuse looks to make in two in a row Saturday night at 7:05 p.m. at NBT Bank Stadium. A.J. Cole (4-4, 5.66 ERA) toes the rubber for the Chiefs against Clay Holmes (9-5, 3.26 ERA).