Remembering "Papa"
Story by Brooke Meenachan
Photos by India Timpton and Corey Crisan
SYRACUSE, N.Y. – Two young men stood in Syracuse University's Ensley Athletic Center Wednesday afternoon talking about their grandfather. And a crowd of reporters hung on every word.
Their grandfather was former Syracuse University football head coach, Dick MacPherson, who died Tuesday at the age of 86.
Most knew 'Coach Mac' as the prominent coach who turned the Orange around in his ten seasons as head man and who won Central New York hearts with his charisma, involvement, enthusiasm and colorful comments.
Macky and Cameron MacPherson, knew him as so much more.
More than a coach

Growing up, Macky and Cameron said Coach MacPherson was always around. But around their house, he was better known as 'Papa'. And even as Papa, he was more like a father figure.
"I think having him as a grandfather and as a father figure, which is a thing not a lot of people know, helped raise me, really helped shaped my view on the world," said Macky, whose given name is Richard.
Macky and Cameron's father wasn't in the picture very much growing up, so Papa helped fill that hole.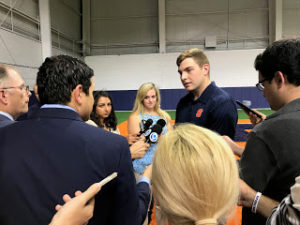 "You can't really overstate that," Cameron said. "The role he played to my family, to my brother and my sister and our cousin. His four grandchildren. My mom worked hard and he was always there whenever we needed anything."
Whether that meant needing a ride to practice or leading the cheering section at a ninth-grade basketball game, Cameron says Papa always made it a point to be there.
For most boys at a young age, their dad was the man in their life. For for Macky and Cameron, that man was their grandfather.
"He was my role model," Macky said. "He was like my dad. He was the person I looked up to every day. He was the person I wanted to make proud every day. I didn't do everything right, but I tried to for him. I think he always appreciated that. I know he invested a lot of time into his grandchildren. He invested so much time into all of us that we just wanted to give all of that back to him."
It's the little things
Niether Macky nor Cameron could pinpoint one memory of their Papa that stood out the most. Instead, both said it was the little things that added up.
"You sit there and you've got a waterfall of stories to pick from," said Macky, now a graduate assistant with SU football. "To say that you are going to have just one memory of him that's going to stand out, it'd be impossible for me to do that right now."
"We've got so many things from when I was a little kid to playing catch down in Florida with him or him throwing us into the pool or teaching me how to golf up to just the past year, two years ago when I left the NFL when I got cut by the Bills.
"The first thing he did was told me he was proud of me. It's just one of those things where you can't sum up in one memory everything he was for me, my family and his community."
Cameron echoed his older brother, but talked about a voicemail from his grandfather he just came across from his quarterback playing days at Georgetown, before he transferred to Syracuse and finished his college football career as a tight end.
"He said we played our heart out, he was proud of me, that I was making him proud. That meant a lot. Just little things like that. He would always call. He'd always end the phone call with a triumphant resonation of his phone number as if we didn't have caller ID," Cameron said with a chuckle.
"Those are the things that I remember. He would do the little things just to show, to demonstrate how interested he was in you and how much he loved you. That love he didn't save just for his family. It was wide. It was for a lot of people."
Community support
Macky and Cameron say the outpouring love and support from the University and the community has been outstanding.
Cameron says the amount of generosity has been so great his family has more food than they know what to do with and more flowers than they have vases.
"The lengths the University is going to make sure the services are beautiful and everyone who loved him can be there. I don't know if you can anticipate something like that," he said.
Macky saw the impact his grandfather had on the community.
"It's been such a nice thing to see that so many people thought so highly of him. I think if everyone can try to achieve that type of connection with people throughout their life, I think our world would be just a little bit better," he said.
Leaving his legacy

Dick MacPherson will go down as a legendary coach at Syracuse University. After arriving in 1981, he led the Orange to an undefeated regular season six years later, finishing with a tie with Auburn in the Sugar Bowl. He finished with a 66-46-4 record, just shy of .600.
He was inducted into the College Football Hall of Fame in 2009.
The MacPherson family "bleeds SU colors."
"My brother went here, my sister goes here, my mom went to law school here, my aunt graduated from here. Our family is Syracuse. It's in our blood. When you cut us open, it's going to be Orange and Blue. That's who we are," Macky said.
Off the sidelines, Coach MacPherson was one-of-a-kind. Anyone you ask most likely have a story of how great of a person Coach Mac really was. The community describes him as a kind, caring man.
His grandsons couldn't agree more.
"The thing about him is, he meant a lot to the people he met along the way all throughout the community," Macky said. "It didn't matter who they were, whether it was a bank teller or a starting quarterback and he left a mark. That's one of the things I'm most grateful for is the way this town is remembering him is that all of those stories, all of those million little impacts are coming to light. It's contributing to a very full, very honest picture of a great man,"
Macky and Cameron know their grandfather's legacy as a coach will live on in the hearts of the Syracuse community, but more so in the hearts of them and their family.
"He was a great coach. He's in the College Football Hall of Fame because of that. But, he would be in the grandfather hall of fame, too, because he was a great person," Macky said.
Calling hours for Coach MacPherson will be held Thursday at 5 p.m. at Hendricks Chapel. The funeral will also be held at Hendricks Chapel on Friday at 2 p.m.