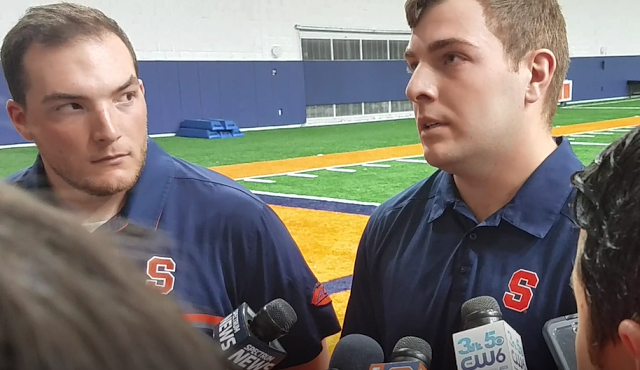 MacPherson Brothers Emotional as they Remember Grandfather
Story, photo, and videos by Corey Crisan
Syracuse, N.Y. — It felt less like a news conference than an opportunity to share and enjoy some lasting memories from as close to the source as it gets. Macky and Cameron MacPherson were not shy about opening up to reporters about their grandfather Wednesday afternoon at Syracuse University's Ensley Center.
The beloved Syracuse football coach Dick MacPherson's impact off the field was just as great as his impact was on the field, and his two grandsons, both of whom are former SU players emphasized that  as they shared memories and anecdotes about him.
"He was a great man," Macky said in his opening statement. "Despite the fact that we're now here to celebrate those times and talk about him, it's one of those things where it'll never get any easier, but we'll continue to push through."
The brothers gave emotional statements to begin the open media session. Cameron had to fight off tears while speaking.

"He was just a charming, charismatic guy that was such a gift to a lot of people," Cameron said. "Most, especially, to our family and me."
Macky is a former center for SU and now works as a graduate assistant for SU football. He says his grandfather, as expected, is his biggest coaching influence.
"Every day, I get to go out there and do the thing I love," Macky said. "And now, it's a blessing that I get to do that in honor of him."
Calling hours for Coach Mac will be held on Thursday at 5:00 P.M. in the Hendricks Chapel on the SU campus. Funeral proceedings will begin Friday at 2 P.M. at the same location.