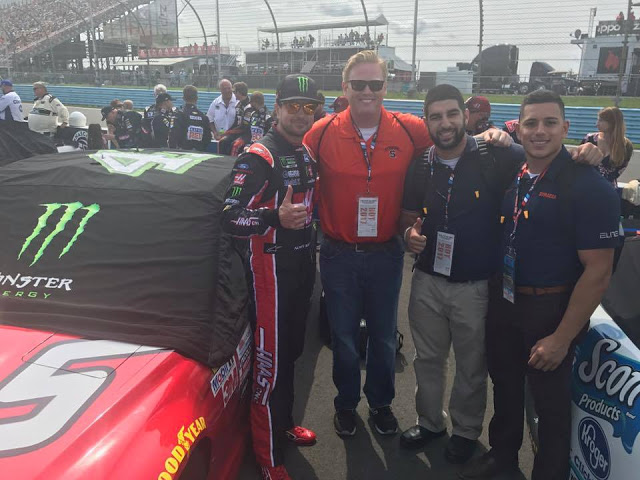 NASCAR 101
An Educational Experience at The Glen
Story, photos and videos by Tommy Farrell
WATKINS GLEN, N.Y. — When Matt St. Jean, asked if I wanted to go to a NASCAR race with him and Jonathan Singh this past weekend, I jumped at the opportunity. Off went to the Monster Energy NASCAR Cup Series as the I Love New York 355 took place at Watkins Glen International. That's me with the beard.
What I didn't know was that we were going to have "HOT Passes." HOT Passes are essentially V.I.P. tickets that allow you full access to the garage, pit, and hauler areas before and during the race. Yes, I witnessed a pit stop up close. Matt has connections.
I had never been to a NASCAR race, nor do I follow NASCAR often. But, being new to the sport, I wanted to take it all in and share what it was like with the world. Full disclosure: I'm not sure if I can ever attend a NASCAR event again. Unless, I have the special access that I had on Sunday.
The Drive – 7 A.M. 
Driving to Watkins Glen from Syracuse, where the three of have become friends as graduate students at the Newhouse School of Public Communications, was a little under two hours, but one of those hours was over winding, hilly, and narrow back roads.
Although I had done my homework leading up to the race, I wanted to take advantage of Matt's knowledge on NASCAR. Most of the two hours in the car consisted of a Q&A with Matt about the points system, different drivers, pit crew positions, and so much more. I also learned that the Watkins Glen course was one of two courses in NASCAR that is a road course. A road course is different than your typical "oval" course in that you're turning right, instead of left. There are also more turns within the track, other than a typical oval course. This type of course calls for different brakes and stock car construction, as well.
As the three of us pulled into Watkins Glen, we noticed how much the village revolved around this one weekend. There were several little pop-up NASCAR shops on the way to the racetrack.
Registration – 9 A.M.
We pulled up to the racetrack around 9 a.m. for a 3 p.m. race. The event was already filling up with people tailgating and barbecuing. We picked up our HOT Passes at the NASCAR Registration hauler where Kurt Busch's team had put our names down. Before coming to Syracuse, Matt worked in conjunction with Busch to bring military troops to different races through the Troops to the Track program.
Taking It All In – 10 A.M.
Once I parked the car, we walked everywhere we could to take in the experience. There were dozens and dozens of food vendors, bars, and gift shops. The food ranged from corn dogs and sausage sandwiches to turkey legs and barbecue. Each bar had over five TV's with the race airing, no matter how far or near it was to the track. Each gift shop was themed by NASCAR, Watkins Glen International, Ford, Chevy, or Toyota.
To get to the garage and pit area, we crossed the track, and that took me by surprise because the officials had to make sure cars weren't driving. Yes, some cars were doing test runs while people were crossing the track.
The Garage – 10:30 A.M. 
My first experience at a NASCAR race was especially unconventional because of my access to the garage and pit areas. I don't know much about cars and the work that goes into racing them, but the efficiency and order of each team impressed me the most.
As a former college football player, I tried my best to keep comparing a team to a football team. Each person has a different role and responsibility that contributes to the car and driver's success.
Kurt Busch's Hauler – 11 A.M. 
About 50 yards from the garage were the teams' haulers. Haulers are huge trucks but the inside of the truck has a kitchen and lounge area for the drivers to relax. All of the different haulers are within feet of each other.The inside was a tight squeeze, but the four of us made it work.
Busch had a black hauler wrapped with his sponsor logos, Haas and Monster. His hauler was next to Danica Patrick, the only female NASCAR driver in Sunday's race. We went inside Busch's hauler to talk with him and I found out that NASCAR is one of the most fan-friendly sports.
"What's different about NASCAR is you can let some fans hang out right on the track, right in the garage area, right in the pits," Busch said. "And that's a different atmosphere from football or baseball or NBA. It's tough to get on the court while LeBron is doing his warm-up. For us in NASCAR, we're trying to encourage more fans to join in on the action."
Driver/Crew Chief Meeting – 1:30 P.M. 
After the qualifying races at noon (which determine positioning for the main race at 3 p.m.), we were told to follow Busch to the Driver/Crew Chief Meeting which took place in a building overlooking pit road. From Busch's hauler to the meeting, fans crowded the fence asking for and getting Busch's autograph as a camera crew from NBC Sports followed along.
https://www.youtube.com/watch?v=NMJ5dcF0fsk
When we got inside for the meeting, several NASCAR administration members  including Chairman Brian France addressed the drivers and their crew chiefs,. The half hour meeting went over rules and regulations of the race, as well as safety precautions to take at The Glen if an emergency occurred.
Driver Introductions – 2:45 P.M.
After the Driver/Crew Chief Meeting, Busch went back to his hauler to get ready for the race and head out to the track for driver introductions. We were able to walk right onto the track for pictures with Busch at his car with the national anthem immediately after that. Following the national anthem, we walked to pit row to watch most of the race from the TVs in Busch's pit and when the cars would pass by the main straightaway, where we were.
The Race – 3 P.M. 
After spending six hours before the actual start of the race, I was more and more excited and anxious for the race to begin. I found myself immersed with Busch's pit crew, where there wasn't that much communication. The crew members carried themselves calmly and methodically, even up to the first pit stop, which came near the 15th lap.
Kurt Busch's younger brother, Kyle Busch led for most of stage one to pick up a stage victory. The second stage saw rookie Daniel Suarez pick up a win and then late in stage three, the drama started.
Brad Keselowski led through most of stage three, but ran out of gas and had to take a pit stop, and was also charged with a pit penalty. It was then where Martin Truex Jr. took the lead and crossed the finish line to the checkered flag to pick up his fourth win this year. With his win at The Glen, Truex has a comfortable lead in the cup series with 34 points.
View from the grandstand
The three of us decided to watch the final ten laps in the main grandstand. Surprisingly, there were a few seats available right above the finish line. When Keselowski went in for his pit stop, I had a gut feeling that someone else was going to win – who that was, I had no idea. Drivers had to manage their fuel more efficiently because it was a road course. Truex took the lead and when we saw the big screen of him making the final turn – an unexpected rush went through my body.
The thousands of people stood up and starting cheering and as Truex crossed the finish line, for some reason I immediately looked for his team on pit road. They jumped the wall and started celebrating. Soon after, Truex started doing donuts in his car and I could smell the burnt rubber – the first time I was excited for that scent.
On the road again
After Truex's celebration, we rushed to my car in the parking lot and got on the road back to Syracuse. Besides the traffic leaving the racetrack, the ride back was effortless. Words cannot express how thankful I am for Matt. I am so grateful that he took me to Watkins Glen International to experience something so new and out of my comfort zone.