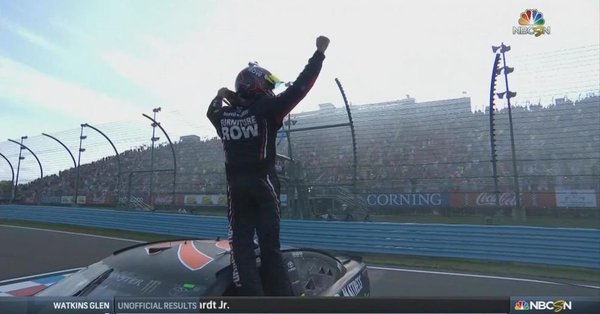 Martin Truex Jr. Fuel Tactics Lead Him To Victory
Story by Jonathan Singh. 
Photos by Jonathan Singh and Matt St. Jean
Watkins Glen, N.Y. — Breakdowns and low fuel caused an exciting finish in front of a sold out crowd on Sunday afternoon at the I Love New York 355, as the Monster Energy NASCAR Cup Series returned to Watkins Glen International. When it was over, Martin Truex Jr. of Furniture Row Racing had the victory.
"I've been thinking about this one a long time – all weekend, all day," Truex said.
The Garage
Wheels rolling around, gas tanks being filled, and bolt being drilled. Maintenance was busy Sunday morning as pit crews completed final inspections of their cars. The early morning hours at the garage were a sight for spectators as drivers were outside their trailers, meeting and greeting fans.
"It's fun, there's a lot of energy within the garage area," said Kurt Busch of Haas Automation/Monster Energy Ford. "Just the infield atmosphere at NASCAR races just keeps on getting bigger and bigger before the actual race. They are now selling different passes to hang out right on the track, right in the garage area, right in the pits."
Busch is encouraging more fans to come out and see the action and experience what goes on around the garage.The veteran NASCAR driver of over 22 years has never won at Watkins Glen International. His best finish was in 2009 finishing behind Juan Pablo Montoya.
The Pit
As teams made their way down from the garage to the track, they were greeted with an ovation from fans, as 37 cars were carefully pushed into their pits. Within the pits stand the most valuable members of the team; the pit crew, dressed in their flame-resistant gear preparing to maintain their team's car under any circumstance.
The Green Flag
90 laps, 220.5 miles on a 2.45-mile paved road course, Kurt Busch's younger brother Kyle sped out to a commanding lead, as he took control of stage 1, leading every lap. Busch was trailed by Martin Truex Jr. of Furniture Row Racing, who would stay on pace to put himself in good position for stage 2. Kurt Busch also found himself in good position going into the second stage but was more focused on the final laps.
"Maybe I am a bit timid on the breaks, but definitely want to focus on not using up the breaks early in the race today and have them for the latter part, and really attack at the end," he said.
The Final Five
Fuel was the issue for two cars during the final laps. As both Brad Keselowski and Ryan Blaney ran out of gas, Truex took the lead with three laps left and held it as the checkered flag waved him across the finish line. It was Truex's first win at Watkins Glen International as he spun in circles celebrating his win while his pit crew jumped with joy.
Matt Kenseth finished second, followed by Daniel Suarez. Kurt Busch concluded with a sixth place finish while Kyle finished behind him in seventh.
This marks Truex's fourth win of the year, giving him 34 playoff points.