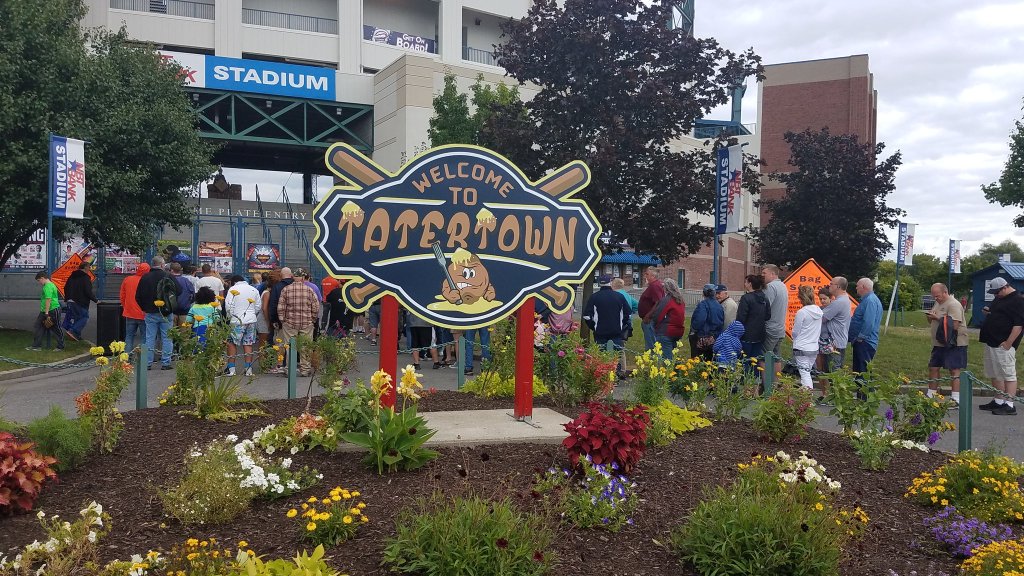 Salt Potatoes Sack Red Wings
Story and photos by Corey Crisan
Syracuse, N.Y. – The Syracuse AAA baseball club earned at least a split of a four-game series versus the Rochester Red Wings, winning 9-4 on Saturday night at NBT Bank Stadium. The team did it as the Syracuse Salt Potatoes.
"The expectation was just have fun," Salt Potatoes General Manager Jason Smorol said. "Do it for the right reason, which means do it for the fans. They love it. Everybody loves it and they just say how much fun it is. Tonight, we did our job."
Salty Saturday
The normally-named Syracuse Chiefs changed the team name and uniforms – for one night only – to pay tribute to one of Central New York's signature foods.
"I'd say (the promotion) met our expectations because of the support," Smorol said. "In this area, people grabbed on to it. We knew it was going to be a big night, and it turned out to be true."
The Chiefs served up plenty of salty treats at the concession areas on Saturday.
"We've always served salt potatoes, but nobody bought them," Smorol explained. "Now, we're selling a lot of salt potatoes. We also (had) a garlic parmesean salt potato."
In addition, there were salt potato pizza and smashed salt potatoes with bacon and cheese. Smorol said they tried to deep fry the salt potatoes, but did not have much success in doing so.
The Appetizer
The Red Wings didn't waste much time getting to Salt Potatoes starter Cody Satterwhite. They got on the board on the sixth pitch of the game via solo home run by catcher Mitch Garver. The Red Wings then extended their lead to 2-0 after consecutive doubles by Kennys Vargas and Byung-Ho Park.
The Salt Potatoes responded with five runs of their own in the bottom of the first off Rochester starter David Hurlbut. Zach Collier, Brandon Snyder, and Neftali Soto led off the inning with consecutive doubles, scoring two runs. After a Clint Robinson strikeout, Chad Huffman singled, Alejandro De Aza reached on a fielder's choice, and Pedro Severino singled to give the Salt Potatoes a 3-2 lead.
Michael Almanzar then singled in De Aza and Severino to extend the Salt Potatoes' lead to 5-2 after the first inning.
The Red Wings scored again in the top of the third. Garver led off with a single and then stole second base. After a Daniel Palka strikeout, Vargas blooped a double down the left field line to cut the Salt Potatoes lead to 5-3 after two and a half innings.
The Main Course
The Salt Potatoes added two more in the bottom of the fourth inning. Almanzar led off with a double, then Emmanuel Burriss singled him in to give the Salt Potatoes a 6-3 lead. Then, Collier reached on an error and Brandon Snyder knocked an RBI single off Red Wings reliever D.J. Baxendale to extend the lead to 7-3.
The Red Wings picked up a run in the top of the fifth off Salt Potatoes reliever Rafael Martin. Palka led off the inning with a double. After a flyout by Vargas and a strikeout from Byung-Ho Park, Niko Goodrum singled in Palka to shorten the Salt Potatoes' lead to 7-4.
Back for Seconds
The Salt Potatoes added insurance in the seventh. Snyder walked to start the frame and, then Soto singled off Red Wings reliever Mason Melotakis. With Clint Robinson at the plate, Snyder scored on a wild pitch after having advanced to third on the Soto single. Robinson and Chad Huffman struck out, but Alejandro De Aza singled in Soto to give the Salt Potatoes a 9-4 lead after seven innings. That ended the scoring for Saturday.
Syracuse improved its record to 44-68 and Rochester dropped to 63-49. The rehabbing Shawn Kelley (1-1) picked up the win for Syracuse in relief, and Rochester starter David Hurlburt took his eighth loss of the season. The game took two hours and fifty six minutes to play, and 8,345 were counted in the seats at NBT Bank Stadium to see it.
Serving it Up
Syracuse has continued the trend of producing from the middle of the lineup. Neftali Soto, who is usually third in Billy Gardner's lineup, has been on a tear lately and he continued that trend on Saturday. Soto is now hitting .331 (42-127) with ten doubles, eight HR, and 22 RBI in his last 32 games.
Michael Almanzar has been hot lately, as well. He has recorded at least one RBI in six straight games, and he's hitting .442 (19-43) after starting off at .095 in his first seven games with Syracuse. He went 3-4 with a double and 2 RBI on Saturday.
After his 2-3 performance on Saturday, infielder Brandon Snyder is now hitting .500 (9-18) and has three doubles in his last five games.
"I've had a really crazy season," Snyder said after Saturday's game. "From ups and downs and injuries and stuff like that. But I'm happy that I'm healthy and I'm able to go out and contribute to this."
"We've had guys here, there, and everywhere," Snyder said regarding the team's recent success. "We haven't had the same lineup together for more than a couple days at a time, so that makes it tough. It's one of those better-late-than-never things. Teams that do really well… that's one of those things. You just have to click. Unfortunately, it just took us a while, but now we're rolling."
Series Lines
Friday 8/4 Game One: ROC 1, SYR 2. WP: Turner (1-3, 5.89 ERA), LP: Enns (1-2, 2.38), SV: Suero (7)
Friday 8/4 Game Two: ROC 3, SYR 2. WP: Reed (1-0, 1.45), LP: Adams (6-2, 2.45)
Saturday 8/5: ROC 4, SYR 9. WP: Kelley (1-1, 12.27), LP: Hurlbut (8-6, 3.78)
What's Next
The Salt Potatoes will revert to their ususal name, the Chiefs, on Sunday. The Chiefs conclude their series versus Rochester on Sunday. First pitch is scheduled for 1:05 P.M. at NBT Bank Stadium.
Rochester RHP Aaron Slegers (12-4, 3.13 ERA) is scheduled to face Syracuse RHP Esmil Rogers (1-0, 0.00). The Chiefs will travel to Toledo to begin a four-game series with the Mud Hens. The two teams will play a doubleheader on Monday.