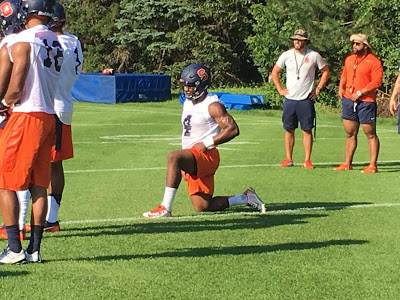 Franklin Makes Time to Improve
Story and photo by Frank DeLuca

SYRACUSE, N.Y. — Zaire Franklin is entering his third season as the captain of the Syracuse football team, but that doesn't mean he has nothing left to learn.
The senior linebacker totaled over 100 tackles last year, but he says he is still trying to take his game to another level.
"I'm just trying to take an extreme mental edge to my game," Franklin said during a media session Sunday afternoon before the first preseason practice.
Franklin added that it's easier to find the time to better himself as a player than when he was new to college football.
"When you come as a freshman, so many things are going on,"  Franklin said. "You don't really understand how to manage your time. Going into my fourth time in it, I'm really able to dictate how the day is going to go.
"I don't need to take that two hour break or something because I'm not sleepy because I'm used to doing these things. So rather than going home to go to sleep for two and a half hours and coming back, let's get in the training room, let's watch more film, maybe go out to practice a little bit early."
The Syracuse defense returns a linebacking core, coming off a very productive season statistically. Senior outside linebacker Parris Bennett led the team with 110 tackles last year; he and Franklin became the first pair of Syracuse players to amass over 100 tackles since 2003. Jonathan Thomas, senior outside linebacker on the other side, was fifth on the team with 55 tackles.
Franklin said their success on the field has a lot to do with their bond off the field.
"It's always fun when you're playing and you got your two closest friends right next to you. Me, J.T., and Parris have been playing together since we got here. It's just a lot of unspoken chemistry between us three," Franklin said.
While many are looking ahead to the challenging schedule SU will have to endure, Franklin said he is taking it one day at a time.
"I'm just excited for today. I can't really see past training camp. I can't really see past this helmet practice today."
Training camp will run through August, and Syracuse's season opens up against Central Connecticut State on Friday night Sept. 1 at the Carrier Dome.