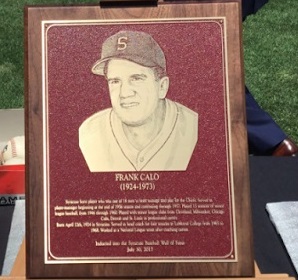 Frank Calo: "Proud to Be from Syracuse."
Story and photo by Katie Benoit
SYRACUSE N.Y. – Frank Calo, Jr, got emotional while talking about his late father and how he would have felt being inducted into the Syracuse Chiefs Wall of Fame on Sunday.
"My dad would be very proud and honored," he said. "He was proud to be from Syracuse and be involved in baseball. This would have been a great day for him."
It was a beautiful day for baseball, as Calo and three other new members were added to the Wall of Fame at NBT Bank Stadium in a ceremony before the Chiefs game against Gwinnett.
Leaving his mark on Syracuse
Frank Calo was born in Syracuse in 1924 and played in the minor leagues for 15 years from 1946 until 1960. During the 1956 and 1957 season, Calo served as both a player and manger for the Chiefs.
"He loved baseball and he loved Syracuse and he loved the Syracuse Chiefs," Calo Jr. said during the acceptance speech.
In addition to coaching the Chiefs, Calo served as a player/manager for other minor league teams during his career. After his playing career ended, Calo was the head coach at Le Moyne College from 1965 to 1968 and then served as a National League scout.
Calo died in a car accident in 1973, but his memory continues to live on through his family and now, the Wall of Fame.
A way to remember
The Wall of Fame is truly a way for fans to remember those who left their mark on the Syracuse and baseball, Chiefs General Manager Jason Smorol said.
"You come to the games and you'll see fans going there and looking at the different people thought the ages,"
The newly inducted class also includes former Chiefs broadcaster Sean McDonough, Christian Brothers Academy baseball coach Tom Dotterer, and current Chiefs catcher Jhonatan Solano.