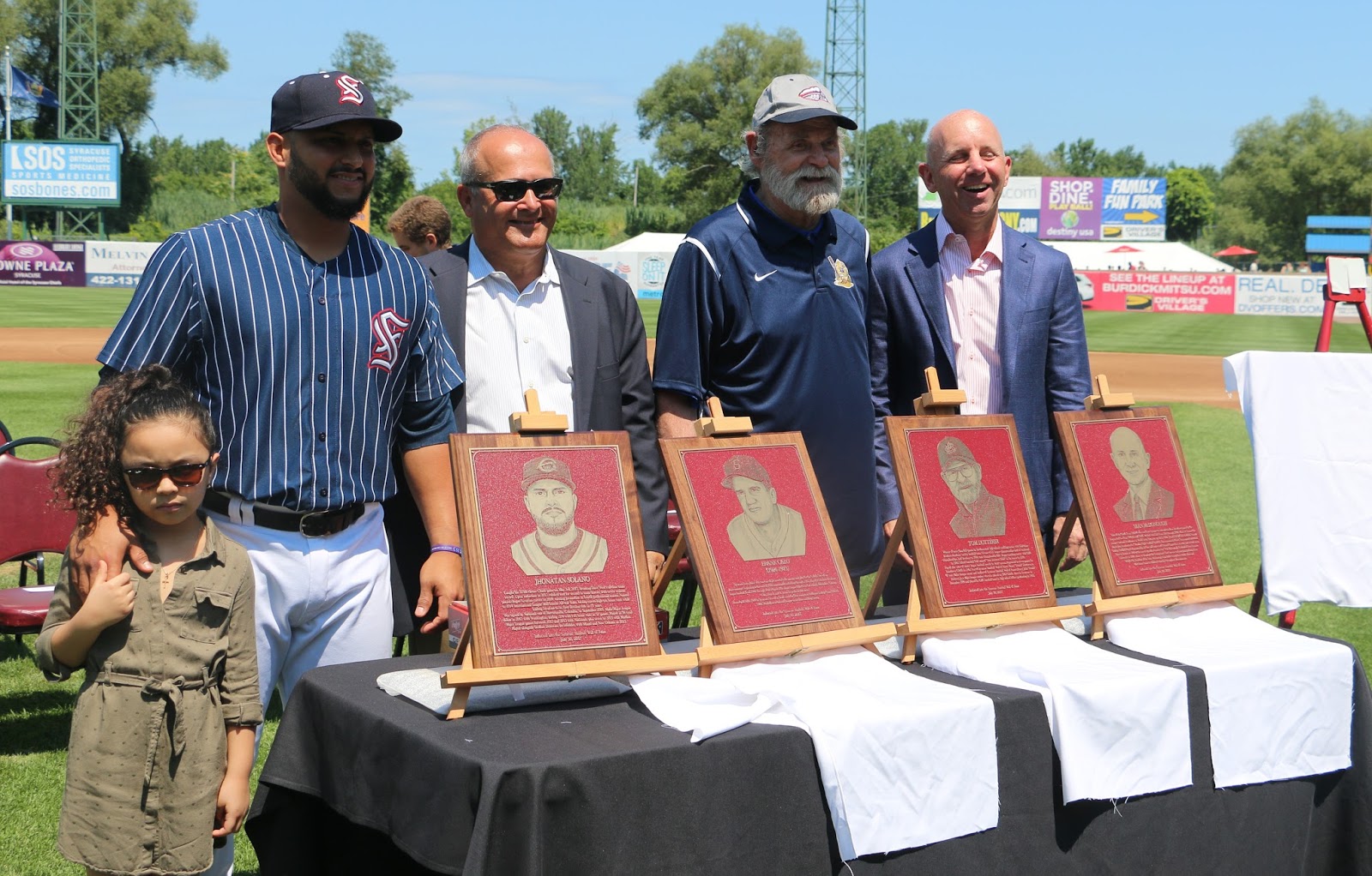 Four New Members Inducted to Chiefs Wall of Fame
Story and photos by Kristin O'Grady
SYRACUSE, N.Y. – With a ceremony preceding Sunday's game against the Gwinnett Braves, the Syracuse Chiefs inducted four new members into the Syracuse Baseball Wall of Fame. Among the inductees were play-by-play commentator Sean McDonough, Christian Brothers Academy baseball coach Tom Dotterer, former Chiefs player and manager Frank Calo, and current Chiefs catcher Jhonatan Solano.
"It's the story of the Chiefs," Chiefs General Manager Jason Smorol said. "We've been here longer than anybody, and we've got a wall to prove it. It shows the span of time of being involved in this community. I love it."
The Syracuse Baseball Wall of Fame was introduced in 1998, but, due to financial inhibitors, until last summer had not seen any initiates since the induction class of 2013.
A fan first
101-year old former Chiefs president Donald Waful attended the induction ceremony and probably knows the Chiefs' history better than anyone. He served as president for 35 years, from 1971 to 2006, and was inducted into the Wall of Fame on Aug. 7, 2010.
"When the fellow that was president in 1970… passed away…, they had to look around the directorship to see who should be the new president," Waful said. "And guess who was elected?"
As a member of the administration, Waful has seen a large portion of the Chiefs' history unfold, but said he has always considered himself, first and foremost, a fan of Syracuse baseball.
"In 1963, I became the director of a community-owned baseball club owned by fans just like me."
The Voice
Kevin Brown emceed the induction ceremony from the infield just minutes before his last broadcast as "Voice of the Chiefs" and took a turn throwing out the ceremonial first pitch along with the new Wall of Famers and their representatives. Amidst the emotion of his final day at NBT Bank Stadium, he said he was grateful to have the opportunity to work in the presence of the Wall of Fame inductees.
"There are a lot of special people that have gone through here," Brown said. "To be down there, to schmooze with them a little bit, to just say hi and pick their brains and talk about baseball here is special."
Brown will be off calling games at the national level next year but said he'd love to be involved when the 2018 Wall of Fame group is inducted.
"I'll come back if they want me to. Really, I'll do the Wall of Fame again," he said.