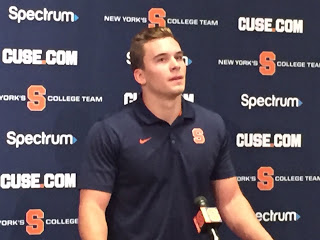 Eric Dungey: Peace of Mind with the Second Time
Story photo and video by Karthik Venkataraman
SYRACUSE, N.Y. —  Syracuse University junior quarterback Eric Dungey is about to experience something new.  "Even in high school he didn't play the same offense two years in a row," SU head coach Dino Babers said Sunday.  But that changes this year.
"It's the first year of my life going into this season knowing the offense from the year prior," Dungey said.
Sunday was the first day of training camp and valuable time for Dungey to continue learning the offense.
"I'm excited, I cannot wait," Dungey said at Syracuse University Football Media Day.
"You pick up the little things you might have bypassed last year,"
Babers' take
Head coach Dino Babers is preparing his Maxwell and Davey O'Brien Award watch list candidate to know the fast-paced offense like the back of his hand.
"When you look at him sometimes last year I thought there was an uneasiness about him," Babers said. "And I think there is some peace to him right now that he's coming back into this thing. I want him to be able to anticipate a call before he even comes in the game. When he starts finishing sentences for us like we've been married a long time, we're going to have a good opportunity to win."
Putting up numbers
When Dungey knows every detail of the offense, he is like to put up some big numbers.
In his first year with the playbook, Dungey ranked in the top 15 nationally in completions per game (25.5), total offense yards per game(330.2), passing yards per game (297.6)  and completion percentage (64.8). He also set Syracuse University single-season records for passing yards per game and yards of total offense per game.
Getting stronger and smarter
However, Dungey hasn't been able to stay healthy. His freshman and sophomore years were cut short by multiple games due to injuries. He played just nine in 2016 before going out in the Clemson game.
He said he has been working to build himself physically in the off-season to take big hits, but as a dual-threat quarterback, he knows he has to play it safe.
"I just have to be smart, take what's given to me and not take unnecessary hits," Dungey said.
Dungey says he needs to do his job to get fluidity in the offense, and he wants to have fun while doing it.
A second year in the same system just might help him find that balance.