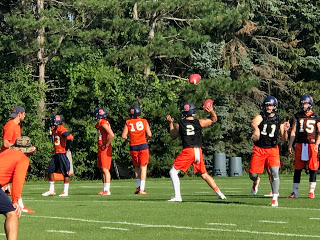 Eric Dungey looks to bounce back
Story and photo by Peyton Zeigler
SYRACUSE, N.Y. – Syracuse University's junior quarterback Eric Dungey is coming off a season that ended with an injury.
"We're just trying to go out there and win some games, Dungey said Sunday at a media event before the first preseason practice session.
"I'm not saying 'no more mister nice guy,' but it's just kinda of put your head down and get to work."
Dungey, the top recruit out of the state of Oregon, has yet to finish a complete season. He sustained a hit to the shoulder and neck during last year's Clemson game that knocked him out for the rest of the year. He says being healthy starts with making smart decisions and not taking any unnecessary hits.
The line is the key
It also starts with the offensive line. Several offensive linemen were injured last season, but all five starters were scheduled to return until guard Aaron Roberts suffered a knee injury. He says a healthy line will make all of the difference.
"I think the offensive line just needs to stay together as one. The best chemistry is the offensive line."
When the line comes together, the rest of the offense will follow. Dungey has a few weapons such as junior running back Dontae Strickland, but he said more than one receiver is going to need to be a weapon.
"If the offense is going to function at the rate that we need it to, everybody's got to step up."
Experience counts
This year Dungey has a better understanding of the offense and has put on 15 more pounds. In 2016 he averaged 297.7 passing yards per game and 330.2 average yards of total offense per game, which were both SU single-season records, in only nine games. Furthermore, this is the first time he has played in the same offense as the year before. Head coach Dino Babers says this year he is more calm and aware of his surroundings.
"He has a peace about him. . . he's coming back into this thing and he can foresee some things before they're going to happen," Babers said.
Babers and Dungey would both be happy to see Dungey rewarded for his work. He is one of 30 quarterbacks nominated for the Davey O'Brien National Quarterback Award. The off-field accolades for Dungey would indicate on-field success for the Orange in 2017.
After a  4-8 season, the Orange is preparing for another tough scheduleincluding Clemson at home and games at LSU, Miami, and Florida State. Dungey said he is excited to see what the veterans and the new guys can do to contribute. The goal for training camp is to be together and accountable for each other. He says the team is more confident and competitive for spots in this second year under Babers.
"When we have fun, that's when we have the most success," Dungey said.
The season begins at the Carrier Dome on Friday night, September 1st against Central Connecticut State.