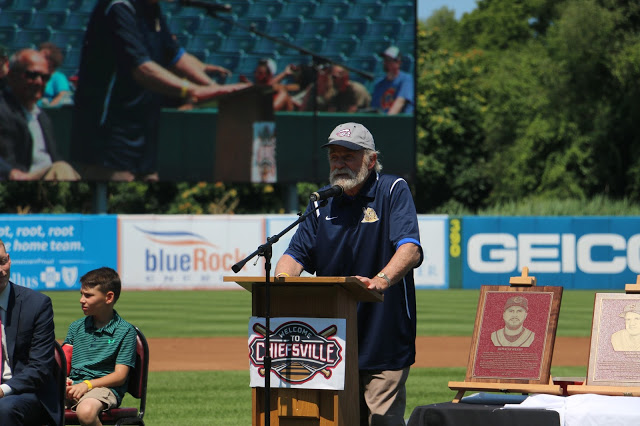 Tom Dotterer Joins Chiefs Wall of Fame
Story by Corey Crisan
Photos by Corey Crisan and Kristin O'Grady
Syracuse, N.Y. – Tom Dotterer got his due one more time on Sunday afternoon at NBT Bank Stadium. And, as usual, he said he didn't deserve it.
The Syracuse Chiefs inducted four new members into their SyracuseBaseball Wall of Fame – former Chiefs play-by-play broadcaster Sean McDonough, the late Chiefs player and manager Frank Calo, current Chiefs catcher Jhonatan Solano, and Dotterer, the Christian Brothers Academy baseball coach.
"God is good. Always," Dotterer said in his acceptance speech.
Distinguished in his own right
Though he may not be surrounded by the notoriety of working for ESPN, Tom Dotterer is as distinguished and is just as much of a celebrity in his own right. Dotterer's decorated career includes over 625 victories as the CBA coach. He won 21 league championships, eleven sectional championships, and a 1996 State championship. He was also inducted into the CBA Sports Hall of Fame in 2002. In 2008, Dotterer was selected as the all-CNY Coach of the Year as CBA reached the State semifinals.
For his induction, Dotterer was introduced by his daughter, Kathleen.
"When you're around baseball, you're always going to be around good people," Dotterer said in his induction speech. "I've been around good people all my life. My family, my relations, both past and present, my school, CBA, and all its members, my acquaintances: all friends. My church family. When you're honoring me, you're honoring them."
Dotterer's family pedigree runs deep. He is the third member to be inducted into the Greater Syracuse Sports Hall of Fame, as his father Dutch was inducted in 1992 and his brother Henry was inducted in 2005.
"Undeserved," Dotterer commented on the side regarding his induction. "I'm very proud, especially as much as my brother and my father. Joining them is somewhat spiritually satisfying."
Touching kids' lives
Dotterer was in the news early in 2013 when he was shot in a robbery at the Syracuse liquor store he worked in and lost an eye. Yet he was back on the job a few days later, syracuse.com reported. And he continued coaching.
Chiefs General Manager Jason Smorol noted Dotterer had as much impact on those off the diamond as he had on.
"The more amazing thing is the way he has touched kids' lives and made them better people," Smorol said.