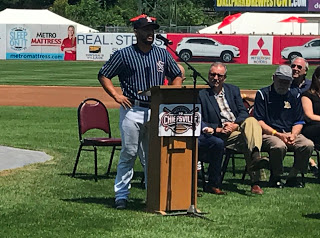 Solano First Active Chief Inducted to Wall of Fame
Story and Photo by Matt St. Jean
SYRACUSE, N.Y. — When the Syracuse Chiefs added four people to their Wall of Fame prior to Sunday's game against the Gwinnett Braves, one stood out from the rest. Not because of notoriety, or being any more deserving than the others, but because he still wears the Chiefs uniform as a player..
The Barranquilla, Colombia native, Jhonatan Solano is the first active player to be inducted, an honor, which floored the soon to be 32-year-old catcher.
"Wow, it's amazing and it's a blessing from God." Solano said. "It was a big surprise for me, just want to say thank you for all these years, to the fans, the players, and the coaches who have been involved in my career."
Earlier this season, Solano broke Dick West's record for most games caught by a Chief. General Manager, Jason Smorol said he was proud to extend Solano the honor.
"The guy is a great baseball player, he's a total pro, couldn't be a nicer man," Smorol said. "He's the kind of guy in the clubhouse that other guys should emulate."
Not done yet
Solano was inducted by former Chiefs manager and current Washington Nationals advisor, Randy Knorr. It was his current manager Billy Gardner, who spoke of what an asset Solano is to the team.
"Every day he comes to the field with a smile on his face and he brings a lot of energy." Gardner said. "He does a nice job with the pitching staff and he's out front, very active, he takes charge and that's what you look for."
Wall of Fame inductions generally are reserved for those who have already left the game, but Solano says he still he has plenty of gas left in the tank.
"My career is not done yet, I want to keep playing." Solano said. "I prepare every day for when I see my name in the lineup, and if not, be ready to go in the game at any time."