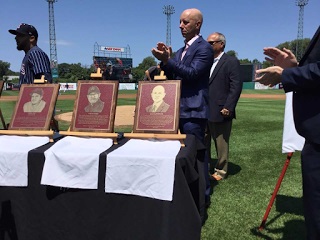 McDonough Credits Chiefs for Career Launch
Story and Photo by Zach Staton
SYRACUSE, N.Y. – In 1982, Sean McDonough made $14 a game to call play-by-play for the Syracuse Chiefs, while attending Syracuse University full-time.
"One year, we went to spring training for the last week, then we opened on the road," McDonough said before signing autographs for fans at NBT Bank Stadium, Sunday afternoon. "Then, the night before the opening home stand, there were four inches of snow on the ground. So they moved the games to Toronto, and then we went on the road again. Somehow, I graduated."
Sunday, his commitment to the club and success in broadcasting were honored as he was inducted into the Chiefs Wall of Fame.  The current Monday Night Football play-by-play announcer broadcast games for the Chiefs from 1982-1984.  He went on to announce for the Boston Red Sox and CBS before moving on to ESPN.
"The most important thing that has ever happened in my professional life was the opportunity to broadcast the Syracuse Chiefs games when I was 18, 19, 20 years old,"  McDonough told the pre-game crowd during his acceptance speech.
Opportunities
By the time McDonough graduated from the S.I. Newhouse School of Public Communications, he had already called over 400 minor league baseball games.  He said that experience provided the opportunities he needed to form his style and learn how to broadcast.
"I wouldn't have been in the major leagues when I was 25, and I wouldn't have been doing the World Series when I was 30," McDonough said. "This is what put me on the fast track, and by the time I left here at 22 years old, I was ready to become a major league broadcaster."
McDonough was inducted by former Chiefs broadcast partner Steve Grilli. He then entered the broadcast booth once again to call two innings with Kevin Brown, who called his own final Chiefs game Sunday before moving to a national position.
"I will always treasure that I got call two innings with Sean McDonough," Brown said after he signed off the air for the final time. "For it to happen today is absolutely insane."
McDonough becomes the third broadcaster to be inducted into the Wall of Fame.  Red Parton was inducted in 2003 and Joel Mareiniss was honored last year.