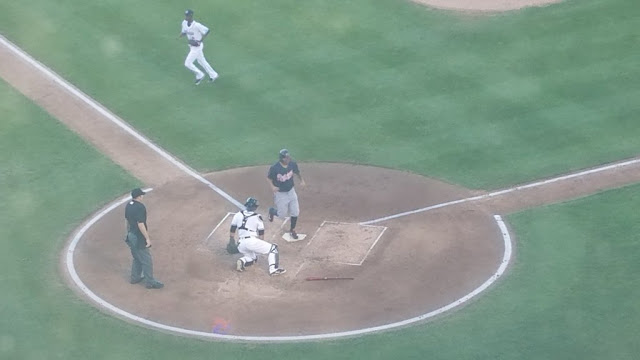 G-Braves Down Chiefs 8-5
Story and photo by Corey Crisan
Syracuse, N.Y. – The Syracuse Chiefs' three-game winning streak came to an end on Saturday as they fell to the Gwinnett Braves, 8-5 at NBT Bank Stadium. The Chiefs out-hit Gwinnett 12-11, but two fielding errors proved costly. Three of Gwinnett's eight runs were unearned, and all unearned runs were scored off reliever Kevin Jepsen in the seventh inning.
Washington Nationals pitcher Shawn Kelley started the game for Syracuse. He threw his first "live" pitches since June 17. The 33-year old has been out since then with a strained trapezius muscle. Kelley was mandated one inning. He threw 19 pitches, 12 of them for strikes, while surrendering one run in his one inning.
Though Syracuse lost Saturday's game, manager Billy Gardner remains optimistic about the direction the team is trending.
"The lineup, right now, is probably the best it's been in terms of being able to score runs," Gardner said after the game. "We've just got to a better job pitching. It's not really about creating runs, it's about run prevention right now."
Acuña impressive
Gwinnett leadoff hitter Ronald Acuña showed why he is the Atlanta Braves' #1 and the MLB's #8 overall prospect according to MLB Pipeline. He took Syracuse starter Shawn Kelley's second offering of the game over the left-center field fence for his fourth Triple-A home run of the season. The home run gave Gwinnett a 1-0 lead out the gate.
Acuña finished Saturday's game 4-for-5 with three runs scored and was a triple shy of completing the cycle. The 19-year old did this following a 2-for-4 night that included an eighth inning triple on Friday.
Acuña has split time over three Minor League levels this season. He started the season in Advanced-A, was promoted to Double-A in early May, and was promoted to Triple-A in the middle of July. Acuña has drawn scout comparisons to former Atlanta great Andruw Jones.
Brave Efforts
The G-Braves scored most of their runs in the third inning. These all came off Phillips Valdez, who was piggy-backing his appearance on Kelley's rehab start.
Valdez appeared to be cruising through the frame as he sat down David Freitas and pitcher Matt Wisler to start the inning, but trouble started with two outs in that inning. Acuña and Jace Peterson started the hit parade with a pair of singles, then Dansby Swanson singled in Acuña from second base. Rio Ruiz followed that with a double to score Peterson. Then, Sean Kazmar, Jr. singled in two runs to give Gwinnett a 5-0 lead into the bottom of the third.
The Chiefs did respond in the bottom of the third as Jhonatan Solano singled to start the inning. He advanced on a Phillips Valdez single and was later sacrificed in by Irving Falu to cut Gwinnett's lead to 5-1.
Clawing Back
The Chiefs did not give up. They plated two runs in the fourth inning as Clint Robinson led off the frame with a double. After a Brandon Snyder strikeout, Alejandro De Aza doubled in Robinson. Two batters later, Solano drove in De Aza with a single. The G-Braves' lead was 5-3 at this point.
Not So Fast
Gwinnett tacked on three runs in the seventh to put the game out of reach. Acuña legged out an infield single to lead off the inning. After Peterson flew out, Swanson reached on an error and Ruiz drew a walk.
Kazmar, Jr. brought in Acuña with a sacrifice fly to left field, then Dustin Peterson cleared the bases with a double to give the Braves an 8-3 lead.
No Cigar
The Chiefs scored again in the eighth on a pinch hit, RBI single by Michael Almanzar.
Their comeback effort fell short in the ninth inning. Solano flew out to center to start the inning. Bengie Gonzalez, who came in as a defensive replacement in the seventh, walked and advanced on defensive indifference. Zach Collier walked and both runners advanced on a wild pitch by Gwinnett reliever A.J. Minter. Irving Falu then brought in Gonzalez with a sacrifice fly to cut the gap to 8-5. The comeback effort ended when Neftali Soto grounded out to second baseman Sean Kazmar, Jr. to end the game.
Braves starter Matt Wisler earned his sixth victory on the season as the G-Braves improved their record to 52-53. Shawn Kelley took the loss in his rehab appearance via Washington. The Chiefs' overall mark dropped to 38-67 with Saturday's loss.
Hot Hitting Continues
Though the Chiefs winning streak came to an end, their offense has posted solid numbers over the last four games. The Chiefs have accrued 34 hits and they have outscored opponents 23-20 while winning three of those last four games.
The veteran presence within the lineup has been the main source of production, particularly outfielder Alejandro De Aza and first baseman Clint Robinson.
De Aza had three-hit games on Thursday and Friday. He added an RBI double and a single to that on Saturday, giving him 13 hits in his last eight starts.
Robinson followed his 3-4 performance that included a two-run home run and four total RBI with a 1-for-4 night on Saturday. Robinson is 19-49 (.388) with six doubles, four home runs, and 16 RBI in his last 13 starts.
Series Lines
Friday 7/28: GWN 6, SYR 10. WP: Hill (3-5, 7.25 ERA), LP: Gohara (0-1, 7.71), SV: Cotts (2)
Saturday 7/29: GWN 8, SYR 5. WP: Wisler (6-5, 3.61), LP: Kelley (0-1, 9.00), SV: Da. Peterson (7)
What's Next
The Chiefs and G-Braves will wrap up their series on Sunday. Jacob Turner (0-3, 8.39) should oppose Andrew Albers (10-3, 3.13).
Following their series against Gwinnett, the Chiefs will hit the road to start the month of August in Pawtucket for a three-game series.