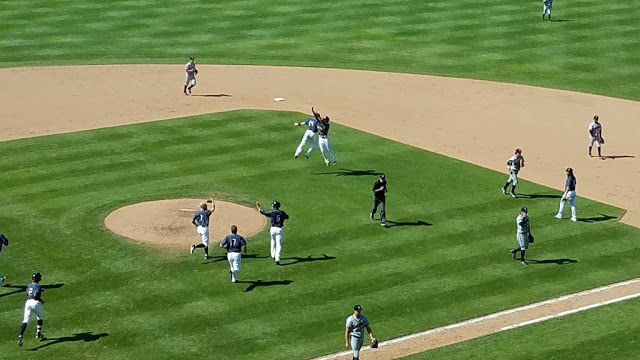 De Aza Gives Chiefs Another Walk-off Win
Story and photo by Corey Crisan
Syracuse, N.Y. – The Syracuse Chiefs won their fourth game in their last five tries on Sunday as they took the series rubber match from the Gwinnett Braves, 1-0, at NBT Bank Stadium.
This victory came on a day when the Syracuse Baseball Wall of fame inductions took place. Four new members were inducted, including former Chiefs play-by-play broadcaster and current ESPN Monday Night Football voice Sean McDonough, former Chiefs player and manager Frank Calo, former Christian Baseball Academy coach Tom Dotterer, and current Chiefs catcher Jhonatan Solano.
Veteran outfielder Alejandro De Aza was the hero once again as he gave the Chiefs a walk-off win for the second time in four days. Chiefs manager Billy Gardner noted that he's just one of many who have a positive influence on this team.
"We have some guys who have a lot of experience under their belt," Gardner noted. "We have a lot of guys throughout that lineup who can put together real good, professional at-bats."
Gardner spoke highly of De Aza as an influence on the younger crop of players.
"He's great around the young kids," Gardner said. "He's doing whatever he can to help. Obviously, he's got to take care of himself, too… But he's helping those kids climb the ladder and (doing) what he can to teach them the game."
Quiet Beginning
The first half of Sunday's contest was relatively quiet. Through the first five innings, Chiefs starter Jacob Turner allowed no hits while walking three batters. Only one reached second base. Xavier Avery walked to start the fifth and then stole his 16th base on the season as Matt Tuiasosopo struck out to follow.
The Chiefs sent one above the minimum to the plate against Gwinnett starter Andrew Albers through the first four innings. Chad Huffman led off the second inning with a single and did not advance beyond that point.
The Chiefs had the chance to score the first run on the day in the bottom of the fifth inning, but the effort came up just short. Michael Almanzar hit a two-out double down the right field line. Bengie Gonzalez followed with a single to left that moved Almanzar to third. After that, pitcher Jacob Turner flew out to right field to end the inning.
Stifled Offenses
The G-Braves started to figure Turner out in the sixth inning. However, they failed to score any runs. Ozzie Albies led off the inning with a bunt single to break up the no-hitter, then Dansby Swanson singled following a Ronald Acuña strike out. Rio Ruiz then grounded into a double play to the shortstop to end the inning.
The Chiefs missed on another scoring opportunity in the seventh inning against G-Braves starter Andrew Albers. After Chad Huffman popped out to first baseman Matt Tuiasosopo to start the inning, Spencer Kieboom, Alejandro De Aza, and Michael Almanzar hit consecutive singles.
But Bengie Gonzalez grounded into a double play to second baseman Ozzie Albies to end the scoring threat.
Another Walk-Off Winner
On Thursday against Louisville, De Aza smashed a walk-off three run home run to propel the Chiefs to a 5-4 victory. On Sunday, his heroics came in the form of single to score Neftali Soto with one out.
Soto led off the inning with a double. He advanced on a Chad Huffman groundout to second base. Kieboom then recorded an infield single before De Aza singled up the middle off Evan Phillips.
Neil Ramirez earned the win in relief for the Chiefs, his first as a Triple-A pitcher.Phillips took his third loss of the season in relief for Gwinnett.
The Chiefs continued their hot hitting as a team. They tallied nine hits on Sunday, which gives them 43 hits and 24 runs scored in their last five games.
The Chiefs improved their record to 39-67 and will get a day off on Monday. The Braves dropped to 52-54 on the year and will return home to begin a series with the Norfolk Tideson Monday.
Series Lines
Friday 7/28: GWN 6, SYR 10. WP: Hill (3-5, 7.25 ERA), LP: Gohara (0-1, 7.71), SV: Cotts (2)
Saturday 7/29: GWN 8, SYR 5. WP: Wisler (6-5, 3.61), LP: Kelley (0-1, 9.00), SV: Da. Peterson (7)
Sunday 7/30:  GWN 0, SYR 1. WP: Ramirez (1-0, 40.50), LP: Phillips (1-3, 4.43)
What's Next
Following a day off on Monday, the Chiefs will hit the road to start the month of August in Pawtucket for a three-game series.