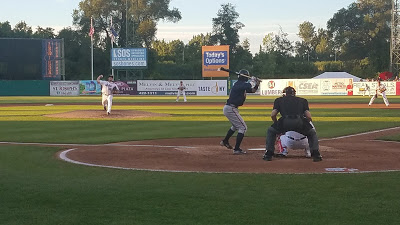 Batting Barrage Gives Chiefs Third Straight Win
Story and Photo by Corey Crisan
Syracuse, N.Y. — It has not been the best year for Syracuse Chiefs  baseball. But on Friday, the Chiefs continued to ride the wave produced by Alejandro De Aza's walk-off three-run home run Thursday night as they beat the Gwinnett Braves, 10-6, in their series opener at NBT Bank Stadium.
It was the third consecutive win at home for the Chiefs.
Chopped 'Em Early
The Chiefs broke silence early as leadoff hitter Zach Collier drew a walk to start the game. Collier then advanced to second on an errant throw by Gwinnett pitcher Luiz Gohara on a pickoff attempt. He moved to third on a fielding error by Braves first baseman Carlos Franco and then scored as Chiefs left fielder Chad Huffman grounded into a 6-4-3 double play. The Chiefs gained a 1-0 lead without recording a base hit in the first inning.
Fiery Fourth and Fifth
Most of the scoring for both sides came in the fourth and fifth innings. Gwinnett found some two-out magic in the top of the fourth as Jace Peterson singled and then Dustin Peterson doubled him home. Carlos Franco followed the (not related) Petersons with an RBI single of his own to give Gwinnett a 2-1 lead.
Syracuse responded with a two-run fourth of its own to regain the lead, 3-2. Chad Huffman walked to lead off the inning, one of five Chiefs players to do so on Friday. Clint Robinson, Spencer Kieboom, and Alejandro De Aza followed with consecutive singles before Michael Almanzar grounded into a double play to score Robinson.
Following a 1-2-3 Gwinnett fifth inning, the Chiefs broke the game open as Robinson smoked his 15th home run of the season over the right field fence in the home half. This was a two-run shot that padded the Chiefs' lead to three runs at 5-2.
Sizzling Seventh 
The Chiefs kept their hot hitting going in the seventh inning. They sent ten men to the plate and scored five runs on five hits to put this game out of reach.
Irving Falu, who came in the game on a double-switch, walked to lead off the inning. After Zach Collier struck out, the flood gates opened.
Brandon Snyder walked, then three consecutive singles by Huffman, Robinson, and Kieboom plated three runs total. Kieboom and Robinson then scored on Almanzar's RBI single later in the inning. Then, relief pitcher Austin Adams struck out and then Falu grounded out to end the inning. The Chiefs led 10-2 after seven.
Making it Interesting
Gwinnett did add another run in the eighth as Ronald Acuña tripled to lead off the frame. He scored when Rio Ruiz grounded into a double play later in the inning. the Chiefs still commanded a 10-3 lead at this point.
Matt Tuiasosopo made it interesting when he clubbed a pinch-hit, no-doubt-about-it, three-run home run with one out in the ninth. It came off reliever Neil Ramirez, who made his Chiefs debut on Friday. That cut the Chiefs lead to 10-6.
Ozzie Albies and Acuña drew walks to follow the home run, but veteran reliever Neal Cotts came in and shut the door for the Chiefs. He struck out Dansby Swanson and Ruiz to end the game.
Syracuse improved its record to 38-66, and Gwinnett dropped to 51-53. Chiefs starter Taylor Hill picked up his third win on the season, and  Luiz Gohara dropped his first career AAA start.
From the Top
Seven runs were scored by the first four hitters in the Chiefs lineup, including three plated and four driven in by Clint Robinson.
"It was good to go out there," Robinson said after his 3-4 performance that included a home run and four runs batted in. "They had a young, talented guy on the mound making his first start. It'll keep us, with the momentum we got going, and it was a good feeling."
A Formidable Foe
Though Gwinnett's (Atlanta Braves affiliate) overall record may not show it, its roster boasts some high-profile talent. The G-Braves have five of MLB Pipeline's Top 30 Braves prospects, including the organization's top two in outfielder Ronald Acuña (#1) and infielder Ozzie Albies (#2). Friday's starter was Luiz Gohara, who is the organization's #8 prospect according to MLB Pipeline, and he made his Triple-A debut on Friday at 20 years old.
In addition to these prospects, the Atlanta Braves had sent down shortstop Dansby Swanson, the #1 overall pick from the 2015 MLB Draft, two days ago. The organization sent him down due to some struggles and the emergence of current shortshop Johan Camargo. Swanson played in his first game for Gwinnett on Friday. He went 1-4 with a walk and a strikeout.
Previous Series
Tuesday 7/25: Game 1: LOU 4, SYR 3. WP: Stephens (7-5, 4.80 ERA), LP: Turner (0-3, 3.89), SV: Shackleford (12)
Tuesday 7/25: Game 2: LOU 6, SYR 5. WP: Brice (1-1, 3.44), LP: Simms (0-1, 10.80), SV: Herget (5)
Wednesday 7/26: LOU 2, SYR 4. WP: Adams (6-1, 2.20), LP: Hernandez (0-1, 9.00), SV: Suero (6)
Thursday 7/27: LOU 4, SYR 5. WP: Martin (3-1, 4.47), LP: Herget (1-1, 3.18)
Current Series
Friday 7/28: GWN 6, SYR 10. WP: Hill (3-5, 7.25), LP: Gohara (0-1, 7.71), SV: Cotts (2)
What's Next
The Chiefs (Triple-A affiliate of the Washington Nationals) and Braves continue their series on Saturday night and Sunday afternoon. Phillips Valdez (0-0, 0.00 ERA) is scheduled to oppose Gwinnett's Matt Wisler (5-5, 3.50) on Saturday, and Jacob Turner (0-3, 8.39) should oppose Andrew Albers (10-3, 3.13) on Sunday.
Following their series against Gwinnett, the Chiefs will hit the road to start the month of August in Pawtucket (Red Sox affiliate) for a three-game series.