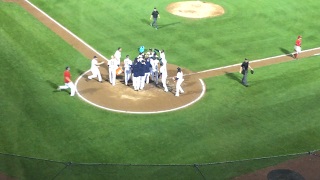 De Aza Powers Syracuse Chiefs to Victory
Story, Video and Photo by Jude Allume
SYRACUSE, N.Y. — Fans got more than a good deal on beer and food Thursday night at NBT Bank Stadium, as the Syracuse Chiefsdefeated the Louisville Bats 5-4.
In true dramatic fashion, Alejandro De Aza lifted the Chiefs to victory in the bottom of the ninth with a two run home run to center field.
This was De Aza's fourth home run and second walk-off hit of the season.
"Well it feels great," DeAza said. "It feels great. Anything that I can do to help the team win is a plus"
De Aza went three for four with the home run and three runs batted in. His home run was the third of the game for the Chiefs, and of course the difference maker in the end.
Chiefs lead early
The scoring started early for the Chiefs as Spencer Kieboom hit a solo shot in the bottom of the second inning giving his team an early 1-0 lead.
The Bats didn't take long to respond however, as Sebastian Elizalde hit a single with two men on in the top of the third. Jesse Winker scored from second base, tying the score at one.
The Chief quickly regained the lead in the bottom of the third when Zach Collier hit a solo shot of his own for a 2-1 lead.
Long's night
Syracuse pitcher Jaron Long had a solid night, but ran into trouble in the top of the sixth when Sebastien Elizalde hit a solo home run to tie the game at two. It was Elizalde's second hit and run batted in for the game. Long then hit Alex Bandino with a pitch. Bandino advanced to second as Adrian Nieto grounded out to first.
Bandino scored on a two-out double down the left field line by Tyler Goeddel. Long eventually got out of the inning, but after giving up two runs and the lead. He finished the night with six innings pitched, giving up three runs and striking out six.
In the top of the eighth inning, the Bats tacked on another run off relief pitcher Kevin Jepsen. The Bats third baseman, Brandon Dixon, hit a solo shot to push the score to 4-2.
But it wouldn't be enough.
Patience pays off
In the bottom of the ninth, Neftali Soto got things started for the Chiefs with a double. Brandon Snyder worked a walk, putting two men on. After a Spencer Kieboom strikeout, De Aza came to the plate.
De Aza showed patience as he took the first three pitches for balls. He took the green light on the next pitch, fouling the ball off. The fifth pitch of the at bat was the last of the game.
This was the final game of the season between Syracuse and Louisville, with Louisville taking the season series four games to three.
The Chiefs open up a three game series next against the Gwinnett Braves starting Friday night at 7:05.