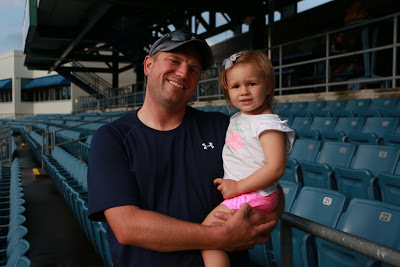 Rain Stops Chiefs Game but Not Family Tradition
Story by Tasha Babers
Photo by Kristin O'Grady
Syracuse, N.Y. – The Chiefs versus Louisville Bats game was postponed Monday night, yet there was still the smell of hot-dogs, a kid running around with an old glove, and some co-workers grabbing a beer at NBT Bank Stadium. The thrill of the atmosphere was still very much present even with a tarp over the field.
Long-time Chiefs fan and young father Kevin Szul lingered after the cancellation announcement and kept an eye on his two-year old daughter, Violet, as she played in the empty rainy seats.
"I came and sat in the rain because I love baseball," Szul said. "Also to get the twenty-five cent hotdogs so I don't have to make dinner."
Szul is a season ticket owner and went to Chiefs games with his dad as a kid. He hopes to pass the same tradition on to his two young daughters, Violet and five-week-old Lillian.
"My favorite thing about baseball is the atmosphere," Szul said. "The atmosphere and the promotional dinner deals."
Did he ever get his twenty-five cent hot dogs despite the cancellation?
"Yeah! I had four!" Szul exclaimed.
Rain, rain

The Chiefs will try to make up the game as part of a Wednesday afternoon doubleheader. They are 4-14 in doubleheaders, and have yet sweep one this season.
This is the seventh rain-related postponement for the Chiefs this season, as compared with the annual average of three to four. Chiefs General Manager Jason Smorol said player safety is worth the postponement and grounds staff would work hard to disperse the nearly 1,000 gallons of rain water onto the outfield, wait for the water to drain, and use an underground ventilation system to dry the field.