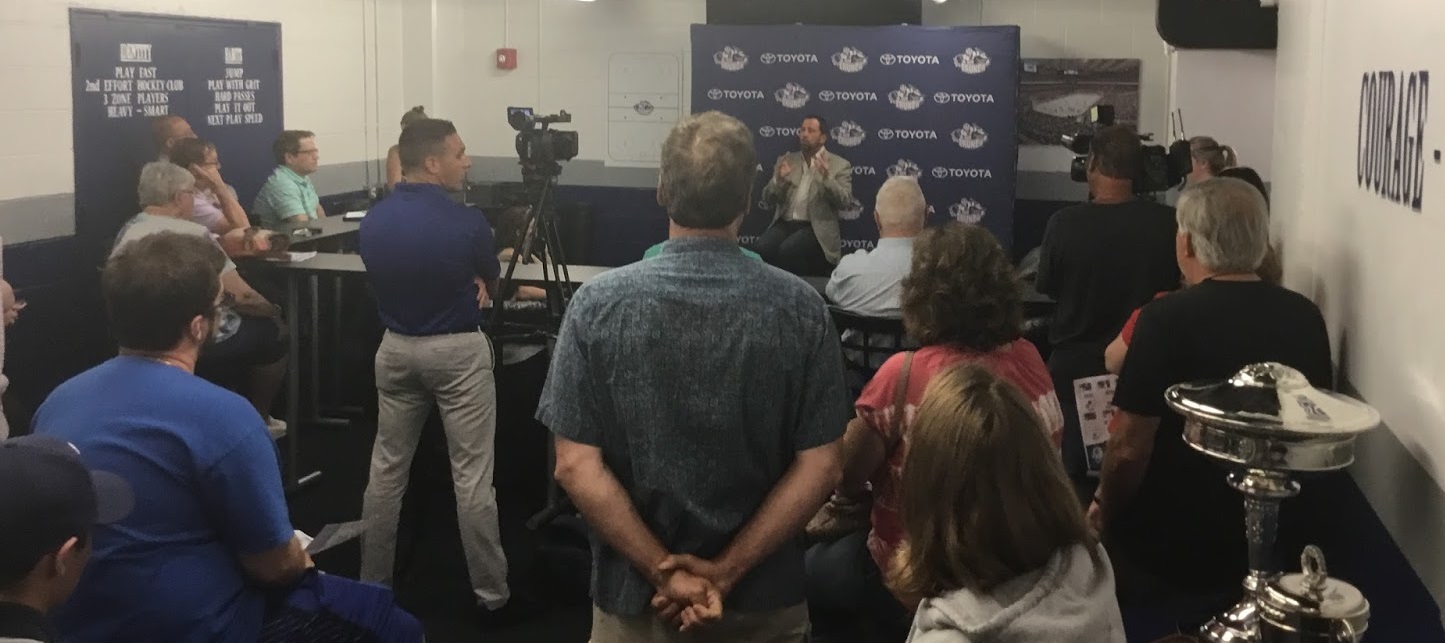 Fan Forum Sets Stage for 24th Crunch Season
Story and Photo by Matt St. Jean

SYRACUSE, N.Y. — 50 or so die-hard Syracuse Crunch fans packed into the War Memorial player's lounge for the opportunity to address Crunch president and owner, Howard Dolgon, Monday afternoon. After a near dream season ended in a crushing Calder Cup defeat at the hands of the Grand Rapids Griffins, the fans wanted to know: where does the Crunch go from here? According to Dolgon, the organization has already started to reload.
"We're back at it now," Dolgon said, "[The NHL parent club Tampa Bay Lightning] has been signing, most importantly, a lot of our own players. Like Mike Bournival, Cory Conacher, (Jake) Dotchin, (Slater) Koekkoek, (Gabriel) Dumont, and (Yanni) Gourde."
Additionally, the Crunch signed one of the top available goalies in the AHL, Michael Leighton.
Questions 
When the forum opened for questions, one fan didn't ask what the Crunch can do for him, but what can he do for the Crunch.
"What can we do more to help you?" The fan asked. "Whether it's willfulness, coming to the meetings with you with the county, just helping out."
The fan also offered to purchase a massive "7th man flag." Blown away, Dolgon jokingly asked the gentleman if he was looking for a job!
While the opening question was certainly a softball, the crowd turned to more serious questions surrounding the in-game experience.
"What promotions are you planning on having throughout the year and when will those be available?"
"Is something being done about the paint in the arena? There are areas where it is chipping."
"The sound. Are you improving the sound because it's loud, but you can't understand it."
"The quality and selection of food at the concession stands is not that desirable. Any chance of improving that?"
On the topic of food options, another fan was particularly concerned about the Crunch returning the pasta bar instead of the current meatball sub option.
They ARE fans
Concession and cosmetic concerns aside, there was one theme that arose above the rest: The love and admiration the fans had for the Crunch franchise. Each fan who stepped forward to ask question led off by complimenting Dolgon on the raucous atmosphere of the War Memorial Arena and the loyalty the organization has shown the city of Syracuse.
Even though the '16-'17 season just ended in mid-June, Crunch fans have less than three months to wait before the puck drops at the War Memorial Arena on October 7th against Rochester.