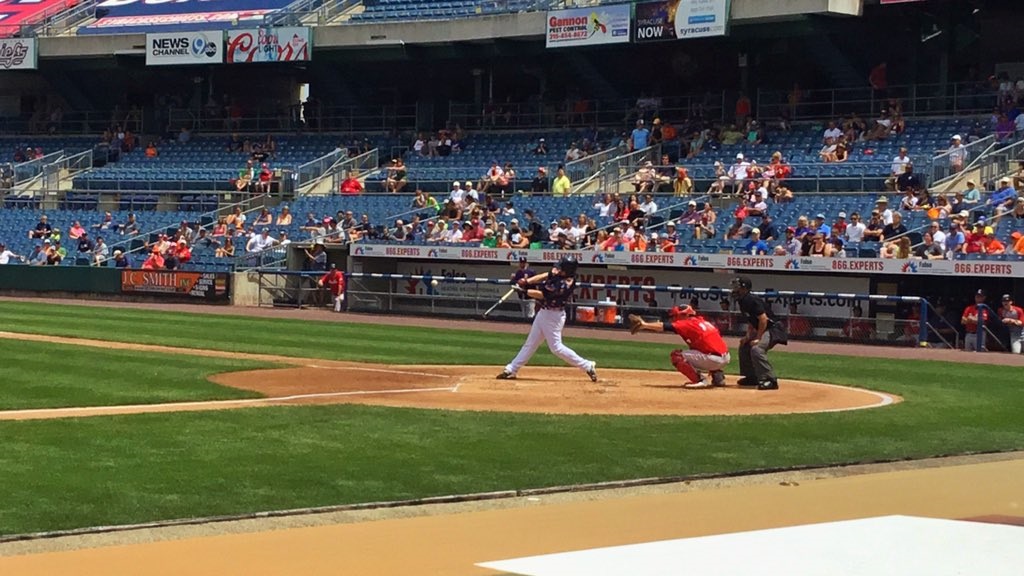 PawSox Sweep Chiefs Again
Story and photo by Corey Crisan
Syracuse, N.Y. – Let's not sugarcoat anything here. The Pawtucket Red Sox (47-44, Red Sox affiliate) have owned the Syracuse Chiefs (32-58, Nationals affiliate) this year. The PawSox were 14-2 against their International League North Division rivals entering Sunday's play.
The PawSox haven't just won these games; the offense has dominated Syracuse. In these 16 games, the PawSox have scored at least five runs, ten times against the Chiefs. However, Syracuse has scored 20 total runs in their two victories, so offense often has come at a premium for the Chiefs.
Same Old Song The PawSox continued their dominance over the Chiefs on Sunday, collecting 13 hits en route to a 7-1 victory. In addition, they earned their third sweep of the Chiefs in 2017.
The first half of Sunday's game was the Aneury Tavarez show at NBT Bank Stadium as he led off the game with a home run on the second pitch he saw. He followed that with a triple and run scored in the third inning to give Pawtucket a 2-1 lead. Tavarez went 2-5 on Sunday to lead the way at the top of Pawtucket's order.
Syracuse scored its lone run in the second inning. Neftali Soto led off that frame with a single, Spencer Kieboom doubled, and Caleb Ramsey sacrifice flied Soto in to tie the game at 1-1.
Ramsey and Michael Almanzar led off the Chiefs fifth with back-to-back singles, but runs failed to cross the plate. Stephen Perez struck out swinging, Andrew Stevenson grounded out to first base, and Irving Falu struck out looking to follow and end the frame.
Broken Wide Open
The PawSox broke opened the flood gates in the sixth inning. Heiker Meneses led off with a double down the left field line, Castillo singled, and Bryce Brentz clubbed a three-run home run to dead center field to break the game open and give Pawtucket a 5-1 lead.
Pawtucket added another run in the seventh on an RBI double by Matt Dominguez off Chiefs reliever Kevin Jepsen. Castillo reached on a strikeout-wild pitch, advanced to second when Brentz walked, and scored on the double from second to give the PawSox a 6-1 lead.
The Chiefs had runners on first and second with two outs in the sixth and seventh innings versus PawSox reliever Kyle Martin. However, they failed to score in each case.
Dominguez doubled in another run to deep right-center field in the ninth to extend Pawtucket's lead to 7-1, and that ended the scoring for Sunday.
Both starting pitchers remained on record on Sunday. Marcus Walden earned the win for Pawtucket and improved his record to 8-3. Jaron Long took the loss for Syracuse and dropped to 1-4.
Pawtucket also improved its 2017 record versus Syracuse to 15-2. The Chiefs have fallen to an International League-worst 32-59 and are now 26 games back of first place Scranton/Wilkes-Barre in the IL North Division.
From the Source
Chiefs catcher Spencer Kieboom reached base safely in each of his four plate appearances, including doubles in the second and eighth innings. He also bumped his batting average up to .323 on the season.
"I'm just trying to do whatever I can to get the barrel on the ball, and whatever happens… happens," he said. "I was active during the All-Star break – I lifted some weights, nothing crazy. Went and hit and had some fun."
Regarding the Chiefs' struggles against Pawtucket, Kieboom noted that the PawSox are just that team they can't get past.
"(Our guys) want it just as bad as they want it against anybody else. It's just the way it's been against those guys," he tabbed. "Everybody has that team every year… They play fundamentally sound baseball and they do a good job, but they don't do anything significantly different than any other team. It's just about what they're doing against us."
Series Lines
Thursday 7/13: PAW 5, SYR 0. W: Johnson (3-1), L: Turner (0-1)
Friday 7/14: PAW 8, SYR 1. W: Kendrick (3-6), L: Ross (3-8)
Saturday 7/15: PAW 7, SYR 4. W: Beeks (3-3), L: Cole (4-4)
Sunday 7/16: PAW 7, SYR 1. W: Walden (8-3), L: Long (1-4)
What's Next
The Chiefs begin an eight-game road trip on Monday. They will play three at Louisville (Reds) and five at Columbus (Indians) including a June 4 makeup game at Columbus. The Chiefs will return to NBT Bank Stadium on July 24 where they will open a seven-game home stand versus Louisville and Gwinnett (Braves).