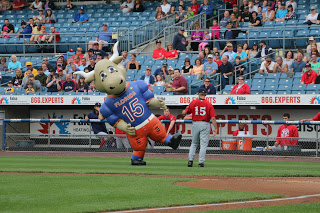 PawSox Continue Dominance Over Chiefs
Story by Matt St. Jean
Photos by Kristin O'Grady
SYRACUSE, N.Y. — The fan favorite ZOOperstars were out in force at NBT Bank Stadium for the first of a four-game set between International League North Division rivals, the Pawtucket Red Sox (45-44) and the Syracuse Chiefs (32-56). But the Chiefs bats were not.
The Chiefs the went into the All-Star break on a three-game losing streak, 22.5 games out of first place and in dire need of a win streak to start the second half of the season. But they hadn't had much success against the PawSox thus far, winning only two out of 13 contests.
Nothing changed Thursday evening at NBT Bank Stadium, as Pawtucket won 5-0 to start the series.
Johnson Jams Up Chief Bats
Pawtucket starter, Brian Johnson had all his pitches working on the mound orchestrating seven scoreless innings while only allowing three hits, lowering his season ERA to 2.68.
"You've got to give a lot of credit to Johnson," Chiefs manager Billy Gardner said "He did a heck of a job and you know good pitching is always going to beat good hitting."
The Chiefs hit the ball hard off Johnson, but usually right at Red Sox fielders as they never put more than one runner on base at a time against the PawSox lefty.
One Rough Inning
Jacob Turner took the mound for the Syracuse Chiefs and threw a solid game despite his stat line of five innings pitched with seven hits, four earned runs, and only two strikeouts.
"I thought at times he really located his fastball," Gardner said. "I thought his location was in the zone, the ball left his hand really good, had some good life to it, I thought he spun some good breaking balls in."
Turner cruised through the first two innings, but then ran into trouble in the third when Pawtucket bats came to life scoring three runs.
"Sometimes you really need to get somebody out in that situation," Turner said. "I think they strung together like four hits together, so, anytime they do that in that situation, it's usually not going to end in a good inning."
Jackson's Scoreless Streak Halted
Edwin Jackson entered the game in relief of Turner with a 17-and-a-third inning scoreless streak. After increasing the streak to 18-and-two-thirds innings, Jackson surrendered his first run of the 2017 campaign on a Steve Selsky seeing-eye single.
"Coming out of the break, haven't been on the mound in a little bit," the veteran righty said. "They really made me work–they hit some balls, found some holes."
In total, Jackson pitched three innings, giving up five hits and striking out two. Jackson, however, has a big decision coming up in the not-so-distant future. If he is still pitching in AAA on August 1 he can choose to opt out of his current contract and seek employment elsewhere. A decision he said he is not keeping in the front of his mind.
"Honestly, I'm really not necessarily that concerned, can't really worry about what I can't control," Jackson said. "When I get the ball out here, just go out and continue to work and everything else will happen in due time."
What's Next for the Chiefs
With a tall mountain to climb in the North Division, Gardner wants his players to maintain their focus.
"We gotta go out there and compete, continue to grind at-bats out, get some big hits, and, you know, just battle every night," Gardner said.
They'll get another chance against the PawSox Friday night at 7:05.