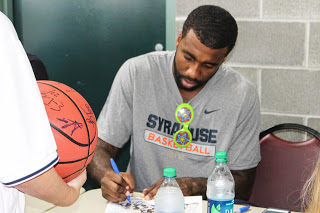 Sour Taste Turns Sweet; Greene Still Bleeds Orange
Story and photo by Dominique Patrick
Syracuse, N.Y. — Boeheim's Army leads fan votes this year for the Northeast region of The Basketball Tournament and Donte Greene most likely is one of the reasons why. Greene, who left for the NBA after a single season at SU, is back to wear the Orange again.
"It's just me representing my school," Greene said in an interview at NBT Bank Stadium Thursday evening. "I left on a bad note; a little a sour taste left in some of the fans' mouth so I just want to come back and show them I still bleed Orange. I love my university. It's always an honor to come out and represent them and put on the Orange jersey"
The Syracuse Chiefs honored Greene and Boeheim's Army, Thursday having seven players and Coach Ryan Blackwell throw the ceremonial first pitches of the night before the game against the Lehigh Valley IronPigs.
Greene and Orange
When he's not warming up his shooting wrist by drumming a solo, something he did with the SU pep band the Sour Sitrus Society before home games, he continues to pursue his basketball career. Since his four seasons with the NBA Sacramento Kings, he has moved around the world, signing most recently with a team in Puerto Rico.
The 6′-11″ Greene plans to bring not only his offensive skill set to the team but his tremendous growth on the defensive end. At 29, he is one of the oldest players on the roster, but experience comes with age. His plan to use his experience and leadership may be the push his teammates need. Greene said expects nothing short of a championship.
"I want to win. We've been out here practicing for a week and I want to come out and have a better showing than we did last year."
"Getting them together for a couple of games, its like a big family reunion," Boeheim's Army manager Kevin Belbey said
The team has hopes of bringing home the $2 million prize. It is scheduled to take on the DuBois Dream in the first round of the tournament at Philadelphia University at 6 p.m., this Saturday July 8.