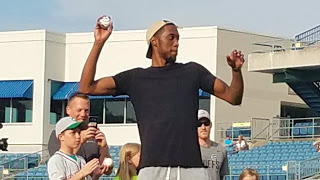 Riley's Return
Story and photo by Corey Crisan
SYRACUSE, NY — Eight Orange hoops alumni convened at the Syracuse Chiefs game on Thursday evening as part of a promotion for an upcoming event – The Basketball Tournament – where former players Ryan Blackwell, Trevor Cooney, Eric Devendorf, C.J. Fair, John Gillon, Donte Greene, DaShonte Riley, and Brandon Triche will represent as "Boeheim's Army."
"Just seeing those guys, it's been a fun experience. Reminiscing about things from freshman and sophomore year… I've been embracing coming back and it feels like I never left."
"Unfinished business"
It's not often that one of the nation's most popular Division I Men's Basketball programs watches players transfer from its school to go elsewhere, but there are the rare occasions where circumstances do apply. One player who falls into that category is former SU center and Boeheim's Army player DaShonte Riley.
The seven-foot tall Riley was recruited by big-name basketball programs, including Marquette University, The University of Virginia, The University of California, and LSU. He averaged 1.4 points, 1.5 rebounds, and 0.9 blocks per game in the 2009-2010 season for the Orange, then he was sidelined by a foot injury for the entire 2010-2011 season before transferring to Eastern Michigan University, just outside his hometown of Detroit. He played there for former SU assistant coach Rob Murphy.
Riley views this opportunity to right some "unfinished business" as he reunites with some former teammates and the rest of Orange Nation.
"The vibe of being back here made me feel like I left something I should've stayed with, and now I'm just enjoying the whole Syracuse community," Riley said. "The fan base and everybody were real welcoming. These guys have embraced me a lot, like I never transferred… I can't wait to represent Syracuse again."
Blackwell on Boeheim's Army's chances
Ryan Blackwell will serve as the Boeheim Army's head coach, and he gives a preview of what to expect from the Army on the court.
"The commitment of these guys to getting here and paying attention to detail in practice, I think that's key," he said. "Offensively, we'll be more in tune. I think defensively we've gone over some stuff that we did last year, especially man-to-man. We'll play our 2-3 zone, but I think man-to-man defense is going to be key for us as well. We didn't do that well last year."
The tournament is a 5-on-5, single elimination tournament involving 64 teams. A $2 million prize will go to the Championship winning team. Boeheim's Army will open on Saturday at 6:00 versus the Dubois Dream. The game can be seen on WatchESPN.