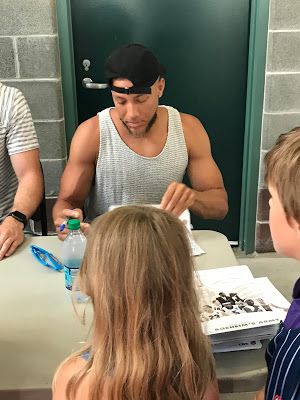 Orange All-time Leader Back with Boeheim's Army
Story and photos by Rafael Freitas
SYRACUSE, N.Y. — No one has started more games in a Syracuse Orange uniform than Brandon Triche.
Four years after his graduation, he has returned to the city again to join other notable alumni in a chance to share $2-million dollars in The Basketball Tournament, playing for Boeheim's Army.
The 6'4″ guard from Jamesville-DeWitt High School started every single game in his four-year carer in Syracuse, with a total of 147 games played, a record that still belongs to him.
"I'm happy just to have any type of record or be part of history here at Syracuse", Triche said Thursday evening at NBT Bank Stadium, where he and other six players plus Coach Ryan Blackwell tossed out ceremonial first pitches and signed autographs as the Syracuse Chiefs beat the Lehigh Valley IronPigs.

TBT Challenge
Triche and his teammates are set to play the first game in The Basketball Tournament next Saturday in Philadelphia against the DuBois Dream. For Triche, the greatest challenge will be figuring out how to be the best team.
"I know some teams had more time to practice more than we did; others grew up playing with each other, so they know their game a little better… but I think we have the talents to win this tournament," he said in an interview. "Different types of guards, different players with different sizes. Plus, our shooting is pretty good. We just have to figure out how to win those games."
Last year, Boeheim's Army fell in a Sweet 16 game against a Pittsburgh Alumni team.
Just happy to be back

Triche has played professionally in the NBA Developmental League as well as overseas, finishing this past season with a team in Israel.
"I'm just happy to be back here," he said, looking back to his days and nights in the Carrier Dome.
"To play in front of 30 thousand people is just amazing. You don't get this in college basketball or even in the NBA. I just wanna say that I love and appreciate all you guys and all these games are from you."
That love for the community, the fact that he is a local guy and his dedication on the basketball court make Triche one of the favorite Syracuse players for the fans. He was one of the most asked for photos during the autograph session. Steve Taubart, an Orange Basketball fan,  didn't lose the chance of to take a picture with one of his favorite players.
"Brandon Triche completed four years in Syracuse,  had 147 games, was in the Final Four a couple of times, great college player. , He is just someone I look up to, a remarkable individual," Taubart said.