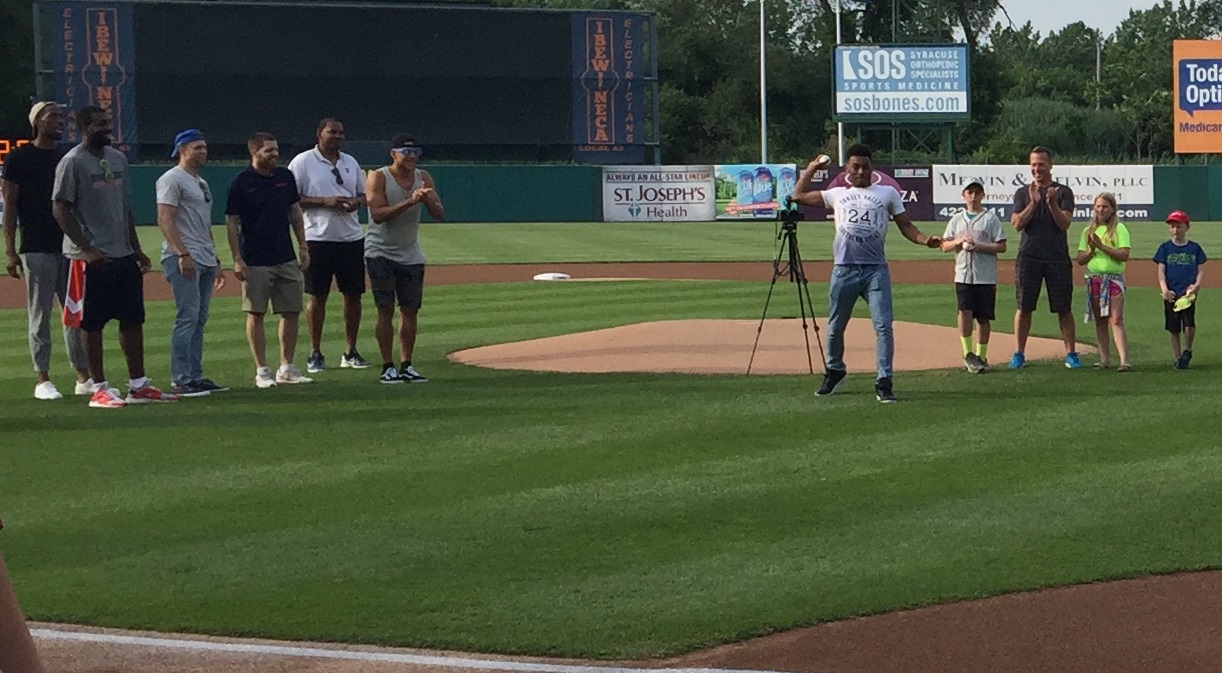 Gillon Steps Up for Boeheim's Army
Story by Monica Ortiz
Staff photo
SYRACUSE, N.Y. — When Boeheim's Army suddenly needed a point guard, John Gillon stepped up, something he did more than once during this past Orange men's basketball season.
And when other members of the team that will compete in The Basketball Tournament took the field for ceremonial first pitches before the Syracuse Chiefs game and signed autographs for fans Thursday night, Gillon was right there with them as he has been in practice this week.
"It's a great opportunity," Gillon said.
Connections


Gillon, who is best know for his buzzer beater against Duke, replaces Scoop Jardine who was injured while playing professionally in Canada last season. General Manager Kevin Belbey's goal has been to stick to a team of former Syracuse Basketball players. He contacted Gillon. Belbey said after finding out Gillon had not signed on with a summer league team, the decision to add him as point guard came fairly easy.
Belbery's brother Shaun, a walk on transfer for Syracuse Basketball put him in contact with Gillon. After a couple of conversations with his agent, Gillon responded he could be on a plane the next day.
"Back home"
Gillon has only been gone from Syracuse about two months and says his return feels like he's "back home."
Choosing to play for Boeheim's Army didn't require much thought on his part.
"I'm glad Belbey asked me to be on the team," Gillon said. "Getting back and being able to replace such good player, with the team thinking highly of me in that role means a lot."
As far as he is concerned the team is skilled in every position, but the strength of the team will be revealed once the tournament starts. Boeheim's Army will go after the $2 million winner-take-all prize, facing the DuBois Dream in its first game this Saturday, July 8 in Philadelphia.