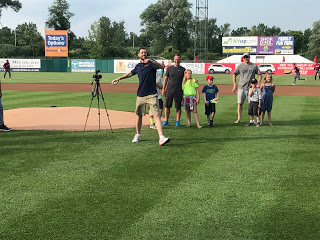 Devendorf Hopes Third Time is the Charm
Story and photo by Matt St. Jean
SYRACUSE, N.Y. — Eric Devendorf plans to lay it all on the line for the Syracuse alumni team, Boeheim's Army, in "The Basketball Tournament" (TBT) for the 3rd year in a row.
Devendorf and six of his teammates threw out ceremonial first pitches at Thursday's Syracuse Chiefs game against the Lehigh Valley IronPigs.
The players then met a long line of Orange fans for pictures and autographs before relaxing with friends and family in a suite provided by the Chiefs. With $2 million dollars on the line in the coming weeks, the support was a welcomed boost for Boeheim's Army.
Leadership and experience
Playing in the most tournaments on the team, Devendorf has taken on a leadership role, a role which he has embraced much to the delight of returning coach and former SU star, Ryan Blackwell.
"These guys are into it, especially Devendorf,"Blackwell said. "He's taken it upon himself to be my assistant to get these guys going because he knows what it means,"
Now an SU assistant coach, Devendorf spent several years playing professionally abroad. In addition to being Blackwell's right hand man he provides insight and experience on the court.
"Playing overseas, in different countries, I learned the game more, I became more patient, matured as a player and a person," Devendorf said, "When I'm out there on the floor, I know every situation."
It has to be fun
In his two years of playing, Boeheim's Army hasn't made it out of the Northeast Regional with last year's loss coming at the hands of the Pitt alumni team, FCM Untouchables. The loss still fresh in their minds, the team came together to practice a week early to re-establish their chemistry on and off the court.
"To be able to get back with all these guys, it's fun, you know, it's fun," Devendorf said. "I know we're competing and playing for money, but you got to have fun with it and enjoy doing it." .
No. 3
Boeheim's Army will wear uniforms similar to those worn by the 2003 National Championship team. The team has been given a No. 3 seed in the tournament, the same seed as SU was in the 2003 NCAA Tournament. However, Devendorf isn't looking past first round opponent DuBois Dream, in Philadelphia on Saturday.
"Just because they don't have recognizable names doesn't mean they can't play, they may go out there, shoot the lights out and shock everyone." Devendorf said, "That's why we have to go out there with a one game at a time mindset, focus on these guys, and then after that, hopefully the next."
The Chiefs set a good example Thursday defeating the first-place Lehigh Valley IronPigs, 5-0.