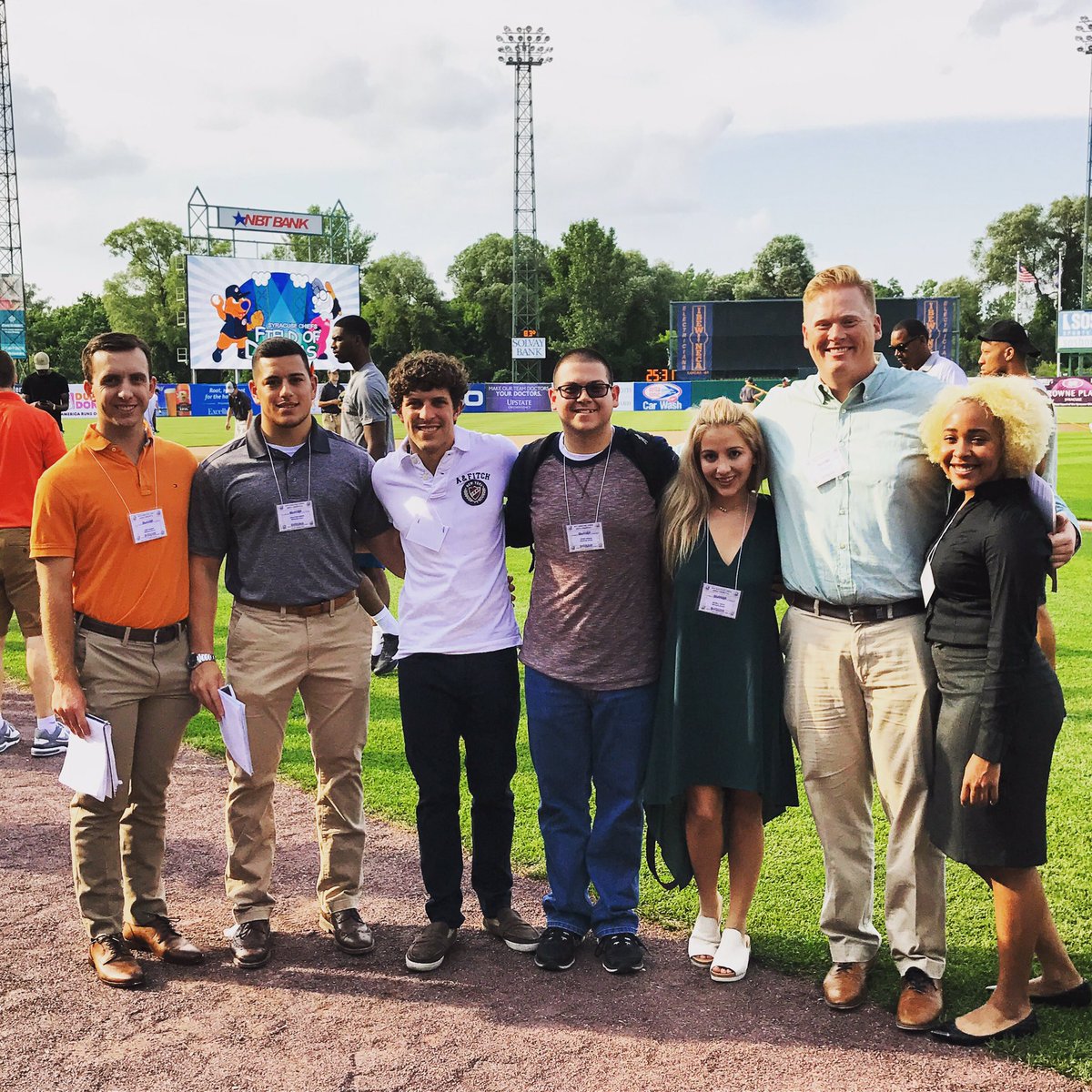 Cub Reporters Cover Boeheim's Army at the Ballpark
Staff Report
SYRACUSE, N.Y. — Three days into Boot Camp, seven new graduate students in the Newhouse School's Sports Communications Emphasis jumped into the deep end of the pool to cover their first assignments, Thursday evening at NBT Bank Stadium. Seven players and the coach of Boeheim's Army tossed ceremonial pitches before the Syracuse Chiefs game against the Lehigh Valley IronPigs, then signed autographs and posed for photos with fans on the stadium concourse, before retiring to a Chiefs' suite to relax with family and friends as the game went on below. Boeheim's Army opens play in Philadelphia on Saturday in The Basketball Tournament, which carries a $2 million winner-take-all prize.
The students, Corey Crisan, Rafael Freitas, Monica Ortiz, Kent Paisley, Dominique Patrick, Jonathan Singh and Matt St. Jean, ranged in experience with this sort of thing from fairly extensive to none whatsoever. They were first among the 34 SCE students to volunteer for the job. Their assignment was to cover the pregame ceremony, general media opportunity and autograph/photo session, then conduct one-on-one interviews with each student reporter assigned to one player.
Along the way, they stood shoulder to shoulder with the Post-Standard/syracuse.com men's basketball beat writer Donna Ditota, WSYR-TV's Mario Sacco (an SCE alum), the Chiefs' official photographer Herm Card and the Chiefs' press box manager Don Johnston, better know as Syracuse's Donnie Baseball.
They also fired questions at Boeheim's Army Manager Kevin Belbey, Coach Ryan Blackwell and Chiefs General Manager Jason Smorol, who was dressed in his outrageous disco outfit to celebrate Disco Night at the stadium.
You'll find the reporters' work on this website under Student Reporting.
Here's a look behind the scenes: