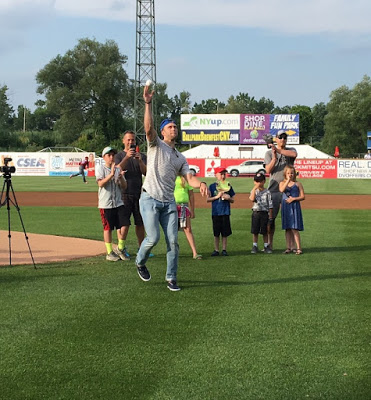 Cooney Happy to Enlist in Boeheim's Army
Story and Photo by Jonathan Singh
Syracuse N.Y.  — Trevor Cooney stepped to the mound and tossed one over the plate at NBT Bank Stadium, Thursday night. He is one of eight members of Boeheim's Army to throw ceremonial first pitches before the Syracuse Chiefs took on the first place Lehigh Valley IronPigs.
The 2016 graduate of Syracuse University said he is excited to be back in town, and wear the Orange once again.
"To be back up here, and to play with some of the guys I watched before I got to college, and guys that I played with in college, it's just an awesome experience," Cooney said.
The new guy is a veteran
Cooney is the newest member of Boeheim's Army, a tournament team with past stars from Syracuse University. The 6'4″ guard was picked up just over a week ago, as he will look to add more offense to what is already a dynamic one to begin with.
As one of the younger players on the roster, Cooney will bring along a fair amount of college experience. The Delaware native has been to two Final Fours, the only player in Syracuse Men's Basketball history to do so.
"He's going to work his tail off, he gives 100 percent and never stops." Boehiem's Army head coach Ryan Blackwell said. "He stretches the floor, can shoot and do multiple things out there."
Trying to make it
The versatile shooting guard has made a quick transition from the NCAA, to playing overseas, and too now emerging as a young star in NBA D-League.
"My first year was a great experience I was able to get some experience overseas in the D-League and now back here in New York, playing for the Long Island Nets."
Cooney started in over one hundred consecutive games for Syracuse.
A fan favorite
"Yeah Cooney is very good, he is clutch," said Steve Taubart, a long time Syracuse fan. Taubart was taking pictures of Cooney, as the team was signing autographs at NBT Bank Stadium, "He was a great player and took the Orange deep during his time here."
Down on the field the Chiefs were beating the IronPigs, 5-0, an example Cooney and his teammates hope to follow in the $2-million winner-take-all The Basketball Tournament.
Boeheim's Army is set to tip off against the Dubois Dream this Saturday in Philadelphia.