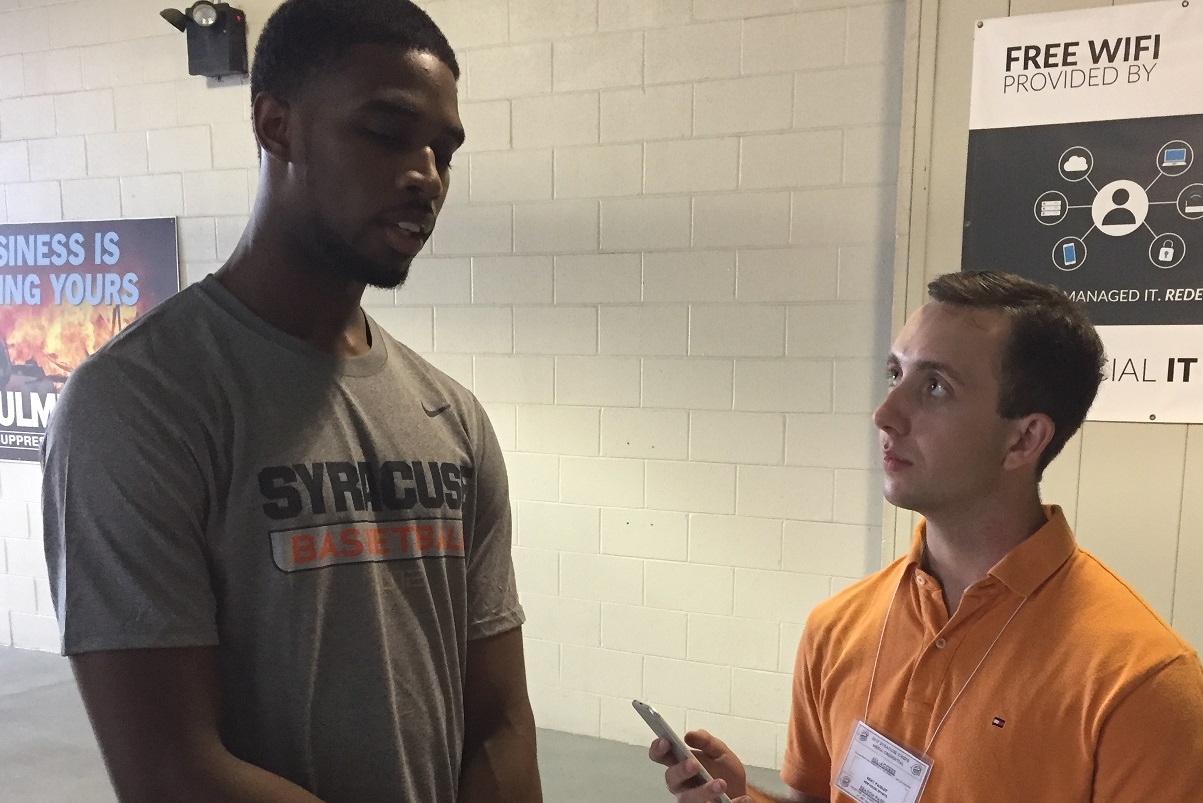 A Fair Chance
Story by Kent Paisley
Staff photo
Syracuse, N.Y.— CJ Fair says he is ready for The Basketball Tournament no matter who the opponent is.
"I'm here to play against anyone," Fair said Thursday night at NBT Bank Stadium. "I know some players want to take on Overseas Elite, but I'll play anybody. I'm just excited to play with my fellow alumni."
Fair joined fellow Orange alums Trevor Cooney, Eric Devendorf, DaShonte Riley, Donte Greene, John Gillon, Brandon Triche and Coach Ryan Blackwell throwing out ceremonial first pitches before the Syracuse Chiefs' win over Lehigh Valley, then signed autographs for fans on the stadium concourse.
Still working towards The League

Fair, who played all four years and finished his tenure in 2014, is one of SU nine alums on the Boeheim's Army roster this upcoming Saturday in the opening round.
The 6'8″ Fair, known for his slashing drives to the basket, finished his career as an Orange team leader in 2014.
He has signed two NBA contracts, both with the Indiana Pacers, and has been waived by them twice: once in October 2014, and once in October 2015. He has spent time in the D-League with the Ft. Wayne Mad Ants and signed with a professional team in France. His career goal remains to make it in the NBA. This tournament appearance, however, is not about furthering that dream.
"Making this tournament is about representing the school. I don't anticipate the results of affecting my chances of making the NBA," he said.
New approach
The team has taken a different approach for this tournament, electing to practice for a full week before the tournament begins. Last year, the team only practiced for two days before the start of the tournament.
In addition, in the event the team wins the tournament and the $2-million winner-take-all prize, the team will donate $50,000 to Boeheim Foundation, in to show support for their head coach who has provided them the opportunity to wear the Orange during their college careers.
Boeheim's Army is scheduled play in its first game this upcoming Saturday in Philadelphia at 6:00 P.M. EST. The game will be available on the Watch ESPN app and ESPN3.