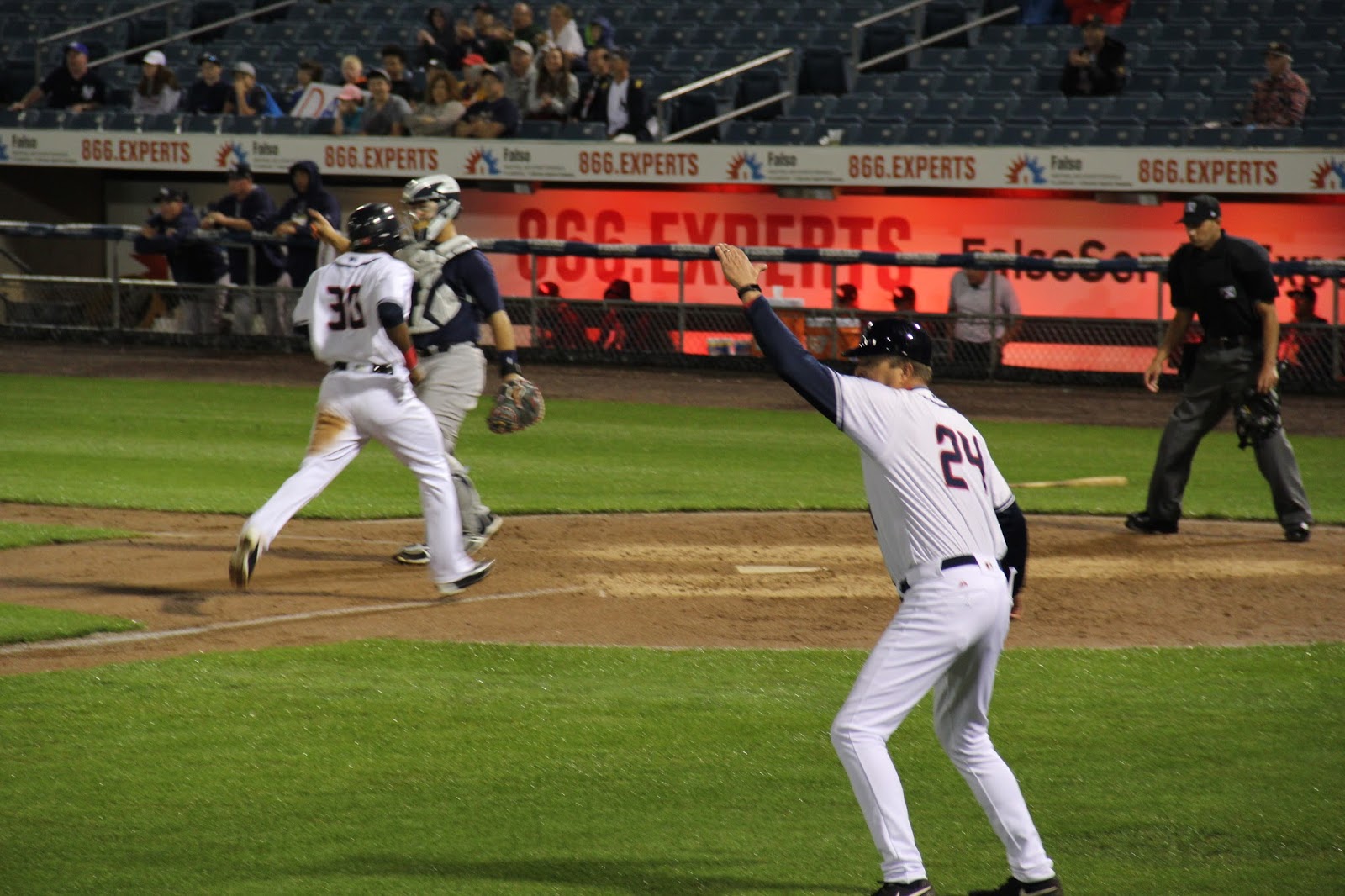 Chiefs Wait Out Rain, Beat RailRiders 5-2
Story by Mike Drew

Photos by Jacqueline Mundry

SYRACUSE, N.Y. — On Monday night, the Syracuse Chiefs (27-47) needed something to feel good about again.
Their recent four-game winning streak was snapped in heartbreaking fashion on Sunday when the Buffalo Bisons scored three runs in the ninth inning to come away with a 7-5 win.
This time, the Scranton/Wilkes-Barre RailRiders (46-30) were in town to begin a four-game set.
The Chiefs waited out an hour and 44-minute rain delay in the middle of the fifth to win 5-2 behind a three-run rally in the seventh, during which Catcher Spencer Kieboom ripped a go-ahead two-run single down the left-field line against Scranton Reliever Nestor Cortes.
"Honestly, I was just looking for a fastball away," Kieboom said. "And if he spun one, I figured it was going to come in. I got lucky and I'd rather be lucky than good sometimes."
Jackson's Debut

Veteran right-hander Edwin Jackson made his first start for the Chiefs since being signed as a free agent by the Washington Nationals on June 15.
He threw four no-hit innings on 67 pitches before being yanked.
"His stuff is really good," Chiefs manager Billy Gardner said. "His command was really good early, but suffered a little bit late. He threw 67 pitches and 35 strikes. Obviously, the command is the next step for him."
Quick Start

Jackson was handed a lead in the first inning when center fielder Andrew Stevenson singled, stole second and took third when Scranton catcher Eddy Rodriguez's throw sailed into center field. Stevenson scored on a sacrifice fly by designated hitter Brandon Snyder.
Then, in the second, Syracuse added another run when second baseman Irving Falu picked up an RBI on a fielder's choice grounder to short, scoring left fielder Neftali Soto.
Those were the only two runs RailRiders starter Joe Mantiply would yield in his three innings of work.

Mother Nature Strikes

In the top of the fifth, center fielder Dustin Fowler singled home shortstop Tyler Wade to give Scranton its first run of the night.
Chiefs left-hander Sammy Solis then struck out third baseman Miguel Andujar to end the inning.
Less than 60 seconds after the Solis walked off the mound, the sky opened up.
A torrential downpour ensued and so did the rain delay.
"Some guys hang out, some talk, some play cards," Kieboom said. "Today I was just watching, getting a vibe as to what we were going to be doing, just trying to stay focused."
The umpires evaluated the field's playing condition several times before deciding the game would be resumed.
Major Relief

Once the game started back up, the Chiefs were in a pitching dilemma.
Solis couldn't continue because of the amount of down time after his last pitch. Thus, Gardner was down to just two available relievers: Cody Satterwhite and Austin Adams.
The game was put in Satterwhite's hands first. He threw a gutsy 56 pitches.
"He did a great job," Gardner said. "He got a big double-play for us there with (Donovan) Solano up there in the eighth."
Prior to that situation, Satterwhite had surrendered the game-tying home run to Scranton right fielder Jake Cave.
Winning Rally

With the game tied 2-2, the Chiefs became aggressive in the bottom of the seventh.
Right fielder Alejandro De Aza led off with a single. Then, Falu dropped a bunt down the first-base line, which was thrown into left field by RailRiders first baseman Ji-Man Choi.
"That really put them into a tough situation," Gardner said.
Kieboom's single followed and an insurance run was added on an RBI single by shortstop Emmanuel Burriss.
Adams picked up his third save of the season by tossing a scoreless ninth inning.
Welcome to the Big Leagues

Scranton/Wilkes-Barre manager Al Pedrique took Wade out of the game after the rain delay and no injury was announced.
It was later reported that Wade had been called up by the New York Yankees after their regular shortstop, Starlin Castro, suffered a hamstring injury in Chicago.
What's Next

The Chiefs will go for their sixth win in seven games behind Sean O'Sullivan (1-1, 3.26 ERA) Tuesday night at 6:35. The RailRiders will counter with Chance Adams (5-2, 2.12 ERA).