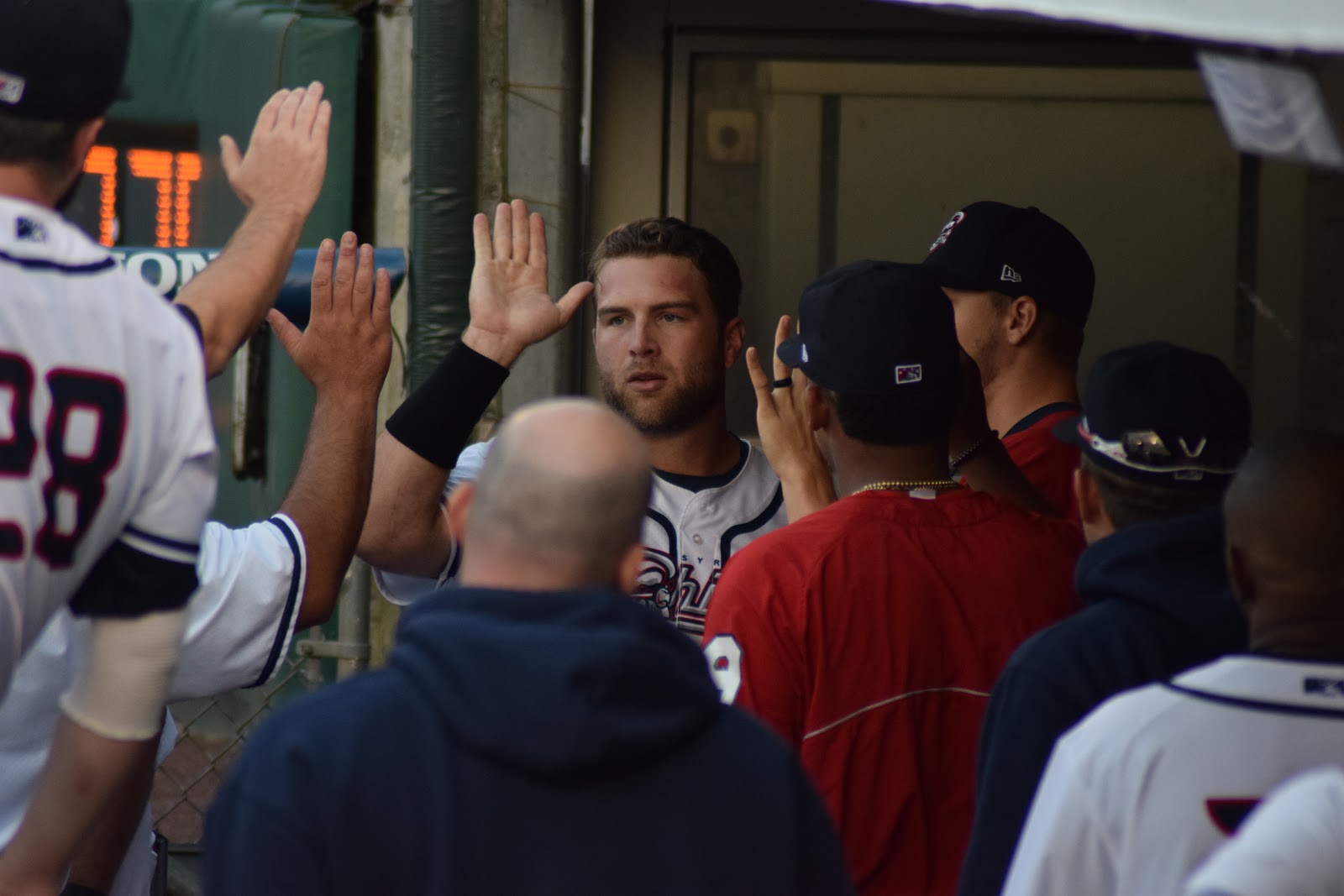 Chiefs Beat Bisons for Fourth Straight Win
Story by Mike Drew

Photos by Aubrie Tolliver

SYRACUSE, N.Y. — Saturday was "Re-Opening Day" at NBT Bank Stadium, which as it turns out was fitting.
Lately, the Syracuse Chiefs (26-46) have been playing like a different team, winning four games in a row, their longest winning streak since mid-April.
Conversely, the Buffalo Bisons (34-40) have been in a horrible rut, losing 10 straight and 17 of their last 20.
Both trends continued.
The Chiefs came out 6-5 winners in a back-and-forth game that ended on right fielder Alejandro De Aza's walk-off single into the gap in right-center.
"We're in this kind of click of force right now," Chiefs Manager Billy Gardner said. "We're pitching better, we're playing good defense and we've been getting some big hits."
Striking Early

The Chiefs knocked out Buffalo starter Brett Oberholtzer in the second inning before he had even gotten an out in the frame.
Five straight singles created a rally, the last two by Second Baseman Emmanuel Burriss and Center Fielder Andrew Stevenson each drove in a run.
Shortstop Adrian Sanchez followed with a bases-loaded walk to score the third run of the inning and hand the Chiefs what looked like a comfortable lead.
"I thought we were patient," Gardner said. "We stayed square with the ball and used the whole field."

Striking Back

All went according to plan for Syracuse starter Greg Ross until the top of the third.
That's when Buffalo catcher Raffy Lopez stepped to the plate with two on and two out.
He crushed a three-run homer over the right-field fence to tie the game at three (for what it's worth, he was also 3-for-4 last night).
In the sixth, Lopez continued to terrorize Chiefs pitching.
He launched a solo shot to center to give the Bisons their first lead of the night at 4-3.
Designated hitter Jarrod Saltalamacchia popped a sacrifice fly later in the inning to extend the lead to two runs.
Refusing to Quit

The Chiefs put a stop to Buffalo's momentum right away.
In the bottom of the sixth, Burriss led off with his third single of the night. He scored on an RBI ground-out by left fielder Brandon Snyder.
Designated hitter Clint Robinson then came to the plate with two out and the tying run at third. He reached and out and blooped a game-tying single to left to even the game at 5-5.
"We've got a little bit of momentum here," Robinson said. "I was just trying to stay aggressive, come out and put together good at-bats."
Walking Off

The Chiefs bullpen held Buffalo scoreless over the final three innings.
Bisons reliever John Stilson walked Snyder to lead off the bottom of the ninth. Robinson followed with a single, advancing the winning run to third.
"He got behind, so I knew I was probably going to get a pitch to hit right there," Robinson said. "You don't want to walk two guys in a row to start the ninth, so I was just trying to hit it hard."
Then, first baseman Neftali Soto was intentionally walked to load the bases, sending up De Aza.
As soon as he made contact, there was no doubt he had won the game. His "single" would've easily been good for two or even three bases in any other situation.
What's Next

The two teams are back at it Sunday to wrap up the four-game series at 1:05. Syracuse will go for the sweep