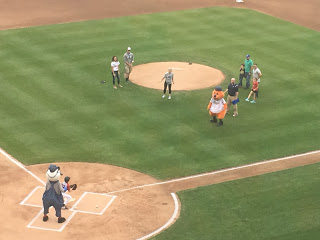 PawSox Beat Rain, Chiefs; High School Champions Honored
Story and photo by Jacqueline Mundry
SYRACUSE, N.Y. — The rain didn't stop the Pawtucket Red Sox from taking down the Syracuse Chiefs on Thursday night.
 The PawSox (33-29) defeated the Chiefs (20-42) 6-2 to wrap up their four game series, winning three of the four.
PawSox Bats
On the third pitch of the game, Rusney Castillo hit a solo home run off Sammy Solis for the PawSox to take a 1-0 lead.
The Chiefs looked like they were gaining momentum when Brandon Snyder hit a solo blast in the second half of the inning.
The Chiefs couldn't get their bats going for the remainder of the game while the PawSox had no problem.
"We gotta swing the bat," Chiefs Manager Billy Gardner said.
The PawSox continued to swing their bats. Castillo hit a second home run in the sixth inning and Dan Butler contributed with two hits and two RBIs.
The Chiefs had a chance to come from behind and tie it up for the second night in a row when they had two on in the fourth inning. But Andrew Stevenson grounded out to end the inning.
Bad weather
The rain started coming down in the third inning and continued on and off for the rest of the game.
"It was a tough night to play," Gardner said. "Both teams gotta play through it. It's difficult on the pitchers."
The two teams have battled the rain twice this series, including a 43-minute rain delay in Tuesday's doubleheader, which the PawSox swept.
Notes
The Liverpool boys baseball team won the Class AA State Championship and the Solvay girls softball team won the Class B State Championship. Both teams were honored by throwing out the first pitch.
With a 20-42 record,the Chiefs are currently ranked last in all of major and minor league baseball.
Up Next
The Chiefs will hit the road and travel to Lehigh Valley for a three game series and then to Scranton/Wilkes-Barre for another three games before returning home to play Buffalo June 22.
The PawSox will head home to take on Rochester and Lehigh Valley.