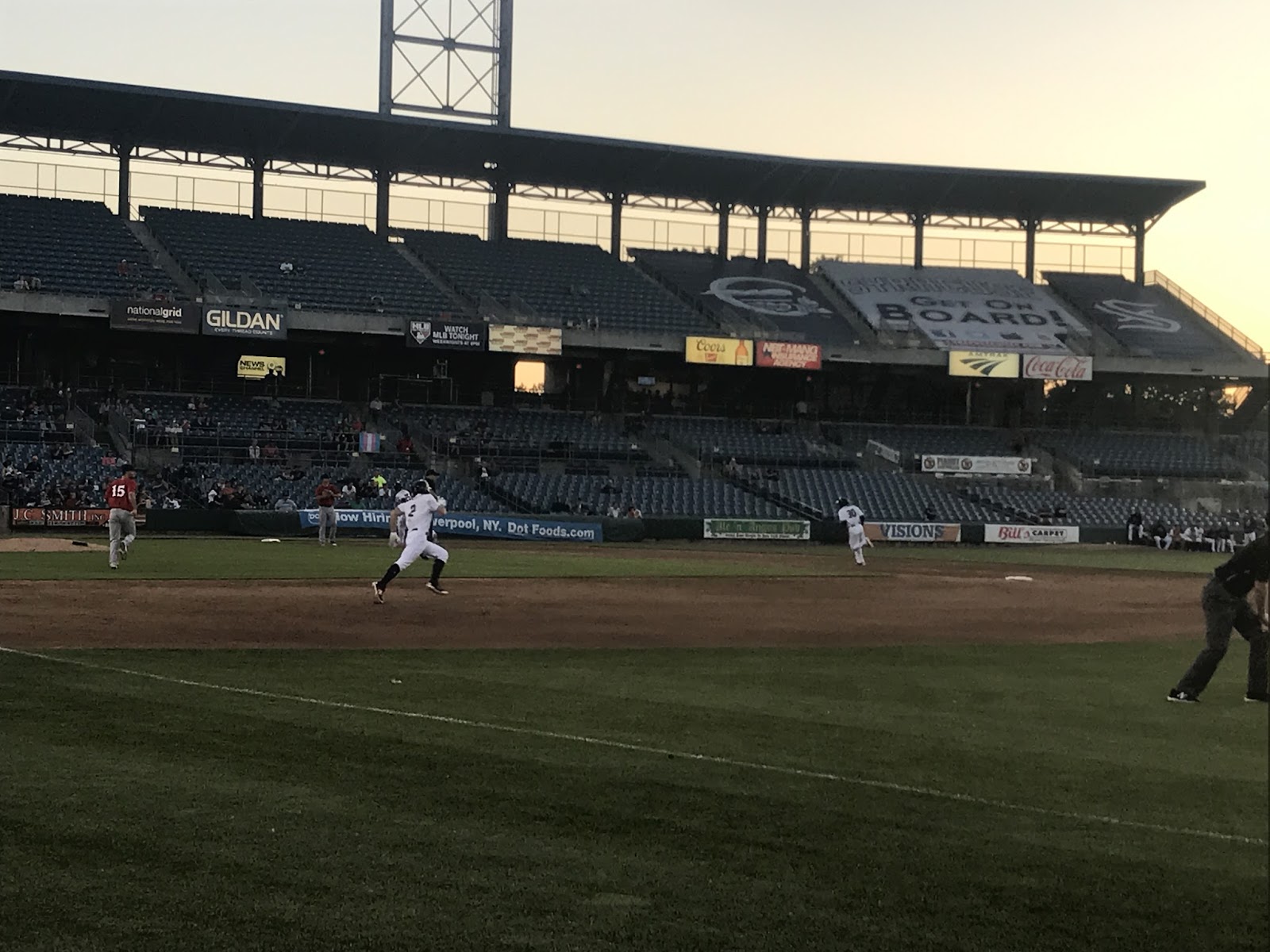 Chiefs Break Streak, Beat PawSox at Last
Story By Brianna Adams
Photo by Jacqueline Mundry
SYRACUSE, N.Y.—After being swept in a doubleheader Tuesday night, the Syracuse Chiefs beat the Pawtucket Red Sox 7-6, Wednesday night. The Chiefs had lost ten straight against Pawtucket and the come-from-behind win was Chiefs' first against the PawSox at NBT Bank Stadium this season.
"It's always great to get the win column and to do it from behind, I think it makes us stronger," said center fielder Andrew Stevenson, who went two-for three with a walk, scored twice and had two runs batted in.
Solano, Stevenson, and Snyder Surge
Pawtucket was up 3-0 when the Chiefs got their first  run in the bottom of the fourth. A grounder from Jhonatan Solano brought Alejandro De Aza in to get Syracuse on the board.
Two innings later Stevenson's hot night began with a massive triple deep into center field bringing in two more runs. The Chiefs got three in the inning but were still down 5-4 and in the top of the eighth Syracuse allowed Pawtucket one more run to widen the gap.
But in the bottom of the eighth Brandon Snyder smacked a deep ball into center field. This brought in two more runs and gave Syracuse its first lead of the game, 7-6.
Wander Suero shut down the PawSox in the ninth and the Chiefs had the win.
"Everyone was pulling the same rope and grinding that bat in the win," Chiefs manager Billy Gardner said.
Pawtucket Loss of Momentum
Pawtucket had a solid start with back-to-back runs in the top of the fourth to snag an early lead.
Starting pitcher Shawn Haviland gave up four runs in his start. Immediately after Stevenson's triple, Haviland was pulled to bring in Ty Buttrey. Chiefs' Wilmer Difo was the first to face Buttrey and knocked in a run on an error by shortstop Ryan Court.
What's Next
The series finishes Thursday at NBT Bank Stadium.  First pitch  is at 6:35 pm.