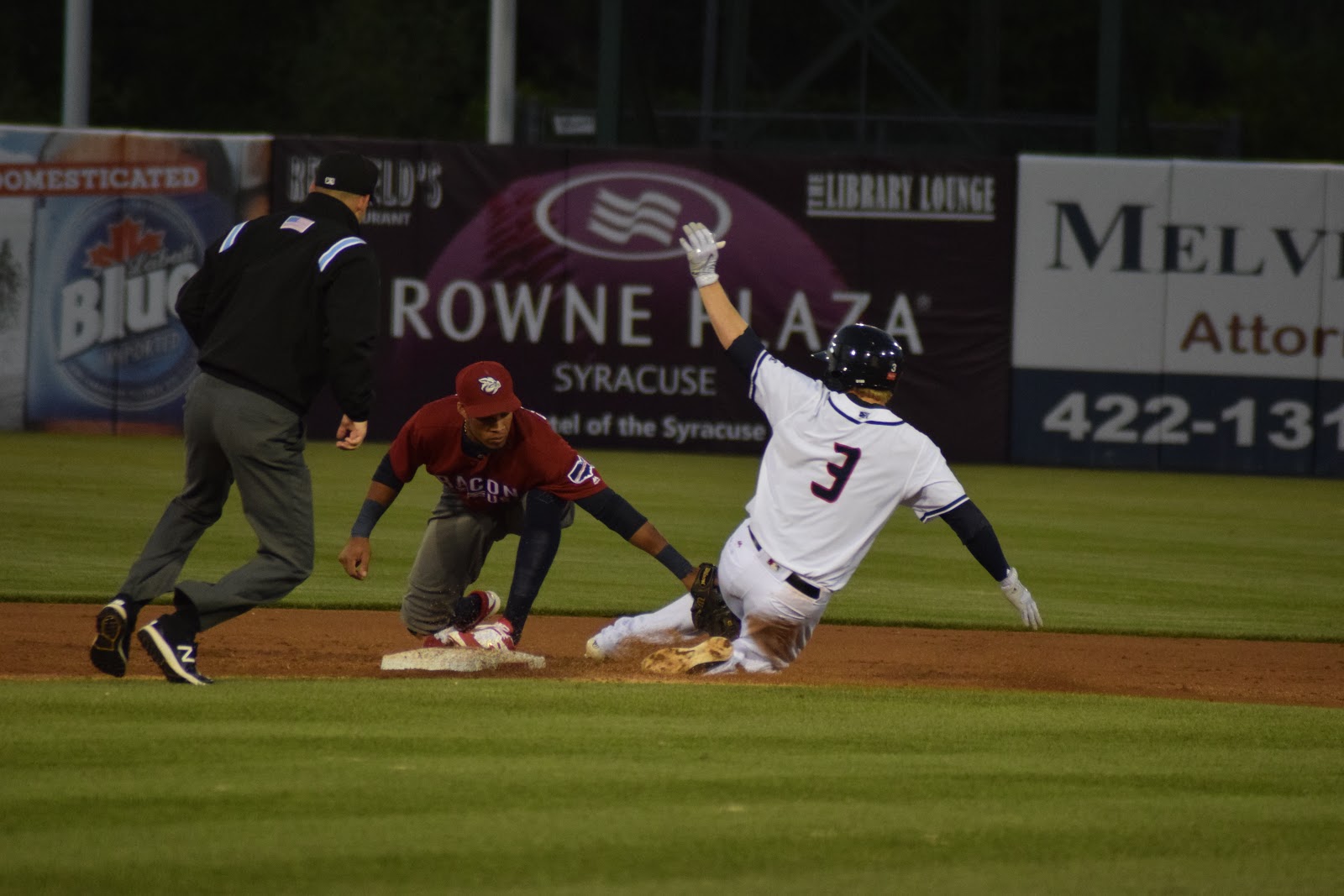 IronPigs Take the Bacon
Story and photos by Aubrie Tolliver
Syracuse, N.Y. — What amounted to a swinging bunt in the top of the tenth inning made the difference as the Lehigh Valley IronPigs topped the Syracuse Chiefs 3-2 in extra innings Friday night at NBT Bank Stadium.
On another chilly night (57 degrees at first pitch) that had fans and players bundled up, the Chiefs had ten hits in the game but only managed to turn any of them into runs in the fifth inning.
Newcomer Andrew Stevenson singled on a ground ball up the middle, which plated Grant Green. Clint Robinson earned the only other RBI with a ground ball to right field two batters later.
The Lehigh Valley hitters, sporting their iconic "Bacon USA" jerseys, countered the following inning, also plating two runs. In the top of the sixth, the Chiefs starting hurler Austin Voth, who tossed four hitless innings to begin the game, found himself in a bases-loaded, no-outs situation after three consecutive singles. A fielder's choice off the bat of Rhys Hoskins plated the first run and a Nick Williams infield single brought home the second.
It remained a 2-2 tie after nine innings. But, the IronPigs needed just one more inning to seal the victory.
Big hit + little hit = winning run
In the top of the tenth, Lehigh Valley's Hector Gomez pulled an inside pitch down the right field line. By the time the defense got it back into the infield, he was standing third base with his first triple of the year. The Chiefs' right-hander Mike Broadway went on to strike out the next two batters and seemed on the verge of doing the same to batter number four.
But on the 0-2 pitch, Jorge Alfaro swung and barely got a piece of the ball. It was hit slowly down the third base side in a spot where no infielder could get to it and went in the books as an RBI single–the winning RBI single as Gomez scored.
Up 3-2 in the last half of the tenth, closer Pedro Beato shut the door on the Chiefs' offense, recording his 12th save of the season. Pat Venditte earned his fourth win while Broadway was tagged with his first loss.
Next
The IronPigs now stand at 27-14 on the season while the Chiefs fall to a division-worst 13-24.
The teams will play game two of the three-game series Saturday at NBT Bank with first pitch scheduled for 1:05 p.m.