Chiefs' Snyder: "Time for Us to Man Up"
Story by Lauren Walsh
Photos by Aubrie Tolliver
SYRACUSE, N.Y. – On a frigid night at NBT Bank Stadium that saw the Syracuse Chiefs' lose their fifth straight game, this one to the Buffalo Bisons, 9-3, the Chiefs Brandon Snyder had a hot bat. He went 3-4 with two doubles and a two-run home run.
Snyder is batting .224 with five home runs and 18 RBIs this season. He says the team's recent losses sparked a change in his approach at the plate.
"I think it's more of a mindset because I'm just tired of not competing and being the player that I know I am," Snyder said. "The last couple weeks we've been struggling and today I was like, 'I'm just gonna go back to trying to compete,' and that was it."
Slugging Snyder
The first baseman put the Chiefs on the board in the first with a double to center field that drove in Andrew Stevenson. That turned out to be the only Chiefs' lead. Catcher Raffy Lopez hit a two-run shot to right field in the top of the second inning, giving Buffalo the 2-1 lead and the Bisons rolled from there.
Snyder hit a double to right in the bottom of the third, advancing Matt Skole to third. But they were left on base after the inning ended with a Clint Robinson pop-up to second.
In the eighth inning, with the Chefs behind 7-1, Snyder came up with a big swing for a two-run bomb into right field. The Las Vegas, Nev. native knocked in all three of Syracuse's runs.
His late-game heroics weren't nearly enough to close the gap. Buffalo scored two more runs on a throwing error in the ninth inning, sealing the 9-3 win.
New Mindset
 The Chiefs are 2-10 in the past two weeks, including Monday night's game and after being rained out at Scranton/Wilkes-Barre on Sunday, Snyder said the team got together and chatted about changing some tactical elements of their play to turn some of those L's to W's on the score sheet.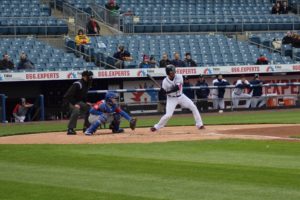 "I think that leaving Scranton it was kind of a team thing… This is triple-A baseball and to a man, to myself, it was looking in the mirror and saying, 'Hey, stop being the guy that just goes out there and tries to figure it out.' If you haven't figured it out by now, you might as well go home."
Personally, Snyder had a few adjustments of his own that he kept in mind throughout the game.
"I went up there and in the same process of just trying to compete, not swinging at bad pitches, trying to work good counts and just going up there and trying to put together a good at bat," he said.
No Stopping Buffalo
While Snyder had a good night at the plate, Syracuse gave up nine runs and 13 hits against Buffalo. The Chiefs only made one error, but there wasn't much the team could do to stop the Bisons' bats according to Snyder.
"We had a couple balls that guys think we could've made plays on, but for the most part they went out there and swung the bat well, they got good pitches to hit, worked the count, and it just kind of is what it is."
He said to start winning the team as a whole needs to adjust its mindset for each game.
"It's about going out there and changing the mindset and I'm tired of [losing]. Just need to go out there and try to compete," Snyder said.
The six-foot-two first baseman was blunt in his thoughts on the rest of the season.
"I think it's time for us to just man up and play baseball."