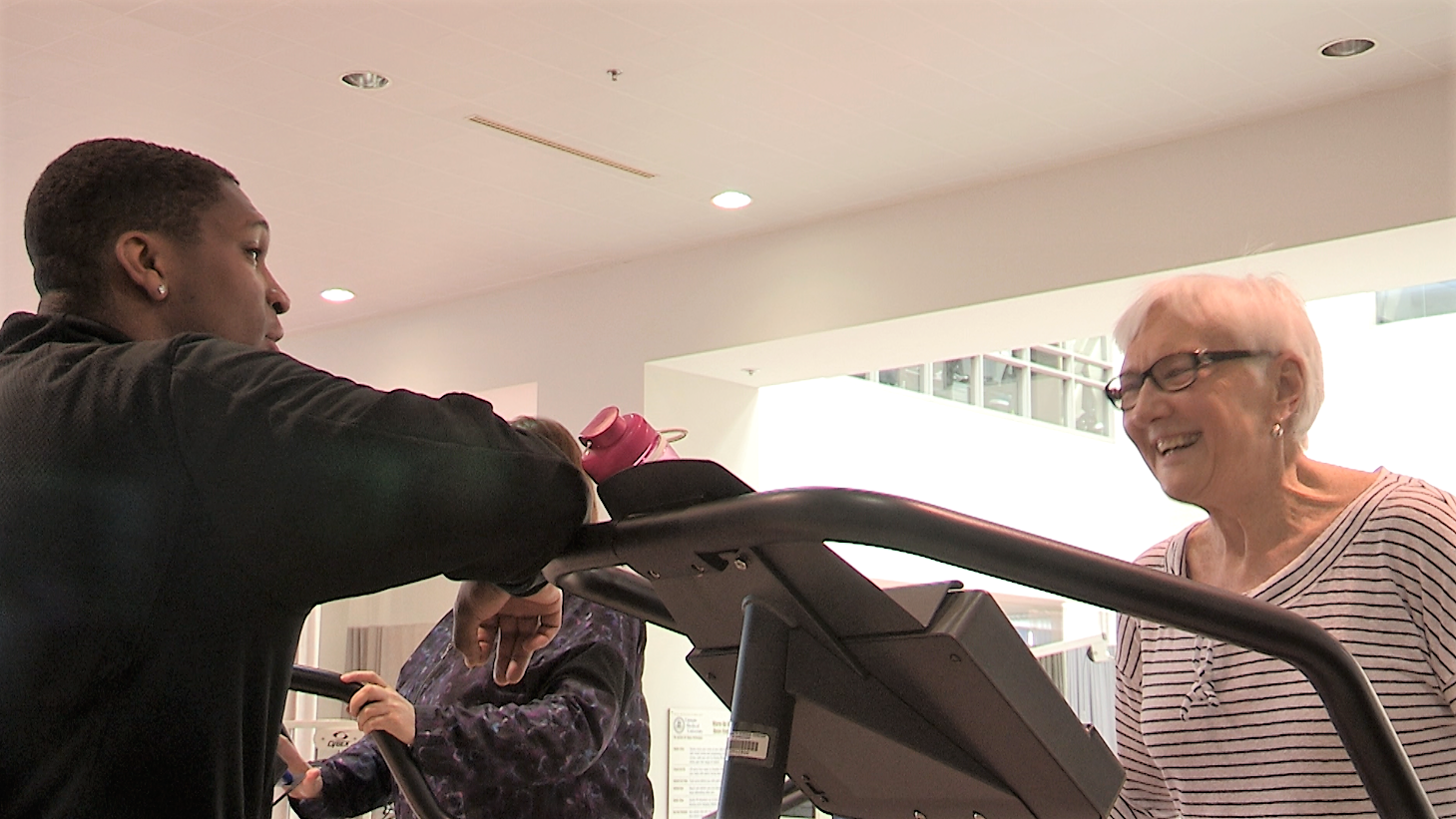 Going Forward
Story, photos and videos by Bridget Chavez.
SYRACUSE, N.Y. — Every day people are recovering at the Upstate Rehabilitation Institute for Human Performance. The circular room looks like a typical indoor gym, with a small auburn track running around weight lifting and cardio machines and a few patients working out. To one side of the gym is an open area with chairs lined up in rows.
Trainer and graduating Syracuse University student, Isaiah Johnson strolls into the room, towering high above everyone around him at 6'5″ and 270 pounds.
"Alright everyone let's get started," he announces.
There are about half a dozen people in the class and they follow Johnson as he leads them through warm up stretches. Although the athletic 23-year-old is half the age of most in the class, they pay close attention and follow his direction to a T.
Once stretching and warm ups are complete, the patients disperse to their individual workouts, with some starting with the ellipticals and the treadmills while others begin with weight lifting. Johnson works with this same group three times per week, and while he helps them recover from injuries and reach physical goals, Johnson is recovering himself.
April 9, 2015
"April 9, 2015 will always be a date in my head because for me that was the day that ended everything for me," Johnson remembers. The former defensive lineman suffered multiple concussions over the course of 18-months and it was on that day team doctors told Johnson he was medically disqualified from playing the game he loved so much.
"Now that was a stab in the heart," Johnson says, "Taking away something from somebody that you love because of an illness that you have, basically. That's what a concussion is to me is an illness."
He got his first concussion after sacking Florida State quarterback, Jameis Winston and the second and third were sustained during spring practices. Johnson says he thought he just had a headache, but really it was a third concussion.
"I was just trying to cope with it. I thought I just had a headache but I don't remember anything after that practice."
And just a few days later his football career was over.
"I didn't even care that I had concussions," he says, "Until they told me I couldn't play no more." Johnson says he deals with the side effects of multiple concussions every day. He's sensitive to light and loud noises.
Finding his Niche

"Taking away athletics from me made me become a student first," he says. Johnson also says he never had any aspirations to try to go pro and says not having football has made him become more mature.
"I want everyone to feel comfortable when they're around me," Johnson says walking around to check on each. He looks at their charts and goals and discusses where they are and what they are trying to achieve.
Johnson graduates this spring with a bachelor's degree in public health and hopes to continue forward in the field by getting a master's degree. Working with patients at the institute is in his realm of expertise and interest. He says after graduation he is heading home to Delaware to spend time with his family and will begin graduate school in the fall.