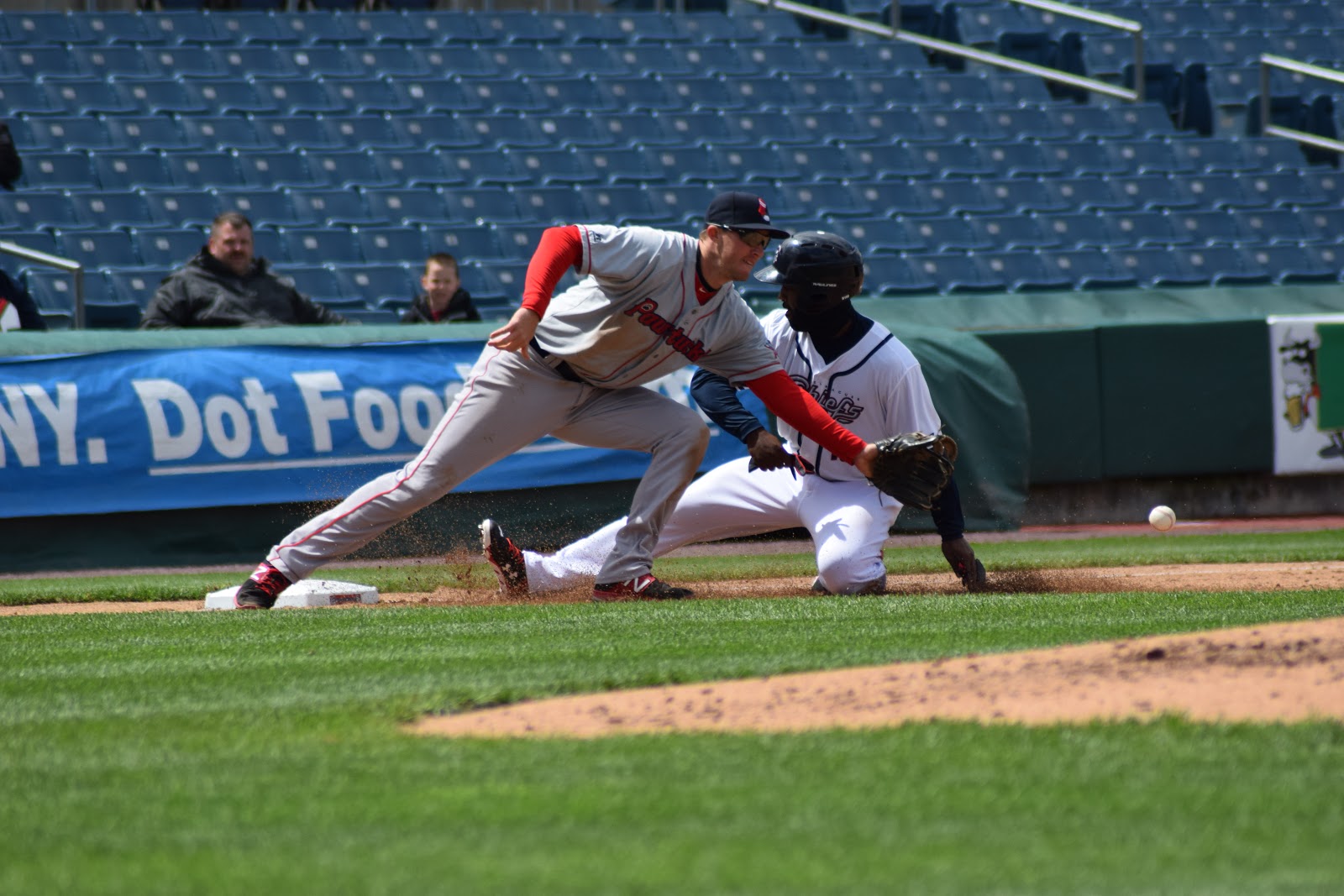 Stranded: Chiefs Leave 14 on Base, Lose 7-0 to PawSox
Story and photos by Aubrie Tolliver
Syracuse, N.Y. — Just as Syracuse Chiefs' starting pitcher Taylor Hill set on the mound ready to take his first pitch, the sun made its first appearance at NBT Bank Stadium, peeking through a hole in the gray clouds.
But three pitches later, it went back into hiding. Coincidentally, that happened just as leadoff hitter Aneury Tavarez smashed his first home run of the season over the left field fence—a reoccurring theme in Wednesday afternoon's game between the Chiefs and Pawtucket Red Sox.
The sun eventually came for good but the game remained gray for the Chiefs, as they were defeated by the PawSox 7-0.
Early Runs
Three batters after Tavarez's leadoff homer, the Sox scored another run on a single up the middle by Sam Travis. Two runs were on the board before Hill retired the side.
He got through the next two innings unscathed. But, after a Travis infield single led off the fourth, Steve Selsky took the first pitch over the right field fence. It was 4-0 PawSox after four.
Tavarez followed suit the next inning with his second blast of the game. Two batters later, Rusney Castillo did the same.
Syracuse had its greatest opportunity to score in the bottom of the eighth when the Chiefs managed to get the bases loaded with just one out. But, a strikeout and groundout later, the threat was demolished.
A 1-2-3 ninth inning sealed the deal. Pawtucket beat Syracuse 7-0.
Starting Pitchers: Night and Day
"Starting pitchers set the tone," manager Billy Gardner said in a post-game interview. "We just didn't have it today."
Both starting pitchers went five innings. Hill, however, allowed six earned runs. Among the nine hits he gave up to Pawtucket batters, four were homers.
Owens, on the other hand, blanked the Chiefs' offense in his five innings of work, allowing just one hit.
Missed Opportunities
The Chiefs didn't have a hard time getting runners on base—ten batters reached by way of a walk through the nine innings. But, the offense left 14 runners on base, nine of them in scoring position.
A Rollercoaster Season—Just 23 Games In
After starting off the season with just two wins in
their first nine games, the Chiefs went on to win their next six straight and was able to get above .500 during that winning streak.
But, that all ended on March 23.
Since then, the team switched back to its losing ways and is just 1-8.  The Chiefs now sport a season record of 9-14—the worst in the International League. The Red Sox's 12-12 record lands them in the spot just above.
Onward
Both the Chiefs and the Red Sox return to the NBT Bank Stadium Thursday to close out the three-game series. The Sox will be looking for the sweep. First pitch is scheduled for 6:35 p.m.
"We've got to get a few of our guys that we thought would hit to start cooking a little bit," Gardner said. "Once we do that we'll start stringing more competitive at bats together and start putting pressure on them."