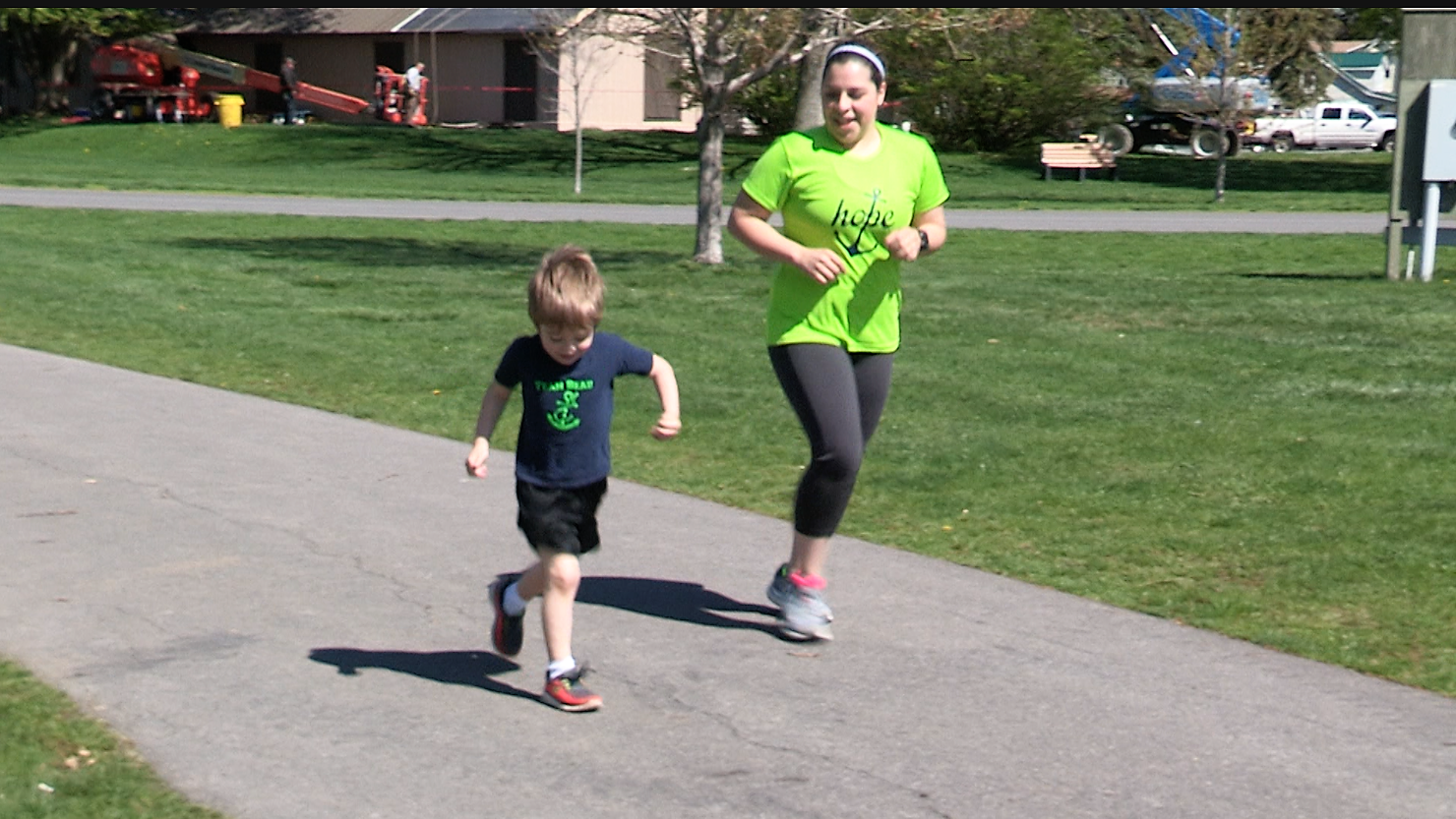 Running for Beau
Story, photos and videos by Bridget Chavez
LIVERPOOL, N.Y.  — It's a bright morning at Onondaga Lake Park. It's one of those rare days where the sun is shining reflecting off of the lake and there's a slight breeze keeping the temperature nice and cool. It's a perfect day to be outside and taking advantage of the weather. There are small children playing on the brightly colored jungle gym and their moms and dads are not far off keeping watch over their little ones. There's a trail that circles the lake with distance markers along the way for runners and walkers alike.
There are about a dozen or so walkers and joggers sprinkled throughout the trail this morning, but one pair in particular stands out. They're off and on the trail but they're enjoying themselves and laughing. They are Jennifer Burnham and her four-year-old son Nolan. At first glance, you might think it's a typical day out at the park for mother-son bonding time and maybe to an extent it is. Both mother and son are sporting athletic gear, running shoes and shorts, Burnham has her hair tied up as if she's about to go for a run, but take a closer look and they're both decked out in brightly colored gear that says, "#TeamBeau" and "IRun4Beau."
More Than Your Average Training
Burnham is part of a national organization called"I Run 4 Michael" in which volunteers dedicate thier workouts, races or any physical activity to children or adults who may not be able to participate in physical activities and raise awareness for the diseases that are impacting their lives. Burnham is matched with a two-year-old boy, Beau, from New Jersey. She dedicates her current training and races she has coming up to Beau.
"We have kids the same age, so it clicked with us," Burnham says, "It's like an extra family that we've adopted." Burnham says her son Nolan plays with both Beau and his brother Braden, also four, when the families meet up.
"I just hope he [Nolan] learns acceptance for other kids through all of this," Burnham smiles. "There's nothing wrong with any of these kids. And it's great that he can see how normal this is."
Beau has been diagnosed with a rare form of muscular dystrophy that affects his breathing, walking and muscle development.
"It's an everyday thing for him just trying to breathe," Burnham says. Beau is on respirators and has to have oxygen at night while he sleeps and isn't able to eat so he has a gastrostomy feeding tube put in. Burnham says they've known Beau and his family for a little more than one year and she and her family are trying to spend as much time with him and his family as possible.
"We're not just running to say, 'Hey I did a marathon,' we're running to bring awareness," Burnham says.
Full Circle
"I initially started running these miles for him, but honestly its turned into running for his entire family," Burnham says. "it's kind of come full circle and now they're inspiring me."
Burnham says when she first met Beau, he didn't have any arm movement and as of recently, the family got him a wheelchair and he is now able to wheel and push himself around the house. Burnham says when he defies the odds, she pushes herself to do the same. Burnham has now run five half marathons and is taking it quite a few steps further.
"I signed up for a triathlon and I don't even know how to swim!" Burnham laughs, "But if this boy can do it, then I will figure out a way to get this done." Burnham is training the Iron Girl Triathlon in Syracuse in August and the Marine Corps Marathon in October.
"Hearing what Beau can do, I just keep pushing myself to the limit," Burnham says.