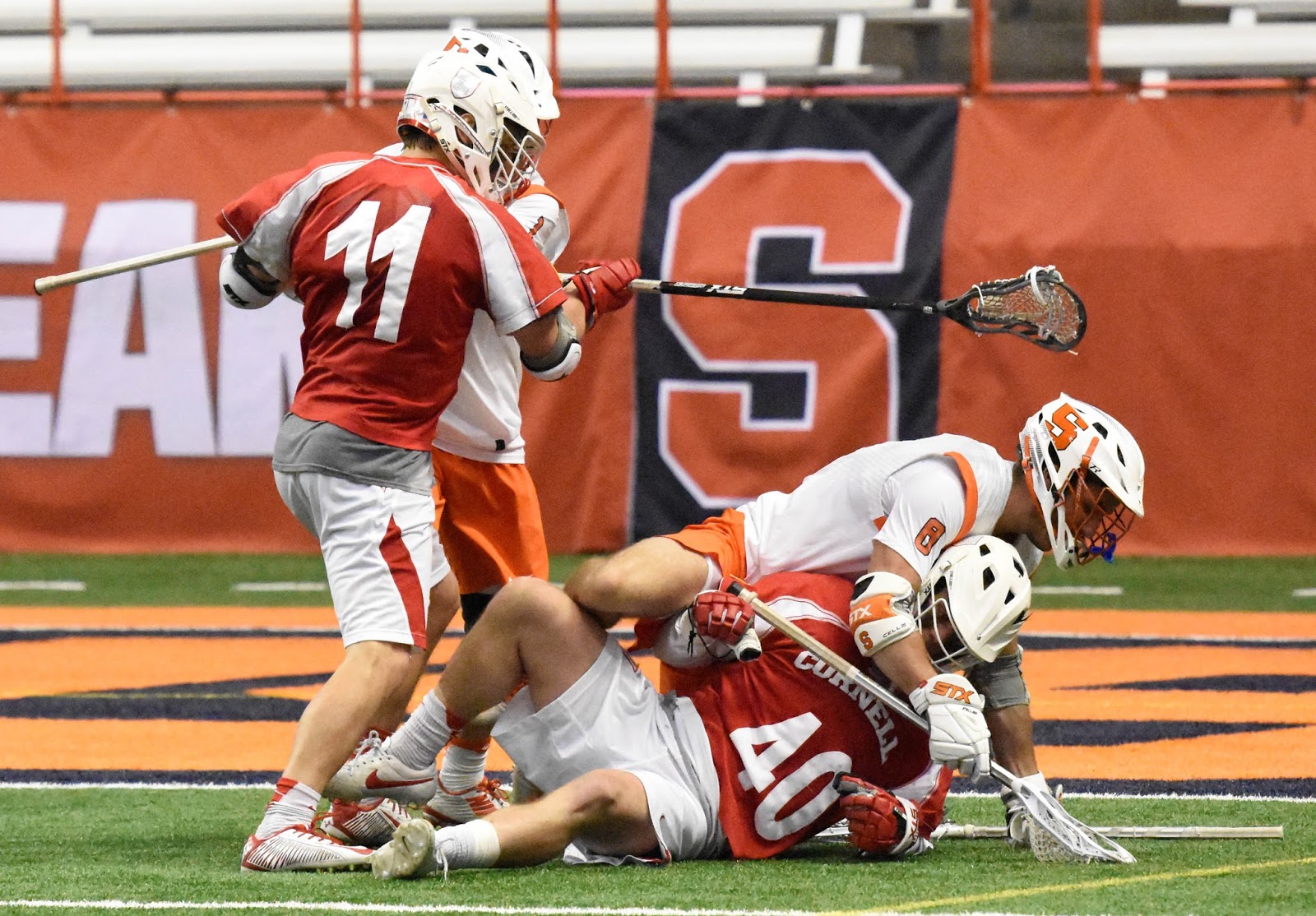 No. 1 Orange Men Whip Big Red
Story by Jacqueline Mundry
Photos by Dontae Harris
SYRACUSE, N.Y. — Tensions run high during almost every game, but especially against longtime rivals. That was especially true on Tuesday night at the Carrier Dome when the No. 1 Syracuse Orange (9-1, 3-0 ACC) defeated the Cornell Big Red (3-7, 2-2 Ivy League), 15-8.
Seven penalties were assessed against the Orange and six on the Big Red totaling 12 minutes. Five were for unsportsmanlike conduct and another for unnecessary roughness on Cornell's goalie, Christian Knight.
"I don't think it was that chippy, honestly, it's Cornell and Syracuse." Cornell head coach Matt Kerwick said. "I think that the tradition of this game and the history of this game, back in the day that'd be nothing."
Familiar Faces
Sophomore attack, Nate Solomon got into it with Cornell's Brandon Salvatore less than three minutes into the game and both were called for unsportsmanlike.
Syracuse's Brendan Bomberry and Cornell's Marshall Peters were flagged for a scuffle early in the fourth quarter. With under six minutes left, the Big Red's goalie, Knight slammed a shoulder into SU's Tyler Ford, who'd just cross-checked another Cornell player, earning the roughness call on Knight.
"I just think, we know a lot of people on Cornell, they know a lot of our friends as well, and it's just a big in-state rival,"  Solomon said.
History
It was the 102nd meeting between the Central New York two teams. They first met in 1920, and Syracuse has ruled the series with a 65-36-1 all-time.
Only Cornell and Hobart (138 games), Johns Hopkins and Maryland (113) and Syracuse and Hobart (103) have played each other more.
Syracuse also has gotten the win in two national championship games against the Big Red.
But last year Cornell upset the Orange 10-9 in overtime at Schoellkopf Field and was looking to do it again Tuesday night.
Big run, face-off control
Cornell took two-goal leads over Syracuse twice in the first half, until Syracuse went on a 4-0 run to end the half and scored ten in a row over the second and third quarters to put the game out of reach.
Not only did the Orange dominate offensively, but Ben Williams, who had been in a slump, won 20 of 26 face-offs. Head coach John Desko said that had a lot to do with the team's dominance.
"It makes it easier when you score a goal and get the ball right back, you get into a real rhythm of your offense and they didn't get any opportunities to get the ball to the defensive end of the field and slow things down," Desko said.
Williams said this comes from practicing as a face-off team throughout the week.
"I think our face-off group has done a good job at keeping our heads down and working week to week," Williams said. "The wings did a phenomenal job too."
#1

This week the Orange is ranked number one in the AP poll but Desko's players say they're not really thinking about it.
"We've got bigger goals ahead of us than the number one seed," senior attack Jordan Evans said.
Evans, who recorded a hat trick, has been a member of the Orange for all four years and he said this year is special.
"We've been focusing more on ourselves than we have on other teams, this is one of the tightest units I've been a part of," Evans said.
Rest

With the seven point lead, Desko had the opportunity to rest some of his players.

"We were fortunate to get in a lot of players tonight for two reasons, so they could get some experience and to rest some of our starting group because we're going to be hopping on a plane on Friday morning." Desko said.
Although he would have liked to play a full 60 minutes at full strength, he understands the demands of playing two games in a week.

Up Next

The Orange will have a quick turnaround as it takes on the reigning national champion North Carolina Tar Heels (6-5, 1-1 ACC) on Saturday at 4 p.m. The Tar Heels are fresh off a win over Virginia.
The Tar Heels and SU Women will play at noon in the opener of a doubleheader in Chapel Hill.
The Big Red are set to host Lehigh on Saturday at 1 p.m.